For those that have a trailer hitch installed to their vehicle, using a hitch bike rack is the best way to transport your bikes. They are available as hanging or platform mounted racks that are able to safely hold up to 5 bikes at a time.
The best hitch bike rack is the Yakima RidgeBack, which is a hanging style rack with a 2 or 5 bike capacity that comes with a limited lifetime warranty. If you require a platform style rack, The Thule T2 Pro is the best option with many intuitive features.
Hanging style racks hold bikes by the frame whereas platform hitch mounted bike racks hold the bike by the wheels. Both require a trailer hitch to be installed to the vehicle with most racks being compatible with all standard size hitches.
Hitch Bike Rack Comparison
Compared against the trunk bike rack, you are able to reach the bikes in multiple positions, which makes removing them from the rack much easier.
If your car has low ground clearance, you'll want to ensure the bike rack doesn't ground out. However, most of the hitch mounted racks are lifted above the hitch height, which makes them compatible with most vehicles.
Below is a list of the best hitch bike racks that are compatible with the majority of hitches and can safely hold up to 5 bikes.
The Best Hitch Bike Rack
---
1. Yakima RidgeBack Hanging Hitch Bike Rack

The Yakima RidgeBack is a premium hanging hitch bike rack that is available as a 2 or 5 bike option. It also benefits from have a tool-free locking mechanism (known as the "SpeedKnob"), which allows you to connect to 1.25 or 2 inch hitch receivers.
Unlike many of the alternatives, this hitch mounted bike rack is able to tilt downwards, which allows for easier access to the trunk.
Other features of the Yakima RidgeBack include:
Hanging mechanism
Lightweight and folds flat for storage
Limited lifetime warranty
Patented ZipStrips that are removable
Compatible with all standard bikes
Anti-sway cradles to limit bike contact
The smart design of the Yakima RidgeBack allows for a secure and stable transportation of your bikes. It comes fully assembled and the brand state that it takes less than 5 minutes to install to the hitch receiver.
It's one of the best hitch bike racks on the market with the choice of a 2 or 5 bike capacity. The RidgeBack comes with a premium price but its backed by the reputable Yakima brand.
Check it Out
2. Thule Vertex XT Hitch Mount Bike Rack
The Vertex XT hitch mount bike rack is Thule's most popular hanging type of carrier and is slightly cheaper than the Yakima alternative. It fits the majority of trailer hitches that are 1-1/4 or 2 inches and features an increased mast height for improved ground clearance.
To avoid bike to bike contact, Thule uses "Hold Fast" cradles that cushion the bikes on the rack and use anti-sway cages for limited movement.
Other features of the Thule Vertex XT include:
Integrated cable lock
Easy access to the rear as the rack tilts
Arc design for easy loading
Handle for easy carrying
Receiver lock functionality
Increased mast height
Thule offer the Vertex XT model as a 2, 4 and 5 bike option that have all been built to the highest of standards. It's worth noting that for non-conventional frames, you may need an adapter that the brand offer for easy carrying of the bikes.
It's another premium option by a reputable brand that also tilts forward for easy access to the trunk. However, the Vertex XT is slightly cheaper and Thule offer numerous of additional accessories to make it even more versatile.
Check it Out
3. Allen Sports Deluxe Hitch Mounted Bike Rack

By far the most popular hitch mounted bike rack is by the Allen Sports brand. They offer various different models that are suitable for carrying 4 or 5 bikes. The reason for the popularity is largely due to the affordable price tag when compared to the alternatives.
In terms of the installation, they will fit either 1.25 or 2 inch receivers and the brand states that it takes less than 5 minutes to install.
Other features of the Allen Sports Deluxe include:
Individual tie down cradles
Hanging mechanism
Folding carry arms
Tilt away main mast
No wobble installation
Sturdy steel construction
Limited lifetime warranty
One issues that some people may come across is that it doesn't particular look good. However, the important thing to remember is that it's a cheap hitch bike rack. It's suited to those who want to transport their bikes in the most affordable way possible.
It's a highly rated trailer hitch bike rack that offers the best value for the money. If you are carrying expensive bikes, you may be better purchasing the Yakima or Thule alternatives.
Check it Out
4. Thule T2 Pro XT 2 Platform Bike Rack

Thule offer a range of trailer hitch mount bike racks but this platform carrier is one of their most rated. It's a platform style that can hold two bikes but this can be increased to 4 bikes using Thule's "Bike Add On" adapter.
In terms of the installation, it's a tool-free auto attach mechanism that has a frame-free ratcheting arm to secure the bikes without any contact.
Other features of the Thule T2 Pro XT 2 include:
Platform style with optional adapter
Switch lever that easily tilts for trunk access
Maximum tire width of 5 inches
Suitable for wheel diameters of 20 to 29 inches
Generous amount of bike clearance for protection
Fit 1.25 and 2 inch receiver hitches
Load capacity of 60 LBS per bike
The main drawback with the Thule T2 Pro XT 2 is the expensive price tag. However, for the additional cost, you have a high quality hitch bike rack that is backed by one of the best brand in the industry. If you can afford the T2 Pro XT 2 rack, then it won't disappoint.
Check it Out
5. Kuat Racks Sherpa 2.0 Hitch Mount

The Kuat brand are highly reputable and known for their high quality automotive racks and locks. The Sherpa 2.0 is their most popular hitch bike rack that is available in black, grey or silver to best suit your requirements.
It's a 2 bike hitch mount bike rack that has a load capacity of 40 LBS per bike, which fits wheels up to 48 inches in diameter and 3 inches in width.
Other features of the Kuat Sherpa 2.0 include:
Aluminum lightweight construction
Foldable tire cradle
Semi integrated bike lock
Tool-free installation
Optional foot assist
Hand tightening cam system
Gloss metallic powder coating
Compared to the other hitch bike racks that Kuat offer, the Sherpa model offers the best value for the money. It has all the features found upon the premium alternatives and is built to Kuat's high standards.
The newer NV model below is able to hold more weight and accommodate more bikes. However, the Sherpa model is much cheaper and lightweight.
Check it Out
6. Yakima Hold Up Trailer Hitch Bike Rack

Yakima also offer a platform style hitch bike rack that holds 2 bikes with the option to add two more with an adapter. The Hold Up is their new and improved model that uses a stronger arm pivot design and has side-to-side adjustability.
A unique feature of this hitch bike rack is that you can adjust the space between the bikes to best suit your requirements.
Other features of the Yakima Hold Up include:
No tire width limitations due to adjustability
Suitable for tire diameters between 20 and 29 inches
Load capacity of 60 LBS per bike
Fully integrated security
Tilts down with bikes loaded
Locks the bikes to the rack and the rack to vehicle
Fit 1.25 or 2 inch hitch receivers
The Yakima Hold Up is an excellent all-round hitch bike rack that is compatible with most bikes and tilts forward for easy access. The only main drawback is that it's relatively heavy at 49 LBS, which can make it slightly awkward to install on your own.
Check it Out
7. Hollywood Racks Sport Rider 4 Bike Hitch Rack
Unlike the Thule and Yakima alternatives, the Hollywood Racks HR1400 Sport Rider is able to carry 4 bikes without an expensive add-on. It's a platform style trailer hitch bike rack that comes pre-assembled for a quick and easy installation.
It's important to note that it's only compatible with tires less than 3 inches in width. However, they do provide a "fat tire kit" for those that require additional space.
Other features of the Hollywood Racks HR1400 include:
Heavy duty platform style
Load capacity of 50 LBS per bike
Compatible with 2 inch hitch receivers
Holds up to 4 bikes with ease
Patented "No Wobble – No Tools" tightening system
Folds flat to allow easy access to cargo door
Suitable for tires up to 60 inches in diameter
Hollywood Racks are a brand that specialize in bike racks and the HR1400 is one of their best models. It's one of the best 4 bike hitch rack options on the market that doesn't come with the premium price tag of the Yakima or Thule alternatives.
Check it Out
8. Swagman XC Cross-Country Hitch Rack

One of the cheapest options is the XC Cross Country model by Swagman. It's capable of holding 2 bikes and has adjustable upright ratchet arms to suit a variety of bike frame sizes up to 23.2 inches. It even includes an anti-wobble device to keep the bikes in place.
In order to save storage space, the rack easily folds into a "compact model" in a matter of seconds, which is a highly desirable trait.
Other features of the Swagman XC Cross Country include:
Platform style rack
Maximum load capacity of 35 LBS
Fits 20 to 29 inch wheel diameters
Compatible with 1.25 and 2 inch receivers
Optional fit tire trays and locking hitch pins
Easily adjusts to different bike frames
Steel construction that weighs 32 LBS
It's the new and improved hitch mount bike rack by Swagman and it's a great success. The popularity and affordability make it a great option for those that need to transport only 2 bikes. The lightweight design and ease of installation are also desirable traits of the XC Cross Country rack.
Check it Out
9. Kuat NV 2.0 Bike Hitch Rack
Another premium option is by the reputable Kuat brand and it's a rack that comes with a lifetime warranty. The NV 2.0 model is the new and improved version that is compatible with 4.8 inch tires and diameters up to 48 inches.
It has a capacity of 2 bikes but the brand offer an add-on adapter that allows you to carry an additional 2 bikes to the rack if required.
Other features of the Kuat NV 2.0 include:
Easily adjustable cradles to accommodate all bikes
Reinforced individual cable locks
Heavy duty pivot design
Tool-free installation
Lifetime manufacturers warranty
Instructions included
The Kuat NV 2.0 does come at a premium cost but it has been built to the highest of standards with a lifetime warranty for peace of mind. It's also capable of carrying a variety of different bike frame or wheel sizes with adjustable cradles for a secure fit.
Check it Out
10. Trimax RMBR4 4 Bike Platform Hitch Rack

Trimax are another popular brand in the USA and their RMBR4 is a 4 bike hitch rack that folds up when not in use. The lightweight design means that it can also be easily stored in the back of the car and installed by yourself.
The brand offer a smaller and cheaper RMBR2 model that has a 2 bike capacity but it's the 4 bike hitch rack that offers the best value.
Other features of the Trimax RMBR4 include:
Suitable for 2 inch trailer hitch receivers
High resistance wheel straps
Zamack buckles and soft pads to fit all rim and tires
Adjustable to suit most bikes
Easily folded in a matter of minutes
It does lack certain features such as the tilting to gain access to the trunk but it's much cheaper than the alternatives. Overall, the Trimax RMBR4 is an affordable 4 bike platform hitch rack that won't disappoint and provides a secure transportation option for your bikes.
Check it Out
Hitch Bike Rack Buying Guide
Transporting your bikes can be a hassle but if you have a trailer hitch, the recommendations above are the best options. They are available as a platform or hanging style that are suitable for a variety of bike frame and wheel sizes.
The most popular brands of hitch mount bike racks include Thule, Yakima, Allen Sports, Kuat and Swagman, which are all listed above.
To help you make an informed buying decision, we have produced the below guide regarding hitch mounted bike racks.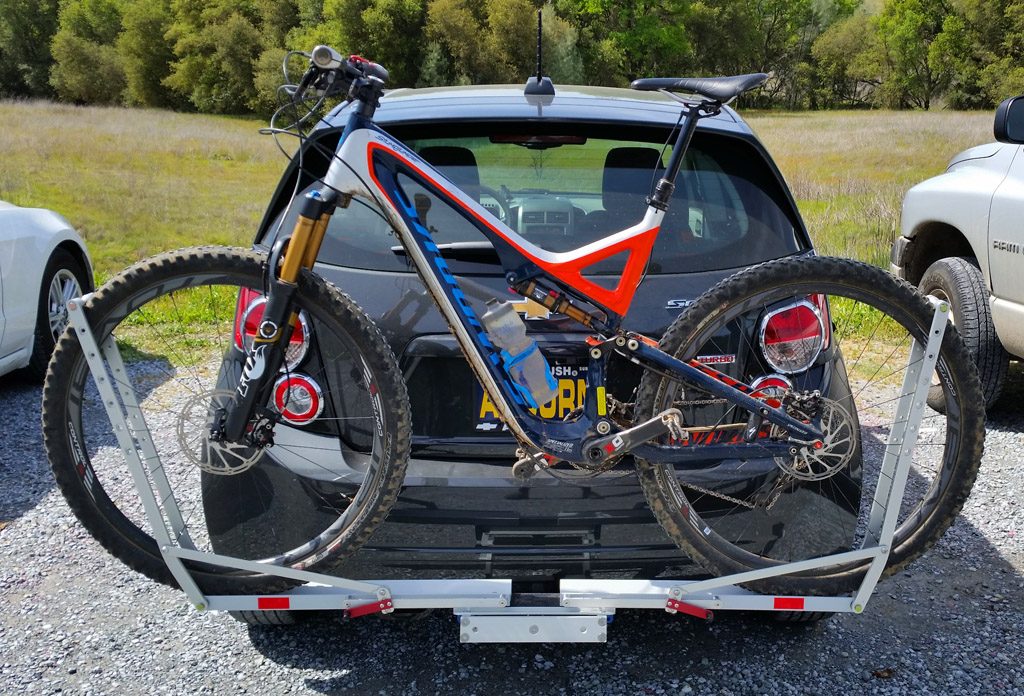 Benefits of using a Hitch Rack
Using a hitch mounted bike rack is the one of most popular methods of transporting your bikes. Trunk racks are often difficult to access and the roof bike rack can be difficult to load and take up value storage space for cargo boxes.
Other benefits from using a hitch mounted rack for transporting your bikes include:
Extra stability
Easier to load and unload bikes
Quicker installation
Carry more bikes (hanging style)
More heavy duty
Less air drag when driving
The only main drawback of using your hitch is that you will need to have one installed in the first place. Most fit to standard 1.25 or 2 inch receiver hitches and take just minutes to assemble and install to your vehicle.
Platform Style
All platform racks secure the bikes via the wheels and generally protect the bikes more than the hanging style. They are more expensive but if you have a premium bike that costs thousands, it's worth spending the extra to protect expensive frames such as carbon fiber.
The bikes sit on top of the platform carrier with the tires locked down with straps. It's important to note that certain wide tires may not be compatible with this type of rack. However, many brands will offer a "fat tire adapter" to increase the width.
In terms of the bike capacity, the majority can handle 2 bikes but this may not be enough for some people. However, certain brands such as Thule, Yakima and Kuat offer "add-on" kits, that allow for additional bikes to be loaded to the hitch rack.
Hanging Style
The cheaper hanging hitch bike rack is suited for those on a budget but those with expensive bikes tend to avoid them. The main reason for avoiding them is due to the fact it holds the bikes by the frame, which could potentially get damaged during transport. Without the use of an anti-sway cradle, they can often sway on the rack whilst driving.
However, many manufacturers offer 4 or 5 bike racks, which is perfect for large families. Overall, they are an affordable option for using your hitch to mount the bike rack and with the anti-sway cradle, it avoids bike contact.
Installation of a Hitch Mount Bike Rack
Compared with many of the alternative bike racks, the hitch mount is the easiest to install. Many don't even require any tools and simply clamp onto the hitch whilst maintaining excellent connection with zero movement.
Before departing on a long journey, you will want to test the bike rack on a short drive. This drive should involve multiple bumps, turns and high speeds for a thorough test.
You will also want to ensure that the hitch mount is properly secured and many brands such as Thule and Yakima have their own receiver locks. However, you may choose your own trailer hitch lock as a cheaper alternative.
Load Capacity
All brands will state a load capacity per bike that their racks can accommodate. They usually range between 30 to 90 LBS and it's important that you don't exceed the limits to avoid stress upon the rack. Electric bikes in particular can be fairly heavy but you can reduce their weight by removing the battery packs.
If you are carrying an extra heavy or specialist bike, you may want to consider a motorcycle hitch carrier. These work in a similar fashion to the racks but are able to carry up to 600 LBS with ease.
Opening The Trunk
Getting into the trunk of your car without the need of removing all the bikes and the rack is a highly desirable feature. It's made possible by an intuitive tilting feature found on many premium hitch bike racks.
However, not all trunks open in similar methods, which may make opening the trunk difficult even with tilt feature. Below is an example of how much the rack is able to tilt, which provides you with plenty of access to the trunk.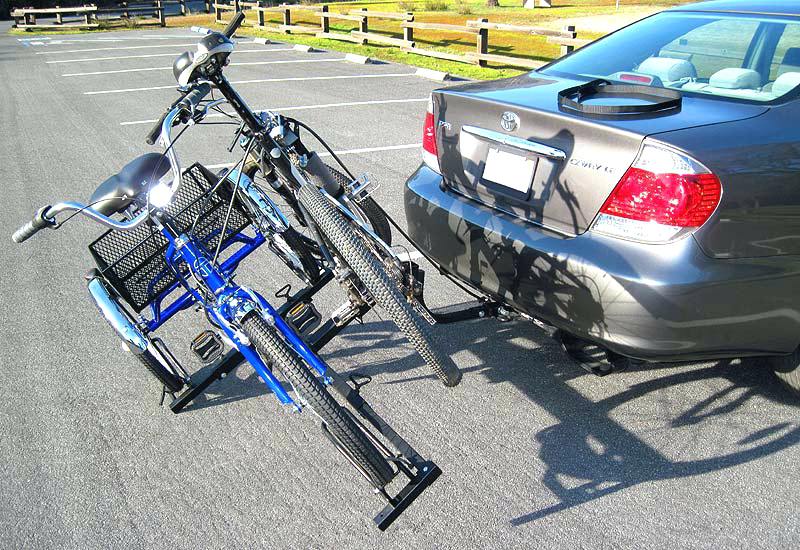 Ground Clearance
Ground clearance is a factor that is often forgotten about but can cause a lot of damage. For example, if you drive a low car with limited ground clearance at the rear, you may ground out the rack over a large incline or deep pothole. This will results in the rack going under immense stress and there is a potential for the bikes to become severely damaged.
If you notice you are catching your trailer hitch (without anything connected) on a regular basis, then you will need a hitch bike rack with a raised mast height. The majority of Thule racks have raised masts, which makes them one of the best options for low vehicles.
Hitch Compatibility
The majority of standard trailer hitches are 1.25 or 2 inches and most brands provide the option to choose between the two. There are a range of custom hitches as well as those that use weight distribution hitches for other towing applications.
With a weight distribution hitch, most come with a standard hitch or additional accessories so that they are able to work in different situations such as using a rack.
You can even use a bike hitch rack with a fifth wheel hitch as long as they are compatible with the hitch size defined by the manufacturer. Below is an example of such connection:
Conclusion
If you have a trailer hitch installed to your vehicle, using a hitch mounted bike rack is the best option. They can be installed in minutes and don't take up any roof space unlike alternatives racks.
All of our recommendations are suited to a range of different budgets and hanging or platform styles. We highly advise that you purchase from reputable brands and ensure that the rack is compatible with your bike frame and wheel size.