Attaching a trunk bike rack to your car provides a simple and easy method of transporting your bikes. Compared against a roof rack, there is no height restrictions or difficult loading and it does not require a hitch unlike a hitch bike rack alternative.
The best trunk bike rack is the Thule Passage Trunk Mount, which has various features to prevent bike to bike contact and is available as a 2 or 3 bike rack.
Unlike many of the alternative styles of bike racks, the trunk mounted option has many benefits. Not only are they relatively cheap but they are portable, easier to load or remove and can be mounted to a variety of different cars.
Best Trunk Bike Rack
High quality trunk bike carriers are often lightweight and can connect to the trunk of your vehicle in a range of ways that are safe for the bodywork.
The bikes themselves are placed on the carrier support arms and securely fastened with neoprene rubber straps. The cheaper bike trunk racks usually do not have an option to lock the bike to the trunk/vehicle. This is worrying because the bike can easily be stolen whilst the car is parked up or standstill.
Below is a list of the best trunk bike racks that secure the bikes with limited bike to bike contact for safe transportation.
Thule Passage Bike Trunk Mount Rack

Thule are a premium brand that are well known for producing high quality roof cargo carriers as well as bike carriers. The Thule Passage range has the choice of a 2 or 3 bike carrier that uses a patented "FitDial" hub for a perfect fit to your cars rear end.
Thule offer a range of different trunk bike racks but the Passage model is the best option for usability and value for the money.
Features of the Thule Passage Mount Carrier include:
Narrow cradle support arms that work with most bikes
Protective cushion pads to prevent paintwork damage
Six straps for improved stability
Anti-sway cage to prevent bike-to-bike contact
105 LBS load capacity
Limited lifetime warranty
The Passage trunk bike rack is the best option for those looking for a high quality unit designed to reduce bike-to-bike contact. It does come with a premium price tag but you have the reputable Thule brand backing it up with a lifetime warranty.
Check it Out
Yakima FullBack 2 Trunk Bike Rack

Yakima is the main premium alternative to the Thule brand and this trunk bike rack is the latest model they produce. It is known as the Fullback, which features an interlocking HUB, which makes the installation far easier than the alternatives.
To prevent the bikes swaying, the Fullback uses a patented SuperCush ZipStrip cradle, which secures to the bike to the rack.
Other features of the Yakima Fullback Trunk Mount include:
Improved 4 strap design
SKS locking package
Suitable for 2 or 3 bikes
Padded arms for protection
30 LBS load capacity per bike
Overall, the Yakima Fullback is an excellent all-round trunk bike rack but it does come with an expensive price tag. However, when you consider the clever installation, additional padding and 4 strap design, it is a great investment.
Allen Sports Deluxe Rack For Car Trunk

If the above alternative trunk bike racks do not offer the bike capacity you require, then the Allen Sports is the best alternative. It can carry up to 4 bikes and is compatible with the majority of sedans, SUVs, minivans and hatchbacks.
Features of the Allen Sports Deluxe Rack include:
Single configuration
Patented tie-down system
Arrives fully assembled
Lifetime warranty
2, 3 or 4 bike capacity option
Side straps for extra stability
Arched tubing to prevent paintwork damage
Allen Sports claim that you can install their trunk bike rack in seconds using the patented tie-down system. They also offer a limited lifetime warranty that will give you piece of mind when buying this bike trunk rack.
Overall, the Allen Sports trunk bike rack is the best option for those requiring additional bike capacities. It also offers the best value for money when compared against the alternatives.
Check it Out
Hollywood Racks Over-The-Top Trunk Rack

An alternative to the standard trunk bike rack is the "Over The Top" style. It benefits from a high risen frame that prevents strap damage to the vehicles bodywork. It works by using the roof rack as an anchor over the top of the trunk.
If your car has a spoiler, this would be the best option as it will not come into contact with it or cause any damage if installed correctly.
Other features of the Hollywood Racks Over-The-Top Rack include:
Compatible with most bikes
Includes rubber anti-sway bike cradles
2 or 3 bike capacity options
Max capacity of 30 LBS per bike
Folds flat for easy storage
Includes additional straps
Another benefit of the "Over The Top" design is that it allows for the majority of car trunks to open, which is highly desirable. It is an excellent alternatives to the standard trunk bike rack and the brand offer a lifetime warranty for peace of mind.
Check it Out
Saris Bones 801 Trunk Mount Bike Rack

The Saris Bones claim that the 801 trunk bike rack is the best looking rack available, which is highly debatable. However, with a range of color options available and a curvy design, it will certainly look better than some of the alternatives.
Another great benefit of this trunk bike rack is that the molded arms are made completely of 100% recyclables in the US.
Other features of the Saris Bones 801 Rack include:
Capacity of 35 LBS per bike
Soft rubber feet for protection of your car
Arc-based design that fits over most spoilers
Injection molded arms that are strong and will not corrode
Retractable straps with one-touch adjustability
Made in the USA with a lifetime warranty
The 801 model by Saris Bones is capable of carrying up to 3 bikes with ease but there are other models they produce that are smaller. The choice of black, grey, pink or yellow allow you to choose a design that best suits your vehicle too.
Overall, it is a high quality trunk bike rack that is made in the USA and comes with a lifetime warranty. It is also relatively affordable and will not disappoint.
Check it Out
Trunk Bike Rack Buying Guide
Trunk mount bike racks are the cheapest option when it comes to transporting your bike safely. They are easily portable and loading bikes on and off is much easier than the roof bike rack alternative. They do come with some drawbacks as some cheap trunk bike racks are known to damage or scratch the trunk of your vehicle.
However, making sure that they are installed correctly as well as having plenty of rubber/foam padding will prevent damage. Buying from reputable brands that offer long warranties is also highly recommended for peace of mind.
To help you make an informed buying decision, we have produced the below guide regarding trunk mount bike racks.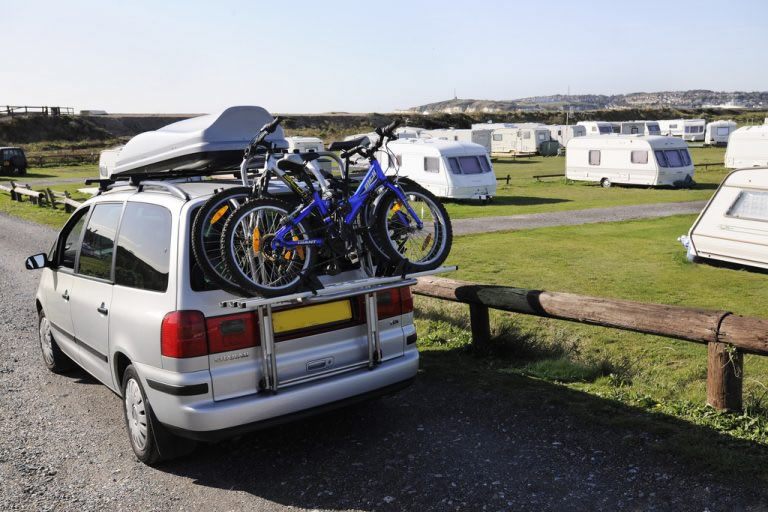 Compatibility
Unlike the hitch mounted bike rack, you do not need to install a trailer hitch to your car in order to fit it. This means that the trunk mount bike rack is already more cost effective but even better is that it will work for SUV's, sedans, trucks and so much more.
This is because it simply sits on the back of the vehicles trunk or hatchback and uses straps to attach to the top of the trunk as well as the lower lip or bumper. Therefore, it is the most compatible bike rack you can buy that is easy to use.
Anti-Sway Cradles
As you drive at high speeds, the bike may begin to sway with the drag from the passing air. This may become an issue as the bikes will start to move with potential for them to hit each other and cause damage. On top of this, it can cause the car to swerve slightly, which may be cause additional stress to the driver.
Many of the more expensive bike trunk racks include anti-sway cradles and additional straps to ensure that this is not the case.
How To Install A Trunk Bike Rack
Its critical that you install the trunk bike rack securely because you can be at risk of it coming loose and falling off.
A trunk bike rack can usually hold up to 4 bikes without any modifications to your car. The installation is fairly easily with most coming with instructions of how to install it to the rear of your vehicle. If not, below is a tutorial of how to install a trunk bike rack.
Place the upper support bars on the top of the trunk lid and lower support bars below the license plate. Instructions for your particular trunk bike rack will show the best location for your vehicle type i.e. sedan or SUV.
Connect hooks to the top edge of the trunk that attach to the upper straps. To secure the carrier, tighten the straps whilst holding it in place.
Connect hooks to the bottom edge of the trunk that attach to the lower straps. Once the straps have been tightened for the lower straps, the bike rack should not be able to move.
Connect hooks for the side straps to the side of the trunk depending on your vehicle type. Ensure these are tightened fully and the rack still does not move at all.
Place your bikes onto the carrier and check the rack is not moving with weight added. Before your journey, ensure you go for a short drive to and check for movement.
Bike Damage
In order to ensure minimal damage is caused to your bikes, there must be good padding to the arms and space between the bikes. As soon as the bikes collide, damage is more than likely going to occur and it defeats the object of safely transporting your bikes. As stated by RidersVibe, you will want to remove any parts that may cause damage such as BMX pegs or even handle bars.
If you own expensive bikes, then we advise that you stick to the bigger brands such as Saris, Yakima and Thule. The reason for this is they would have done thousands of hours of research and development to ensure maximum safety.
Of course, you could opt for a platform hitch mount bike rack, which is considered as one of the safest in terms of bike damage.
Conclusion
Trunk mounted bicycle racks offer compatibility and affordability with the option to transport up to 4 bikes safely. Our trunk bike rack recommendations above are all highly rated and popular throughout the US and ensure maximum safety.
In terms of installation, we highly recommend that you take your time because the last thing you will want to do is cause any damage.