It's rare to find passenger vehicles that have an internal AC outlet but using a power inverter for car usage is the best way to solve this issue. They can be plugged into a cigarette lighter socket or directly to the battery in order to provide continuous power.
The best power inverter for car use that uses a 12V connection is the BESTEK 300W, which is an affordable option with dual AC outlets and USB ports. If you require a direct connection inverter, the KRIËGER Inverter is the best option.
By using a car power inverter, you are able to power up anything from a TV to a laptop from inside of your car. If you are planning any long journeys, they are a great investment that have many uses and are compatible with all vehicles.
Car Power Inverter Comparison
Using a power inverter for your car can come in great use for long journeys and powering up gadgets. For example, if you have headrest DVD player for your back seat passengers, you are able to plug the wires straight into the power inverter.
Power inverters connect to the cigarette lighter socket or directly to the cars battery. This is made possible by manufacturers including adapters or battery clips to power up the inverter.
Below is a list of the best power inverter for cars that converts DC to AC power for use, which is usable with multiple electrical appliances.
The Best Power Inverter For Car
---
1. BESTEK 300W Car Power Inverter

BESTEK are the leading manufacturer of power inverter for cars with a variety of devices available. This 300 watt pure sine inverter provides continuous DC to AC power and is equipped with unique vents and fans to dissipate heat.
The clever design has 2 AC outlets and 2 USB charging points integrated into the unit, which makes it suitable for charging a range of electrical appliances.
Other features of the BESTEK 300W Inverter include:
700W of peak power
Dual smart USB charging ports
Cigarette lighter socket
Built-in 40 amp fuse
Multiple protection features
Includes a 18 month warranty
The BESTEK 300W is an excellent all-round power inverter for car usage that combines value for money and performance. The clever design that targets heat dissipation and the lengthy warranty provides peace of mind that it's built to last.
2. KRIËGER 1500 Watt 12V Power Inverter

The KRIËGER is a dual AC outlet power inverter for cars that converts 12V DC to 120 AC power. This particular package comes with a complete installation kit with a wired remote control, ANL fuse kit and 3 feet of battery cables.
KRIËGER is pure sine wave power inverter that connects directly to your car battery for power constantly without the need of plugging it into the cigarette lighter.
Other features of the KRIËGER Inverter include:
Available in 1100, 2000, 3000 and 4000 wattage models
Overload, temperature, short circuit and more protection methods
Validated and approved by METLAD and UL STD 458
Realtime feedback displayed on a LCD display
Two USB ports rated at 2.1 amps
Input and output voltage clearly displayed
The KRIËGER car power inverter is a high performing example of what is available with multiple power options to best suit your requirements.
It has been thoroughly test and meets the high standards set by METLAD and UL. The brand also offer a 3 year parts warranty to provide you with confidence.
Check it Out
3. Energizer 4000 Watt 12V Power Inverter

Another powerful car power inverter is by the Energizer brand and its within a similar price bracket to the KRIËGER alternative. It connects directly to the car battery and the modified pure sine wave power inverter converts it from 12V DC to 120V AC.
To best suit your requirements, the brand offers this power inverter in 100, 500, 1,100, 1,500, 2,000, 3,000 and 4,000 wattage options.
Other features of the Energizer Power Inverter include:
Multiple power options available
METLAB approved under UL std 458 and CSA std C22.2
Multiple safety functions
Easy to read LCD display
Dual AC outlet and dual USB ports
3 feet long battery cables included
Includes a two year warranty
The Energizer power inverter is a highly rated option that is available in multiple power options. It's one of the most expensive inverters but it meets all the high standards for safety and includes all the desirable features you would expect.
Check it Out
4. Foval 150W Car Power Inverter
Another popular option is the Foval power inverter, which is one of the cheapest available. Compared against many of the similar priced alternatives, this unit is built to much higher standards and even includes a 12 months warranty.
It's a small car power inverter at just 3.2 x 2.5 x 1.5 inches in size but it still includes all the safety features that you would require.
Other features of the Foval 150W Inverter include:
Power rated at 150 watts
Dual USB ports and a single AC outlet
Solid metal housing construction
Silent cooling fan
LED indicator for feedback
One year warranty
It's an affordable power inverter for car usage that has been built to the high standards you would expect with premium options. Features such as a rugged construction, multiple safety functions and LED indicators make it a great choice.
Check it Out
5. BESTEK 400W Power Inverter
Another BESTEK car power inverter is the 400 watt model, which has a larger peak power rating of 1,000 watts. It also provides continuous DC to AC power along with the dual 110V outlets but it also has 4 USB ports for additional charging.
There are replaceable fuses and a cooling fan as well as over voltage, over current, under voltage and short circuit protection for maximum protection.
Other features of the BESTEK 400W include:
400W continuous power
1,000 watts of peak power
2.3 feet long cigarette lighter socket
4 USB ports for charging
2 battery clips
As mentioned previously, the BESTEK brand are one of the largest manufacturers of power inverters for cars and they will not disappoint. The larger power output from this unit may be required for certain devices, which makes it a great option for many people.
Check it Out
6. Cobra CPI2590 Gray 2500W

The Cobra CPI2590 is a versatile power inverter that has three AC outlets and a single USB port. The brand offer this unit with a choice of power options that range from 130 to 2,500 watts with the more powerful inverters being the best option.
The 2,500 watt option is their most powerful inverter they offer and it's able to provide a peak power rating of 5,000 watts.
Other features of the Cobra CPI2590 include:
Cobras "Pentagon Protection" provides 5 layers of protection
Single 2.1A USB port
Easy to read LCD display
Real time input and output feedback
Automatic thermal protection
Low battery alarm
Reserve polarity protection
Whether you require this power inverter to power a coffee machine, TV or games console, it's has plenty of power readily available. Cobra have also gone to great lengths to ensure that the CPI2590 model is complete safe to use with 5 layer of protection.
Check it Out
7. POTEK Power Inverter For Car

The POTEK is a 500 watt power inverter for case usage that provides up to 1,000 watts of peak power. It has a new and improved design that includes a digital display that provide realtime feedback of the input and output voltages.
It has a compact design that is just 7.1 x 4.1 x 2.2 inches in size with a weight of 1.1 LBS, which is ideal using as a portable power inverter.
Other features of the POTEK 500W include:
Easy to read digital display
Dual 110V AC outlets
2 USB ports for charging phones and tablets
Compact design with built-in cooling fan
Multiple safety features
Cigarette lighter adapter and battery clips
The option to use either a cigarette lighter adapter or battery clips makes it a versatile option. Whilst using a cigarette lighter socket, it can provide up to 150 watts of continuous power whereas using the battery provides up to 500 watts.
Check it Out
8. Power Bright APS600-12 Inverter For Cars

Power Bright is another manufacturer of many different types of power inverters with a variety of wattage outputs. The APS600-12 model is a heavy duty power inverter with a built-in thermo cooling fan and anodized aluminum casing for durability.
It's a relatively powerful power inverter that provides up to 600 watts of continuous power and peak power of 1,000 watts.
Other features of the Power Bright APS600-12 include:
Built-in thermal controlled cooling fan

Overload and overheated indicator

Dual 120V AC outlets
Designed in the USA
150, 300 and 600 wattage options
Less than 3% distortion rate
The Power Bright APS600-12 is a car power inverter that is built to last with a high quality construction and cooling fan. However, the old fashioned design without any USB ports may make it less desirable for people that have multiple USB charging devices.
Check it Out
Car Power Inverter Buying Guide
A power inverter for car usage is used to convert DC power from the battery to AC power, which can be used by electrical appliances. The majority of vehicle manufacturers have yet to install internal inverters, which makes aftermarket devices very desirable.
They can be used to power up anything from a laptop to small refrigerators. You are able to connect the power inverter to either the car battery or cigarette lighter with most manufacturers providing both battery clips and a cigarette lighter adapter.
To help you make an informed buying decision, we have produced the below guide regarding car power inverters.
Types of Inverter
There are two main types of car power inverters, which include a 12V or direct connection. The 12V connection power inverter simply plugs straight into the cigarette lighter socket but has the draw back of lower wattage output.
The alternative is a direct connection, which can generate far more power for more power consuming appliances. However, they will require a more complex installation and they are often fairly bulky, which can be an issue in smaller vehicles.
Size and Power of Inverter
A power inverters power is measured in watts and it should be able to supply the surge power and the typical power. The surge power is the highest power an inverter can produce, which is usually can last at least a couple of minutes.
Some appliances, such as refrigerators, compressors, and pumps require higher surge power to startup than they need to run. Thus the watts in use can be twice the amount used during normal operation.
Since typical power is lower than surge power, when deciding the best car power inverter, you should buy an inverter that's able to meet the surge load and the typical continuous current for all of your devices.
Number of Power Outlets
A power inverter for car usage vary in terms of the number of outlets it provides and is often determined by the price tag. The cheapest is a single outlet inverter, which usually offer wattages between 150 to 300 watts. Multiple outlets often offer far greater wattage outputs but come with a premium price tag but they offer more versatility.
USB Ports
The inclusion of USB ports within the car power inverter is often the most important feature for many people. You may own multiple electrical appliances that all charge via the USB port. Due to the advancement in technology, some power inverters may use fast charging ports, which are worth paying the extra.
Safety Shut-off
Ensuring that the power inverter doesn't drain your cars battery by accident is essential. Ensuring that a safety shut off function is present will be able to sense when the car isn't running and will also prevent it from overloading.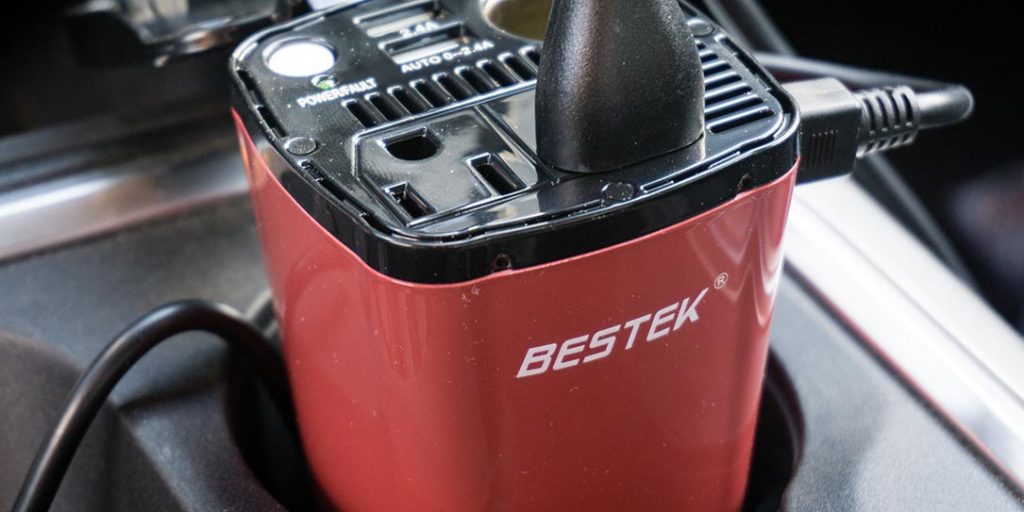 Charging Appliances
While on the road, mobile phones, tablets, laptops and other portable devices often run out of charge. Owning an inverter with a range of feature will allow you to power up multiple appliances with ease with premium options including extra power.
Desirable features such as a LCD display, multiple USB ports and additional outlets are worth paying the extra for.
Safety Precautions
The use of inverters can be dangerous due the high voltages passing through the devices. It's recommended to follow the below steps for safe usage in the car:
Place upon a flat surface whenever it's in use
Don't place near any flammable substances
Keep it completely dry and ensure connected devices are dry
Avoid exposure to direct sunlight
Ensure it's kept within a ventilated area
Keep in temperature between 50 and 80 degrees
Ensure the battery clips are high quality and installed correctly
Although it may be possible to connect several inverters to a cigarette lighter splitter, it's not advised. If you are using a permanent installation via the battery, it's essential that you use high quality clips and the wiring avoids hot areas.
Conclusion
Being able to convert DC to AC power inside of your car has multiple benefits. They allow you to charge laptops, tablets and much more from inside of the car.
All of our recommendations are cover a range of different budgets and are suitable for both permanent or temporary use via the cigarette lighter.