Using a headrest DVD player is the best way to improve the entertainment for backseat passengers. They simply connect to the rear of the front seats and have a range of power source options such as rechargeable batteries to a 12V power supply.
The best headrest DVD player is the eRapta Second Generation, which features a sleek 10 inch HD display and connects straight to the back of the headrest.
Headrest DVD players are perfect for long road trips and keeping children entertained so that you can focus on your driving. Over the years, the picture quality has improved and the prices have dropped, which is great for consumers.
Headrest DVD Player Comparison
When purchasing a headrest DVD player, you have the choice of purchasing one that is integrated into the headrest or one that is portable. Both have their own benefits and it's a matter of personal preference to which best suits your requirements.
There are many cheap headrest DVD players that don't compliment your cars interior. Spending a small amount extra will completely transform the experience with the likes of HD quality, touchscreen functionality, games and much more.
Below is a list of the best headrest DVD players that compliment your car and provide a range of enjoyable features for backseat passengers.
The Best Headrest DVD Player
---
1. eRapta Portable DVD Player For Car Headrest
The eRapta is a portable DVD player for a car headrest that connects via two brackets and fixing screws. It's powered by the cigarette lighter in your car but as it is portable, you can use a standard wall outlet for home usage.
With 10.1 inches of screen, it's a large car DVD player that provides HD quality for both videos and games. It does lack touchscreen functionality but there are easy to use buttons below the screen, which keeps the screen cleaner and free of fingerprints.
Other feature of the eRapta Headrest DVD Player include:
Disc, HDMI, SD and USB connectivity
1080P HD video
10 inch LCD monitor
Includes remote control
Uses the Android operating system
2 year warranty
Overall, the eRapta is the best headrest DVD player that is highly portable and features high quality HD video output. Although expensive, the eRapta offers 2 years warranty for peace of mind and it is not just limited to usage inside the car.
Check it Out
2. Kaskawise Android Headrest DVD Player

By far the most expensive car headrest DVD player is by the Kaskawise brand. However, for the premium price, you are treated to many impressive features. The most desirable is the ability to watch videos on YouTube, NetFlix and other platforms.
In terms of the performance of this DVD player, it uses the Android operating system, which uses an ARM A7 Quad 1.3 Ghz processor for instant user interaction.
Other features of the Kaskawise Android Car Monitor include:
10.1 inch screen size
1366 x 768 resolution
WiFi, FM and Bluetooth connectivity
Large capacity rechargeable battery
Easy to use mounting kit
1 year warranty
The Kaskawise is one of the best portable DVD player for the car headrest but it's price tag is the main drawback. If your budget can stretch, it won't disappoint and it will provide backseat passengers with entertainment for hours.
Check it Out
3. XTRONS Touchscreen Headrest DVD Player

The Xtrons devices aren't portable as the DVD player is integrated within the headrest. This means you are able to replace your current front seat headrests with the Xtrons, which swap over easily with the majority of OEM headrests.
One feature that is very intuitive is the zippered covers, which keep the DVD headrests hidden from criminals. The touchscreen capabilities also make this device fairly easy to navigate around the interface and play games or DVD's.
Other feature of the Xtrons Headrest DVD Player include:
9 inch HD touchscreen display
27 LED's and supports 32 bit games
Comes with wireless game controller
Available in 3 different colors
USB, SD and DVD inputs
800 x 480 resolution
Integrated speakers in each headrest
It's worth mentioning that if you have an active headrest system, this headrest DVD player may not be suitable. However, it is the best built in headrest DVD player on the market and comes with a range of features.
Check it Out
4. NAVISKAUTO Portable Headrest DVD Player
The Naviskauto brand produce a range of headrest DVD players but this model in particular is their most popular. This is mainly due to the large 10.1 inch display with a thin frame, which provides a sleek finish to the monitor.
This particular monitor has been upgraded to use a new and improved mounting bracket, which is far more stable than the alternative straps.
Other features of the NAVISKAUTO Portable Headrest DVD Player include:
HD 1024 X 600 LCD display at 16:9 wide angle
Supports IR technology
Car charger and remote control included
Built-in FM transmitter
USB, SD, MMC and HDMI inputs
Able to sync with another screen
Includes IR headphones
Overall, the Naviskauto is one of the nicest monitors to look at with the thin and rounded edges. It does lacks touchscreen functionality but it's relatively cheap considering the screen size and the amount of features integrated within the unit.
Check it Out
5. Wonnie Dual Headrest DVD Player

Another popular option is by the Wonnie brand and they offer a dual headrest DVD player. One of the monitors is the main DVD player, which is then synchronized with the second monitor to play the same movie.
In terms of the power supply, it uses a rechargeable lithium battery, which plays both the screens together for up to 3 hours.
Other features of the Wonnie Dual Monitors include:
Available in a 9.5 or 10.5 inch screen
1024 x 800 screen resolution
Remote control included
Multiple forms of media support
Includes a car charger and other adapters
1 year warranty
If you usually travel with two backseat passengers, these dual headrest DVD players are the best option. They offer the best value for money without having to purchase two separate devices at twice the cost.
Check it Out
6. Rockville RDP711-BK DVD Headrest

The Rockville headrest monitors are targeting those on a budget and are available with a range of options. These include 7 or 9 inch displays and the choice of a dual setup with or without touchscreen capabilities.
In order to match the color of the replacement headrest to the interior, the brand offer it in black, beige or grey finish.
Other features of the Rockville RDP711-BK include:
USB, SD, HDMI input
800 x 480 screen resolution
16:9 or 4:3 aspect ratio
IR technology and built-in FM transmitter
Included remote control
32 bit game system
Rockville are a reputable brand that are known for their car amplifiers and other audio components. Therefore, you can rest assure that these headrest DVD players follow the same high standards.
Check it Out
Headrest DVD Player Buying Guide
For long car journeys, a headrest DVD player is a cheap and convenient way to entertain passengers. Portability is a key feature that many look for to reduce car crime as well as ensuring the car has the OEM look. There are several types of monitors you can buy that will be discussed further down.
DVD players have come along way in the last century and many include features such as touchscreen and games. Before, the only input was a single disc and operation was via a dull looking user interface. Thankfully, as technology ages, prices decrease and the amount of kit you can get for your money nowadays is excellent. Before choosing the best headrest DVD player for you, build up your knowledge with some important key factors below.
Types of Car DVD Players
The headrest of your car is not the only place you can mount a monitor. Other methods include include:
Ceiling mounted
In-dash or via stereo
Handheld
Using an iPad Mount
Ceiling mounted devices can leave permanent damage to the headliner and in terms of the viewing angle, it can cause stress upon the neck. Some of the double din stereos include DVD output footage but cannot be played when driving. Most countries have laws due to the distraction that it can cause to the driver but of course it can be modified to run all the time.
Mounting the DVD player inside or hooking onto the headrest is the best method. It is cheap, easy to mount and allows you to revert back to an OEM headrest in less than a minute.
Video Quality
Due to the small dimensions of the screen within the headrest, its crucial the quality is crisp clear. HD quality is a must these days and without it, the latest file formats will not be able to play on the DVD themselves.
Monitors that you can adjust the aspect ratios and brightness are highly desirable but so are the sizes of the monitors themselves. A bigger display will almost certainly improve the quality of the footage. The maximum you will find in terms of headrest DVD players will be between 10 to 11 inches. Try to avoid monitors that are below 7 inches as these will be hard to view for long periods of times due to the smaller size.
Touch Screen Capability
The ability to click through to certain areas of the DVD player operating system via touchscreen is a big bonus. Not only from a design point of view (less bulky buttons) but it also makes navigating to settings or video footage much easier.
It is advised not to have a screen size less than 9 inches for touchscreen device. If the screen is too small, choosing buttons may result in accidental clicks and so forth. The only drawback of the touchscreen functionality would be a buildup of dirt and markings on the screen that would need to be cleaned.
Audio Output
Included within the bundles of the monitors are usually wired headphones but premium devices include IR technology. This lets users use wireless forms of output such as headphones to listen to the video footage.
Some even include FM transmitters that work very similarly to Bluetooth FM Transmitters so that the audio comes through the car speakers.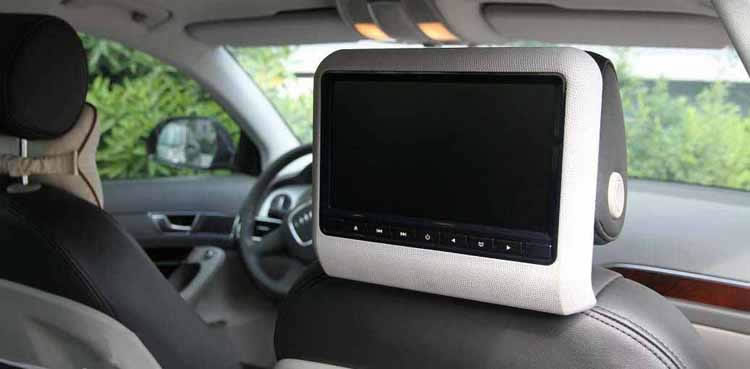 Other Interesting Features
Technology is improving each year and the number of features a DVD player has is increasing. From the ability to play 8 to 32 bit games, remote controls, game controllers and multiple inputs, the list is endless.
Storing the films on a USB is the best method as you do not need to store a large collection of DVD discs within the car.
Conclusion
Investing in a quality headrest DVD player can make a huge difference on long journeys. In particular, young children really that don't enjoy long journeys in the car can be kept entertained for hours. Many even include built-in games and even WiFi to connect to applications such as YouTube or Netflix.
Portable headrest DVD players are the most popular as can be used in a range of applications. If you opt for a DVD player that is built-in the headrest, be sure to cover it when you parked. Criminals may be tempted and even if you have a car alarm installed, they can easily get away with the DVD player in a matter of minutes.
All of our recommendations are suited to a range of budgets and include built-in and portable monitors. We advise that you choose one that is best suited for your car and comes with a reliable mounting bracket.