Protecting your wheels with the best wheel sealant will ensure that defects will be reduced to a minimum with a protective layer. Many high quality sealants will also increase the shine and depth of your rims, which is also a great benefit.
If you have just spent over $100 to get each wheel refurbished, you will want to ensure you have the best protection. If they have had your wheels diamond cut or polished, the need for wheel sealant is increase due to exposed metals.
Best Sealant To Protect Alloy Wheels
Wheel sealant is highly durable and can last from anywhere to 3 to 12 months depending on your budget. The small upfront cost for wheel sealant can save you hundreds of dollars on another wheel refurbishment due to poor maintenance.
The benefits of using wheel sealant include:
Easier to clean due to the slippery surface
Harder for dirt to cling to the wheel
Increases gloss and shine
Increase the lifespan of wheels (particularly diamond cut or polished)
Can be used on all ranges of wheels
Finding the correct sealant for your wheels can be hard as online shopping has become fairly saturated with products claiming all sorts of promises. However, we have researched and used many and below are the best wheel sealants for protecting your wheels during the winter.
Chemical Guys Max Coat Wheel Guard
The Chemical Guys Max Coat is a high quality wheel sealant that repels brake dust, road grime and tough dirt that tend to cling to wheels. This type of dirt is a known cause of corrosion to diamond cut and polished wheels.
The Max Coat sealant provides a strong protective layer with increased gloss shine compared to competitors. Chemical Guy approximate that this wheel protectant reduces brake dust build up by up to 75%.
Chemical Guys promise up to 8 months of protection using their best wheel sealant that will survive plenty of washes and rough weather or road conditions. The application is very simple and works well with a range of different colors or metal types.
With heavy duty brake pads and calipers, the dust is increased further for premium or large vehicles. By using Chemical Guy Max Coat Wheel Guard, you will spend less time washing your wheels.
Overall, this Chemical Guys is the best wheel sealant for the money and provide a long lasting protective layer that shines as well.
Poorboy's Wheel Sealant
Poorboy's are another detailing brand gaining popularity and their wheel sealant is an excellent product. One of the best benefits of this alloy sealant is the watermelon smell that is good enough to eat.
However, it is not all great smells, this wheel sealant also provides excellent protection from tough dirt, brake dust, road tar and other types of grime. After using this product and driving through rain or spraying it with a high powered pressure washer, it provides lots of beading that mean proper protection.
Its a great alternative to the Chemical Guys and is strongly recommended if you want a strong smelling wheel sealant that you can smell for days on end.
Armor All Wheel Protectant for Wheels and Rims

Armor All Wheel Spray is a wheel protectant that will last for up to 4 weeks and has a strong following in the US. It is an invisible barrier that is simply sprayed onto your alloy wheel that will ensure your wheels stay clean no matter the conditions.
It has been designed as a brake dust repellent and if that is your major problem, this may be your best buy. It is an aerosol that is easily sprayed on and safe to use on the majority of rims.
It is by far the best brake dust repellent in this article and worth the money if this is your main issue.
Sonax 04363000 Wheel Rim Shield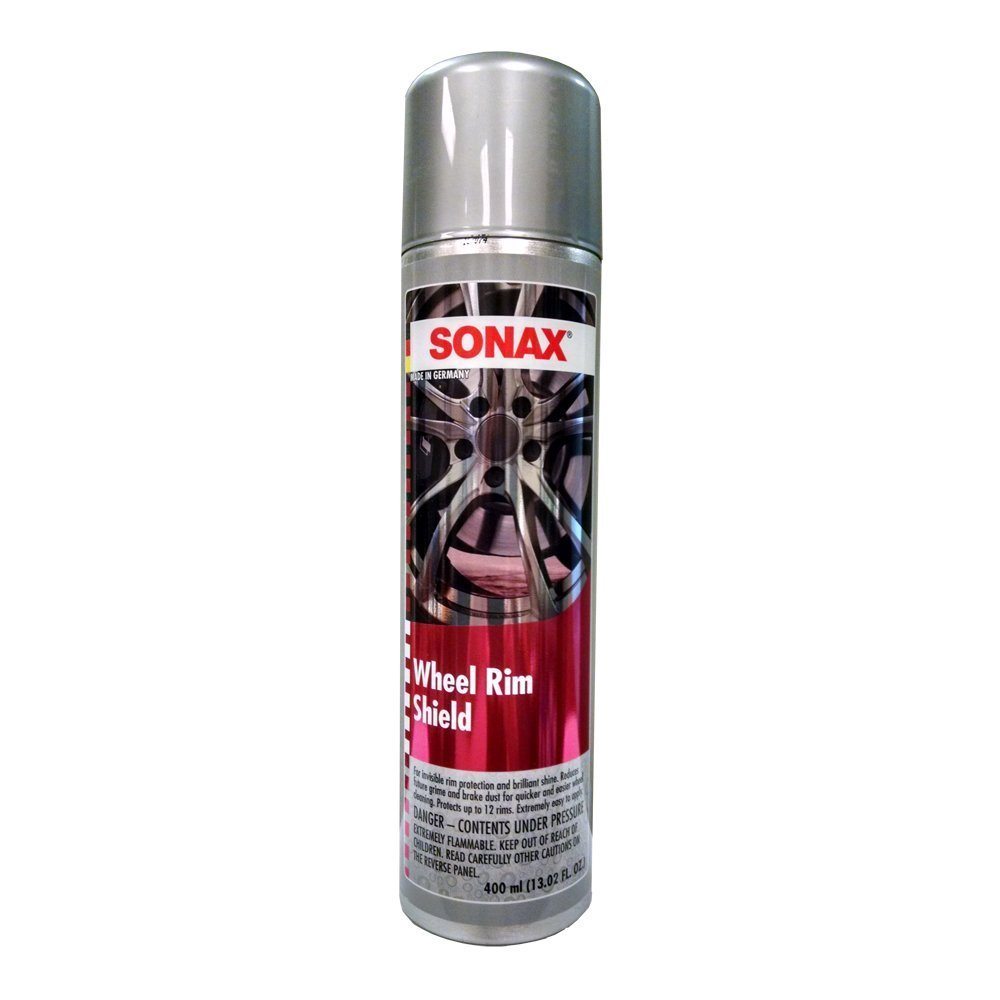 The Sonax 0436300 is in the form of a spray as opposed to a waxy substance such as the Poorboy's and Chemical Guys products. As it is a spray, it is far quicker and easier to put onto the wheel and still protects it against tar, road grime and other dirt.
It can protect for up to 6 weeks which isn't as long as the others but its much easier to apply that cancels out the negative. All you need to do it spray it onto the wheel and you do not even need to rub it in to the wheel. It will need to be dried for just an hour but after that, ti will be hardened and ready to go.
It is slightly on the expensive side of things in terms considering its lifespan on the rim, however the ease of use may apply to many people.
10100 RimWax Ultimate Shine and Protection
RimWax is a wax for your wheels that focuses more on the shine as opposed to the protection. Not to say that it does not protect, you should expect at least 3 months protection. It provides adequate protection against brake dust with figures of 75% less.
The RimWax provides the best wheel wax for shine no doubt but for protection, I would most probably purchase the Chemical Guys sealant. Brake dust does form but with the wax qualities, it can be wiped off with your finger.
What Is The Best Wheel Sealant?
Once again, Chemical Guys win another award from our team with the best wheel sealant for the money. The durability as well as the shine that comes from using the product cannot be beaten but we will still continue to test more products. The Armor All Wheel Spray may be preferred over the Chemical Guys product due to its ease of use because some people may not have the time to get their hands dirty by using the wheel sealant wax.
How To Apply Wheel Sealant
Applying wheel sealant should not be a "wipe on, wipe off" type of job. To apply wheel sealant, use the following steps:
Clean wheels thoroughly
Dry wheels and ensure no water droplets
Spread wheel sealant on wheels in thin layers
Spread inside wheel lugs and inside of spokes
Let it cure and haze for 10 minutes (or longer for certain products)
Wipe off residue and enjoy the shine and protection
It is that simple but ensure the wheels are completely dry for the sealant to work properly and you let it settle for the designated time before wiping clear.