Over the past few years the popularity of the car pressure washer has exploded as an all-around cleaning tool. Once you have used a quality pressure washer for cars, you will see exactly how effective they are at cleaning anything they are pointed at.
The best pressure washer for cars is the Sun Joe SPX3000 Pressure Joe, which has a huge 2,030 PSI for breaking through tough dirt. It is one of the all time favorites around the world and comes with an excellent 2 year warranty.
You can buy a car pressure washer in practically any size and any power with the prices raising for premium brands such as Sun Joe and Karcher.
Best Electric Pressure Washers For Cars
A car pressure washer can make short work of cleaning practically anything that needs to be cleaned and can even be used to accomplish other jobs. There are a variety of desirable features and performance factors that you need to consider prior to investing large quantities of money into such a machine.
Additional features and attachments such as a snow foam lance can transform the way you use it to wash your car too. Below is a list of the best pressure washers for cars that can remove tough dirt, are easy to use and provide excellent features.
Sun Joe SPX3000 Pressure Washer

The Sun Joe SPX3000 is one of most popular car pressure washers in the US. The reason why is because of the range of features and excellent value for money. The Sun Joe also comes with a 2 years warranty and is CSA approved.
In terms of the features of the Sun Joe SPX3000, they include:
31 LBS in weight
Dual detergent tanks
2,030 PSI
14.5 amp/1800 watt Motor
35 foot power cord
34 inch extension wand
20 foot high pressure hose
To increase the life span of the pump (most common failure of a car pressure washer), Sun Joe has a clever feature. This is in the form of a TSS (Total Stop System) trigger that acts as a safety lock switch to automatically shut off the pump when the trigger is not engaged.
Sun Joe offer a range of car pressure washers but this is the model to go for. It is the best car pressure washer in terms of functionality and value and you will not be disappointed with your investment.
Check it Out
Karcher K5 Premium Electric Pressure Washer
Karcher is probably one of the first brands that you will think of in terms of pressure washers. They have marketed their pressure washers (and other products) to be the best pressure washers money can buy. They used to be expensive but nowadays the prices of Karcher pressure washers have become more affordable.
In the UK, the Karcher brand is the go to car pressure washer as opposed to the US where the SunJoe is by far more popular.
The K5 Premium is the best car pressure washer Karcher offer. The specification is the top of its range and outweighs the competition. Yes you pay a premium for the Karcher range, but reliability and customer support come with the brand.
The main specification this Karcher car pressure washer is as followed:
2,000 PSI of water pressure
32 LBS in weight
2 years limited warranty
14.5 amp/1800 watt motor
Water cooled motor
Includes two wands and pressurized hose reel
Onboard detergent tank
Karcher state that the water cooled feature that aims to reduce the temperature of the induction motor helps assist the lifespan significantly. They claim it will last 5 times longer than most competitors. Overall, it is an expensive pressure washer but the build quality and availability of the accessories make it a great option.
Check it Out
AR Blue Clean AR383 Pressure Washer

The AR Blue Clean is not a well known brand but they do provide an affordable car pressure washer with plenty of features. Some of the features of this car pressure washer are the following:
1,900 PSI of water pressure
27 LBS in gross weight
1 years warranty
30 feet power cord
14.5 amp/1800 watt motor
CSA approved
Includes 2 wands
This is the budget non branded version of the Karcher Premium model. The AR Blue Clean 383 is very lightweight considering its size and electrical power, which is one of the main benefits over the Karcher alternative.
Overall, the AR Blue Clean AR383 is a reasonably priced car pressure washer that is powerful and lightweight.
Check it Out
GreenWorks GPW1501 Pressure Washer
The GreenWorks CPW1501 is one of the cheapest pressure washer to buy on the market but don't think it has no features.  It has premium features such as a 25 and 40 degree quick connect nozzles that enables you change your approach to each job.
A detergent bottles comes with this pressure washer and is placed under the trigger handle. This will have the effect of spraying detergent solution at low pressure. The specification of this budget car pressure washer is as followed:
1,500 PSI of water pressure
17.5 LBS in gross weight
1 year warranty
35 feet power cord
13 amp universal motor
Overall the GreenWorks CPW1501 car pressure washer is excellent value for money compared with other alternatives and is the best cheap car pressure washer.
Check it Out
Karcher K3 Follow-Me Pressure Washer
Of course, straight away you can see that this is a new design in the car pressure washer world. The Karcher K3 "Follow Me" design has four wheels (larger rear wheels) that will follow you as you go around the car. For those that use pressure washers of a regular basis, this is a great design feature and makes using a pressure washer much more easier (and enjoyable!).
The main specification of the Karcher K3 Follow Me is the following:
1,800 PSI of water pressure
16.3 LBS
14.5 amp/1800 watt motor
Vario power spray hose
2 years limited warranty
Being a Karcher pressure washer, it comes with the large accessory list and packs a fair amount of features. These include a Vario Power Spray hose that allows you to adjust the power form low to high for certain surfaces. With the range of attachments available, you will be able to tackle all forms of dirt.
Check it Out
Car Pressure Washer Buying Guide
If your purpose is to water your flowers, a normal hose is fine. However there are times when a garden hose, even with a nozzle/sprayer is clearly not enough, especially when it comes to serious auto detailing where the vehicle is covered in tough dirt such as dead insects, mud and more.
Tough dirt and grime can be virtually impossible to remove and using a high powered pressure washer for cars is the best option to remove them safely. There are a range of pressure washers available and its important you get whats best for you.
The market for pressure washers is saturated and most people who are new to detailing will not know what to look for. To help out, below is a guide of the usage and factors to consider before parting with your money.
Pressure Washers For Cars
There are a number of pressure washers available but it is essential that you get one just for auto detailing. This is because some pressure washers are designed for different applications such as remove staining from fences, clearing concrete and much more but these are usually gas powered. An electric car pressure washer will have a safe amount of PSI, which will not damage the paintwork of the car.
PSI around 2,000 is ideal for cleaning cars, trucks, boats and much more. It can also be used for cleaning patios, fences and other applications but if this is the sole purpose, you may as well go for a higher PSI pressure washer.
How Much Water Does It Use?
For those that care about the environment or are on a water meter, the amount of water it uses is fairly important. It is estimated that the average car pressure washer will use approximately 7 to 9 gallons of water per minute.
When reading the specification of a pressure washer, look for the GPM (Gallons Per Minute) rating because this will give you an identification. A higher GPM will mean more water will come out of the nozzle, which will provide the car with a better rinse. If both ratings are high, then the washing will be much quicker but the efficiency of water used may not be as good.
Foam Cannons
Since the popularity of photo sharing sites such as Instagram, Flickr and others, foam cannons for pressure washers have become very popular as a pre-clean step when washing your car. This is because it provides a very safe method of removing dirt but it also provides the perfect photo as the soap from the foam cannon is thick and sticks to the bodywork.
Foam cannons usually work from 55 to 90 PSI and produce a large amount of foam with a flow rate of up to 5.5 GPM. Most simply click straight onto pressure washers whereas others you may need a certain adapter.
They are one of the best attachments you can get for you pressure washer and can improve your auto detailing. Below is an example of what the foam looks like on your car once sprayed from a pressure washer.
Gas vs Electric Car Pressure Washer
You will notice that all of our recommended pressure washers for cars are all electric. This is because with an electric pressure washer, you are able to use a high amperage electric motor to deliver PSI of up to 2,000, which is ideal for washing cars.
Gas powered pressure washers deliver a much higher PSI rating with even the low powered versions producing well over 2,000 PSI. There are even some producing over 7,000 PSI but do you really want this sort of pressure hitting your cars paintwork?
Compared with the electric pressure washer, gas alternatives also use more gallons of water per minute due to the fact it has a higher powered motor and brass hardware (in most cases).
Electric pressure washers for cars are far more practical too as it is simply a flick of a switch to turn it on. Gas you will be required to tug on a rope in order to get it to start as well as remembering the gas in the first place. There will also be a time when you will need to service a gas powered pressure washer as it will need oil and a new filter for it to run perfectly.
Electric pressure washers are also much lighter due to the materials used however, when it comes to portability they need to be plugged into an outlet, unlike the gas alternative.
To conclude, the best pressure washer for cars is an electric powered model as there is not a real need for the additional power. Most people want to simply flick the switch and turn on a pressure washer and not worry about fuel, servicing and wondering if they will be able to start it.
Pressure Washer Nozzles
The nozzle of a pressure washer is one of the most important components and without one, the pressure washer will be pretty much useless. You will want to look out for a nozzle that is adaptable and allows you to change the width of the spray.
You will not always want a narrow spray of water and this will be too powerful and it could be a major risk to the paintwork and other components. Adjust the spray to a wider setting for certain areas of the car in order to avoid any damage.
How To Use A Car Pressure Washer
Everybody cleans their cars in a different fashion but when using a pressure washer, it is much more fun and easier than using a normal household hose pipe. It is also important that you take some safety precautions too. Below is a quick guide on how to use a pressure washer for auto detailing:
Pre-clean – Before you use any wash mitt on your car paintwork, you should always rinse off the car starting from the top and moving your way down. Be sure to take extra care over the lights and any body trim.
Apply Detergent – Fill your car pressure washer with a detergent and then spray it onto the car using the widest setting for full coverage. Do not remove the detergent straight away, wait at least 5 minutes for it to soak up the dirt.
Remove Dirt – Using a wash mitt, simply wipe away all the detergent from the car and spray the vehicle with a highest pressure from the machine.
Once this stage is done, you can move onto washing the car with your car wash shampoo and spray using the pressure washer. All the tough dirt would have been removed prior to this thanks to use of the pressure washer, which means you wont have to remove any swirl marks afterward with polish.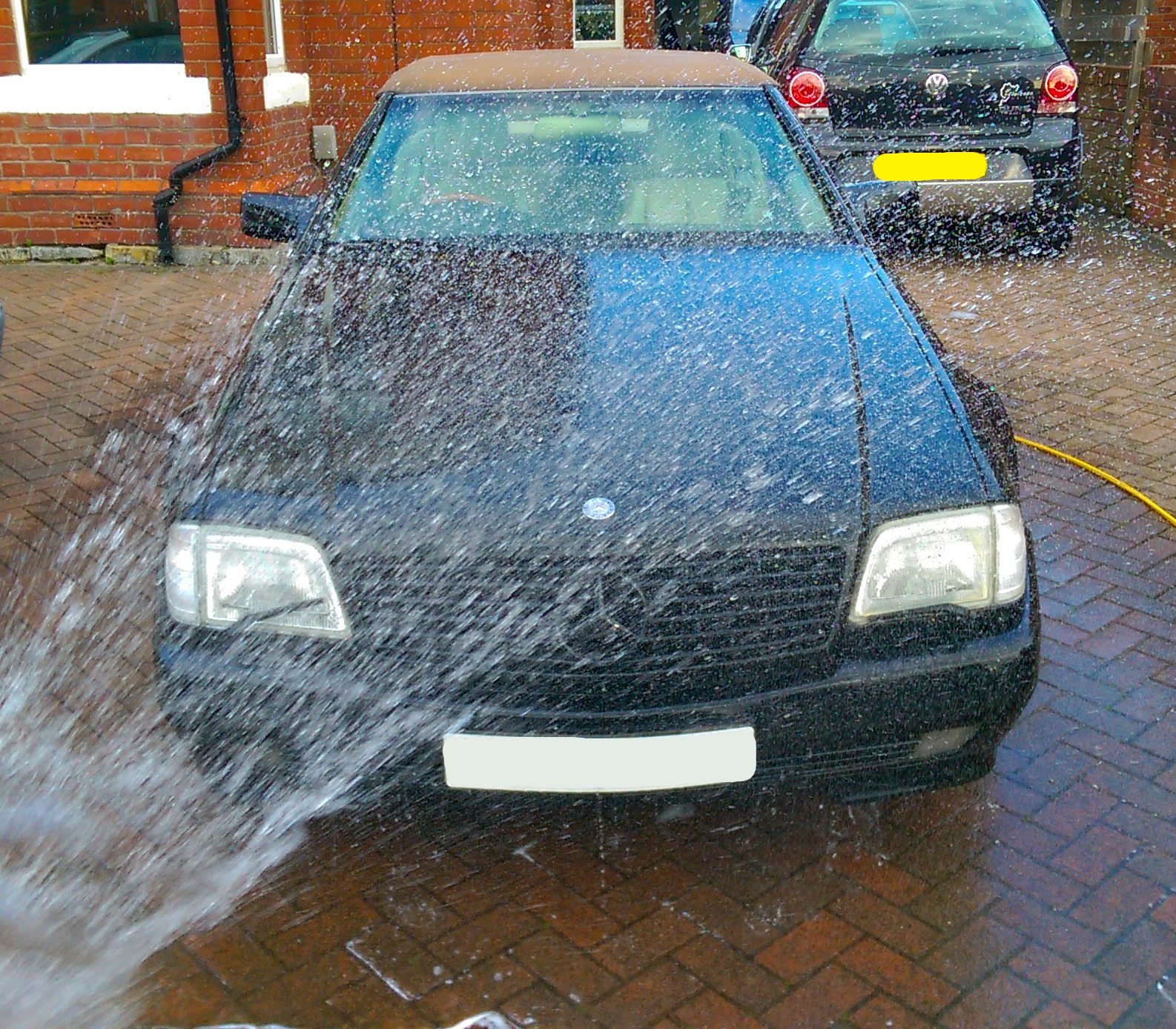 Motors and Pumps
The electric motor of a pressure washer and power they output is determined by the wattage and amperage. The three types of electric motors are universal, induction and water cooled. They are in order of cost, performance and noise levels.
If you are stuck between two car pressure washers that are priced the same, check to see which electric motor it uses. If one is water cooled over an induction motor, you will have a clear answer to which is the best pressure washer for the money.
Just as important as the electric motor is of course the pump as it must be able to handle the power of the machine. There are three types of pumps, which include wobble, axial and triplex. They are ordered based of their lifespan and ability to withstand large amounts of power.
Other Important Features
There is so much to talk about with regards to an electric pressure washer, so we will keep it short. In terms of usability, electric machines will require a power cord, which needs to be long enough to reach an AC outlet without being near the water spray.
This is not the only length you need to look out for because the hose length is also something that can be either too short or too long. if its too long, it can get in the way of things but too short and you will find yourself knocking over the pressure washer all the time.
Detergent intake may also be an issue for some auto detailers as some are a suction tube and also plug and clean system. There are also many different detergent soaps you can use too but this is for another article.
Conclusion
A pressure washer for cars is a power tool for auto detailers, just like the cement mixer is to a brick layer. Investing into a powerful example that comes with excellent warranty, variable settings and features is a worthwhile investment. You will usually own a pressure washer for many years (as long as it is still working of course!) and its worth paying the extra for something a bit more special.
Sun Joe and Karcher are the two most popular and best brands of pressure washers for cars but do usually come at a premium. They are ProCarReviews top rated pressure washers that offer a serious amount of features and performance.