Not everyone will have the opportunity to store their RVs in large garages or even a portable carport. However, using a RV cover can protect the RV from the elements in the winter but also in the summer as the UV rays can dull out the bodywork.
The best RV cover is the Classic Accessories OverDrive PermaPRO, which is compatible with RVs from 15 to 40 feet and provides excellent all weather protection.
Buying your very own RV is an investment that requires protection all year round, which includes both the snow and sun. Not only does it act as a form of protection but RV covers also prevents rodents and bugs from entering the RV too.
Best RV Covers
We have already written about car cover reviews in great detail but these will simply not spread to the full size of a RV. As the size of RV covers is far greater, having a the correct technique is fairly important in order to easily cover it. For a helping hand, check out RV with Tito DIY video with three easy tips.
The majority of RV covers are constructed of a multi layered polyester or polypropylene, which are suitable for all weathers. This means they are able to repel water, protects from UV rays and is also breathable to prevent mold or mildew build up. If the RV cover you are looking at is not made from polyester or polypropylene, you may want to look elsewhere.
A simple cover can provide adequate protection for your RV and ensure it doesn't lose value due to UV degradation or mildew issues. Below is a list of the best RV covers that will protect your RV in both the winter and summer.
Classic Accessories OverDrive PermaPRO RV Cover

The Classic Accessories OverDrive PermaPRO trailer cover is the best overall option for a high quality RV cover. It is designed with many built-in features to protect your vehicle and stay in place for long periods of time.
These RV covers are also relatively light, so the process of putting it on your vehicle is much easier than it would be with other covers. Here are some of the notable features of the Classic Accessories OverDrive PermaPRO deluxe trailer travel cover.
Comes in 12 different size options to fit your vehicle
Made with lightweight PermaPRO ripstop fabric
Adjustable front and back panels for a tighter fit
Long zipper pulls make it easy to take it on and off
Access panels to doors and storage compartments
Comes with durable storage bag
Tension straps are already integrated into the design
Comes with lifetime warranty
The Classic Accessories OverDrive PermaPRO is the best RV cover that really stands out from other options on the market. It is the best option for serious RV owners who need total protection when their RV is not in use.
Check it Out
ADCO 52245 Designer Series Travel Trailer Cover

The ADCO Designer Series is another premium cover for RV to protect your vehicle from the weather. In particular, it is designed for areas with medium to high levels of moisture and will keep your vehicle dry in rainy or snowy climates.
It has a very durable multi-layer construction that can stand up to the natural wear and tear you can expect over the years with your RV. Here are some of the notable features of the ADCO Designer Series travel trailer cover.
Comes in 10 different sizes for different models
Triple layer construction
AquaShed top panel and polypropenlene sides that repel moisture
Comes with rain gutter spout
Modern, sleek design
UV ray protection
Multiple zipper entry doors for easy access
Multiple vents to prevent wind bubbles
Buckles on the front, back and bottom of the cover
Weighted buckle toss under keeps cover close to the vehicle
Protective storage bag keeps cover in good quality
2 year manufacturer warranty
The ADCO Designer Series travel cover is one of the best RV covers for dealing with humidity, rain, and snow. The fabric is extremely durable and stands out from other covers on the market with its triple layer construction. The cover also looks sleek to prevent your parked RV from being an eyesore on your driveway.
Check it Out
Goldline Class A RV Cover
The Goldline Class A Motor Home Cover is one of the best options on the market to protect your RV from the sun. This motor home cover has strong UV protection and reinforcement to prevent both aesthetic and functional damage that can come from leaving your RV out in the sun. This cover also has some elasticity, so it stretches to fit your vehicle's dimensions.
Here are some more features of the Goldline Class A Motor Home Cover.
Comes in 17 different sizes for a precise fit
Extremely durable 7 oz polyester fabric
Mildew resistant
Available in both tan and gray colors
Zipper access to the front, back, and side of the vehicle
Durable quick release buckles and sizing straps
Elasticized corners are durable and stretch to fit
Reflective strips keep your vehicle safe at night
Comes with duffle bag, ladder cap, and reinforcement patch
5 year warranty
If you spend most of your time in warm, sunny climates, you need this RV cover for sun. The thick fabric has some of the best RV cover for sun on the market and the design fits perfectly to your vehicle for the best possible fit.
Check it Out
KAKIT Camper RV Cover

The KAKIT camper cover is a heavy duty RV cover option that is ideal for protection from the sun, wind, and rain. This RV cover is made with a very thick fabric that is designed for all different types of weather. It is also designed with plenty of features that make the cover very easy to get on and off.
Here are some of the notable features of the KAKIT camper cover.
Fabric has 5 layers on top and 3 layers on the side
Cotton PVC lining for breathability and mildew prevention
Double stitch seams are extra durable
15 piece strap and buckle set for the tightest possible fit
Comes in two different sizes
8 air vents to prevent flapping and wind damage
Zippered access to RV doors and storage compartments
Comes with storage bag, reinforcement patch, ladder cap, and 6 gutter protectors
30 day money back guarantee and 3 year warranty
The KAKIT camper cover is ideal for protecting your RV from any type of weather. Although it doesn't come in as many custom sizes as other options, it is incredibly durable and also resists mildew and wind damage.
Check it Out
Expedition by Eevelle Fifth Wheel RV Cover

If your RV comes with a fifth wheel, you are going to need a different sized cover than if your RV did not come with this option. The Expedition by Eevelle cover is the best option for the unique dimensions of a fifth wheel.
It's both waterproof and UV proof and fits tightly to the RV for the best protection. Here are some of the notable features of the Expedition by Eevelle fifth wheel cover.
Marine grade waterproof roof
Durapel UV protection
Multiple zipper panels for easy RV access
Military grade anchor points
Sewn in vents
Adjustable front tension buckles
3 year warranty
This RV cover is not only a great fit for vehicles with a fifth wheel, but it's also made from some of the best quality materials on the market for protection. Overall, it is the best fifth wheel RV cover that is made with military grade materials, you can really rely on for its performance in any type of weather.
Check it Out
RV Cover Buying Guide
An RV cover will keep your vehicle protected when it isn't in use, ensuring that it will last for decades. A good RV cover protects against both warm and cold weather, moisture, and wind, and also prevents aesthetic damage.
When purchasing an RV cover, it's worth investing in high quality option to prolong the life of your RV as long as possible. There are many things to look for in an RV cover to ensure that you really get your money's worth. Here's what to keep in mind.

Fabric Durability
A good RV cover needs to have very strong fabric that is resistant to rips and tears. Ideally, the fabric should be very thick and even have multiple layers. However, it's also helpful if the fabric isn't too heavy, because this can make the cover difficult to put on. Look for the phrase rip-stop when shopping, as this normally indicates a light but durable fabric.
Reinforced Corners
Reinforced corners are very helpful in preventing tears and stretching, because the corners of the vehicle are where you are most likely to experience damage and wear. Look for an RV cover that has reinforced stitching and fabric on the corners. This can help the cover last longer and better protect your vehicle.
Waterproof and Mildew Resistant
Of course, your RV cover needs to be completely waterproof to protect your vehicle from storms. Water should glide off the top of the roof instead of being absorbed into it. Many RV covers even come with rain gutters, which direct water so it naturally flows away from the RV.
These rain gutters will prevent water from being collected in a pool at the top of the RV. Your RV cover should also be mildew resistant. A mildew resistant RV cover is going to last longer and be more durable because it will stay nice and clean.
UV Protection
Sun is another thing that can do serious damage to an RV, so if you are parking your car in a warm, sunny area, UV protection is a must-have. This will reflect UV rays back off the RV so that they do not damage the paint or the metal. This will keep your RV in the best condition possible and preserve its paint job.
Size
The size of your RV cover is very important. If your cover is too small, it could damage the exterior of your vehicle. However, if your RV cover is too large, it will let wind and precipitation in, essentially defeating the purpose.
Many cover models come in many different sizes, so you can find one that fits your RV exactly. Keep in mind that if you have a fifth wheel on top of your RV, you will need to look for a cover that is specifically designed for that. Elastic corners are another helpful feature to look for that may result in a more exact fit.
Zippers
When you have your RV cover on, you still  may need to access the interior or storage areas of the vehicle. A good RV cover has zippers and doors so you can get in and out quickly.
The zippers should also be large and easy to reach, ideally without the help of a ladder. The doors of the cover also need to be appropriately located so they actually match up with the doors of the RV.
Vents
Your cover should have vents appropriately located on the front, back, and sides of the RV to let air out. Without vents, the RV cover could billow and flap. Not only does this make it easier for moisture to get in, it also can cause aesthetic damage to the exterior of the RV. Good vents will release the pressure while still protecting your vehicle from moisture.
Weights and Ties
To keep your RV cover in place, it will need to have the appropriate weights and ties to secure it. Your RV cover should come with weights on the bottom that go under the vehicle to hold it down. It should also come with ties that are easy to attach and will hold the fabric down tightly to prevent billowing or slipping. The ties need to be placed appropriately throughout the RV so that the cover sits evenly on the vehicle.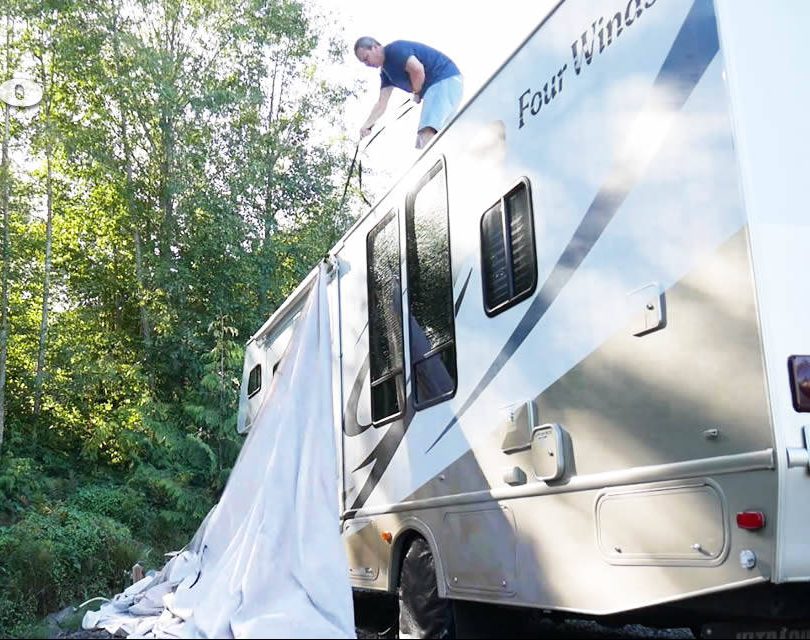 Accessories
There are a few accessories that many RV covers come with that are very helpful. For example, many RV covers come with a storage bag to keep the cover in when you aren't using it.
This helps keep the cover itself in good condition, so you don't need to worry about how to store it when you aren't using it. Many RV covers also come with a ladder, which you can use to get to the top of your RV and access zippers that are located towards the top of the vehicle.
Finally, some RV covers come with a reinforcement patch that you can use to repair any punctures or tears if they do happen. This can provide some peace of mind when investing in an RV cover. These accessories add good value to the cover and make it a better buy.
Conclusion
RV covers are essential when you aren't using your vehicle. They keep every aspect of the RV in good condition – they prevent the paint and the exterior from being damaged, they keep wind, rain, and bugs out, and they prevent sun damage as well.
A good RV cover will help you get the best possible value out of your vehicle, so when you purchase one, you should make sure you are getting an option that is truly durable. Use the factors discussed in this article to determine what type of cover is best for you and what options to look into.