Undercoating exposed areas of your car will act as a barrier against moisture, salt and other harmful elements. It is a rubber or wax-based substance that works best when sprayed to the underbody of a vehicle but it can be used elsewhere.
The best undercoating for cars is the 3M 0358 Rubberized Formula, which provides a black protective finish against corrosion.
Without treating corrosion that is present upon your car, it will continue to eat away at any exposed areas. Using an undercoating and rust prevention paint can be used together to ensure maximum resistance against corrosion.
Best Undercoating For Cars
A professional undercoating service can be expensive but by doing it yourself you can save a lot of money. Apart from being fairly messy, it is relatively straightforward to apply and can be long lasting if you use a quality undercoating.
In terms of the different undercoating formulas that are available, they include a rubberized, polyurethane and wax type. Each have their own benefits and may be more suitable for certain areas of the vehicle.
Below is a list of the best undercoating for cars that will form a tough barrier on exposed metal, which prevents rust and reduces road noise.
3M 0358 Rubberized Undercoating

The 3M 0358 is a professional grade formula and one of the most popular undercoating for cars. The brand offer it as a non-rubberized and rubberized formula where both provide a protective coating to prevent corrosion.
3M state that this product works great for vehicle underbodies, trunks, wheel wells, under the hood and trailers.
Other features of the 3M 0358 Undercoating include:
Suitable for cars, trucks and recreational vehicles
No-run formula
Sound-deadening properties
Black finish
Asphalt based
Easy application via the aerosol
The black finish as a result of using this undercoating provides a "like new" finish, which is another great benefit that can make a huge difference.
Overall, the 3M 0358 is the best rubberized undercoating that not only has excellent corrosion resistance properties but also provides sound deadening.
Fluid Film Undercoating

Fluid Film is another popular form of undercoating for cars that can be applied via a spray gun. Although this method can be messy to apply, it allows you to cover larger areas with more efficiency and get to the "hard to reach" areas.
Features of the Fluid Film Undercoating include:
Solvent free and will not dry out
Anti freezing agent for extra winter protection
Eco-friendly formula with natural ingredients
Available in 1 or 5 gallon cans
Multi-purpose protection
Clear finish once dried
Once you have made the initial purchase of a spray gun, the Fluid Film undercoating offers excellent value for money. Application of the formula once or twice a year is more than enough to keep your vehicle free of rust.
Wurth High Build Underseal Coating

Wurth is a premium brand that produce a range of products that are mostly used by professionals. This undercoating is manufactured in Germany and designed to match the original paint that was sprayed onto the vehicle from the factory.
It is a fast drying rubberized formula that is ideal for the underbody, wheel wells and lower rocker panels of your vehicle.
Other features of the Wurth High Build Underseal include:
Excellent adhesion
Fast drying with no runs
Black finish
Ideal for touch ups
17.8 oz aerosol
The Wurth High Build Underseal is a high performing undercoating that will be the closest match to the OEM finish. This makes it ideal for touching up damaged areas or the whole car. It does come with a higher price tag but the thickness, finish and ease of application make it worthwhile.
Rust-Oleum Automotive Undercoating

Rust-Oleum is another reputable brand within the automotive corrosion industry. The formula is suitable for vehicle underbodies, wheel wells and trunks where it deadens sound and provides a strong barrier against corrosion.
Features of the Rust-Oleum 248656 include:
Professional rubberized undercoating
Reduces road noise
Black finish
Dries quickly
15 oz aerosol
Overall, the Rust-Oleum 248656 is an excellent all-round undercoating for cars. As with the other aerosol cans, you will require multiple cans to complete the underbody of most vehicles, which makes this formula slightly expensive.
Dynatron 544 Dyna-Pro Rubberized Undercoating

The Dyna-Pro is a formula that is backed by the 3M brand but trades under the brand name Dynatron. Unlike the aerosol that 3M produce, this is a paintable formula that is available in a 1 or 5 gallon can.
In terms of the application, the best option would be to use a spray gun but you can use a brush to paint it on.
Features of the Dynatron 544 Dyna-Pro include:
Rubberized undercoating formula
Textured black finish to match OEM paint
Fast drying and flexible
Resists weathering and chipping
Sound deadening qualities
The Dynatron 544 Dyna-Pro undercoating is a highly rated formula that forms a durable barrier against rust, chipping and weathering.
The only drawback is that it has a premium price tag but this is due to the fact that it is a rubberized undercoating that is only available by the gallon.
Undercoating Buying Guide
Rust is not an addition you want to add to your car and you will want to treat it sooner rather than later. Removing rust with a wire brush and replacing old undercoating with a new layer will help prevent further corrosion from occurring.
Application of an undercoating can be achieved by the aerosol can, painted via a brush or sprayed using a gun. Spraying the formula is the best option as you will be able to get to all the "hard to reach" areas with ease.
To help you make an informed buying decision, we have produced the below guide regarding undercoating products.
Types of Undercoating
Not every undercoating product is the same and many are compromised of different chemicals that provide different benefits. The main types of undercoating include rubberized, polyurethane and wax/paraffin based formulas.
Rubberized
One of the most popular types is the rubberized undercoating because it has the benefit of providing additional sound deadening. The thicker formula provides an excellent barrier against rust and weathering. It can also be sprayed in various areas inside around the vehicle such as the underbody, wheel wells, trunk and much more.
Another benefit of a rubberized formula is that it some brands will provide a finish that can be painted over. Overall, it is the best type of undercoating as it is the thickest, easiest to apply and leave the least amount of mess.
Polyurethane
Polyurethane is often available in large cans and is applied using a spray gun. During the application, it will form a chemical bond that protects exposed metal underneath your vehicle. It does require sanding beforehand, which makes it a more involving tasks to use this type of undercoating.
Wax/Paraffin
The cheapest of the three is a wax-based formula that gets into all the cracks and seams of the vehicles underbody. It is cheap due to the fact that its not very long lasting. However, you can apply multiple coats to provide a thicker barrier for extra protection.
For warm climates where salt and other harmful debris are not on the road, a wax or paraffin formula is more than ideal.
Black vs Clear Coating
Using an undercoating that provides a textured black finish is highly desirable. The "like new" finish that matches the OEM finish is the best option for many as it also hides a lot of the unwanted defects too. Choosing between the two is dependent upon your personal preference but the black coating is the most popular.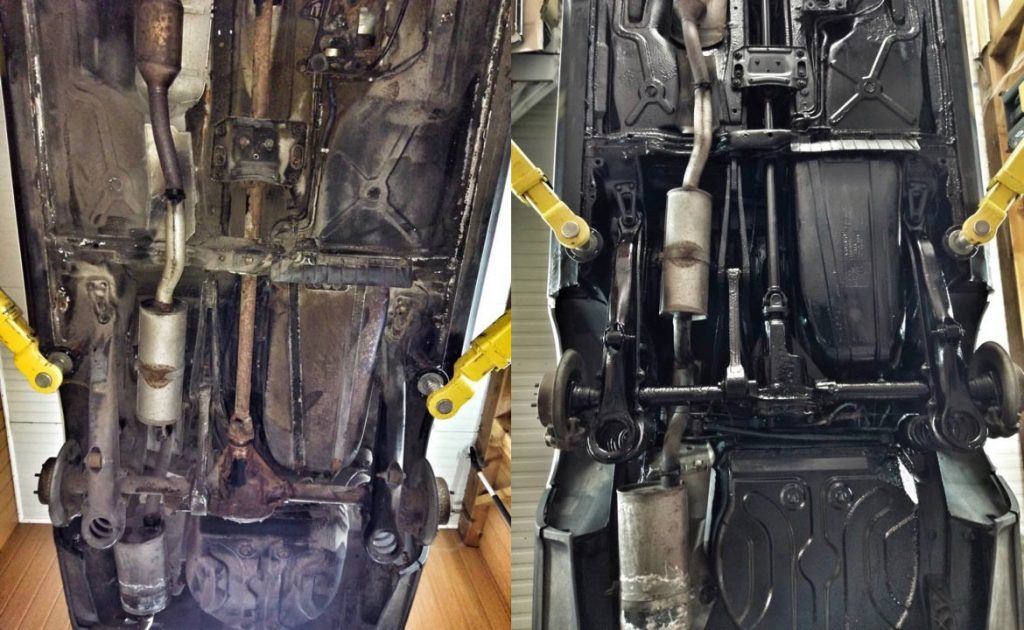 The Preparation
Preparation work that is carried out before the application will make a huge difference to the finish. Cleaning the underbody is the first task that you will be required to tackle and it can become messy. The best method of cleaning the underbody is to use a pressure washer to push all the dirt away.
Once all the dirt has been removed and it has time to dry, we a suitable degreaser to clear all the grease. Failing to remove any greasy substance will prevent the undercoating sticking to the surface.
If you notice any areas where corrosion is present, you will want to remove it before applying an undercoating product.
The best method to do this is by using a wire brush attachment. Once complete, you can apply a rust prevention paint for additional protection.
Application Process
Once the work area is completely dry with no moisture present, you can begin to apply the undercoating. Depending upon the formula that you are using will determine whether it requires a primer beforehand. If it does, simply apply the primer and allow enough drying time before using the undercoating.
Whilst applying undercoating to your car, you will want to ensure you are spray/painting it evenly. Any areas of the car that are exposed to the road should be covered for maximum protection. Once the first coat has fully dried, you can apply a second coat.
Once complete, we recommend waiting at least 24 hour before driving on the road unless otherwise stated by the product.
Conclusion
The recommendations within this article are from the top brands in the undercoating industry. They include a mixture of aerosol and paintable formulas that can sprayed in various location around the car for maximum protection.
Not treating rust that is present upon your car will lead to further issues as the years go past. Simply removing the rust and then treating it with an undercoating formula will prevent rust and improve the longevity of your vehicle.