Tire shine is the holy grail to people that love detailing their car. Its main purpose is to give tires the desirable wet look that makes the rim and tire look far more attractive. It takes less than a minute per wheel to apply and makes a huge difference.
The best tire shine is the Meguiar's G7516 Endurance Tire Gel that provides a glossy finish and is the longest lasting compared to the alternatives.
After detailing your car, the one thing that will stand out are old or dull looking tires. However, simply applying a tire shine in the form of a spray, gel or foam can give you the look that you desire that is also long lasting.
Tire Shine Comparison
When using tire shine, you should use a foam applicator to effectively spread it across the tires. This ensure you are able to cover all the grooves in the sidewall. After application to all 4 tires, we recommend that you move your car forward a few inches to ensure you have covered the bottom of the tire.
The finish you can achieve varies from a very glossy shine to a subtle natural wet finish but it's a divided opinion to which looks best. Using a quality tire dressing will compliment your vehicles overall appearance when detailed.
Below is a list of the best tire shine that are long lasting and provide the desirable wet look.
The Best Tire Shine
---
1. Meguiar's Endurance Tire Shine Gel

When Meguiar's has a detailing product on the market, you just know that it will be high quality. The Endurance tire shine is probably one of the most frequent purchases in my detailing box and is the best tire shine for the money.
Compared with other products on the market, the Meguiar's G7516 is more durable and long lasting. Even when using this product in the winter, the wet look on the tires is able to withstand the tough environment.
Above is an examples of the finish from using the Meguair's tire shine after several weeks. As you can see, it still remains black and provides the desirable wet look. If you require more gloss, it will need to be topped up every other week.
Other features of the Meguiar's Endurance Tire Gel include:
Silicone based
Long lasting glossy finish
Provides UV protection
Protects against browning
No overspray, drips or streaks
16 oz bottle
When applying the tire gel, always use an applicator and small portions of the product. Too much will be a waste and it will also attract more dust that will cling to the gel. Overall, it is the best tire shine that uses a long lasting formula, which provide maximum shine and durability.
Check it Out
2. Adam's Polishes Tire Shine

Adam's Polishes tire shine is a premium option that contains a small amount of silicone to provide a wet and non-greasy shine. You can also add multiple layers of this tire shine to perfect the wetness of the tire and elevate the look.
When the Adam's tire shine is applied properly with an applicator, it will continue to work its magic for much longer. It also provides a tasty banana scent and the dressing will foam up on the tires as shown below.
Other features of the Adam's Tire Shine include:
High quality refillable spray bottle
Available in 16 oz and 1 or 5 gallon bottles
Non greasy formula
Deep, rich shine or wet look finish
Made in the USA
If you are looking for a long lasting tire shine that can be applied with ease, the Adam's tire shine is the best option. It is slightly more expensive than the alternatives but it provides an unmatched finish.
Check it Out
3. Autoglym Instant Tire Dressing

Another alternative to the Meguiar's product is the Auto Gylm tire shine, which is sprayed directly onto the tire from the bottle. It is more expensive than the Meguiar's and Adam's alternatives but provides a natural glossy finish.
Meguiar's can sometimes provide too much gloss whereas the Auto Glym tire shine is designed to provide a more natural finish to the tires.
The Auto Glym tire dressing is applied from the spray bottle, which puts a light white foam onto the tires (as shown above). We advise that you leave it to foam for at least 30 seconds before drying the tire to reveal the finished result. Once you have waited for it to fully dry, the tire will be satin black and look brand new.
Other features of the Autoglym Instant Tire Dressing include:
Easy to apply formula
High quality refillable spray bottle
Durable polymer silicone protectants
Instant natural finish
16.9 oz bottle
Both the Adam's Polishes and Auto Glym formulas provide similar finishes. However, the Auto Gylm contains polymer silicone protectants, which makes it the longest lasting tire shine compared with the alternatives.
Check it Out
4. Armor All Extreme Tire Shine Gel

The Armor All Extreme Gel is another popular alternative that uses an advanced formula for the best results. The brand claim that the high molecular weight silicone will preserve the tires shine for multiple weeks.
For peace of mind, Armor All provide a 100% satisfaction guarantee on this tire shine or your money back.
Other features of the Armor All Extreme Tire Gel include:
Wet black shine that lasts weeks
Silicone based
18 oz bottle
No messy overspray
Includes applicator sponge
Protects against fading or cracking
Overall, the Armor All Extreme is an excellent all-round tire gel that provides a great finish and durable protection. Although it's slightly more expensive, it does include an applicator for providing full coverage.
Check it Out
5. CarGuys Tire Shine Spray Kit

The CarGuys tire dressing is a premium option that works by penetrating the tire and providing hydration against UV rays. It is the new and improved formula that includes a patented polymer additive to extend the finish.
Included with the tire care kit is an applicator pad that is constructed of a thick microfiber, which allows you to spread the product evenly.
Other features of the CarGuys Tire Shine include:
Completely safe and non toxic formula
Doesn't harm plastic, rubber or vinyl surfaces
Reduces fading, browning and cracking
Quick and easy application
Provides a showroom finish
Available in a 18 oz or 1 gallon bottle
Made in the USA
Depending upon your requirements, you can apply a single layer for a rich deep black or multiple layers for a high gloss finish. Overall, the CarGuys Kit is a high performing tire shine that will not disappoint and easy to apply.
Check it Out
6. Aero Cosmetics Tire Protectant and Dressing

An alternative finish from a shiny gloss is a dark matte finish, which many find very desirable. The Aero Cosmetics formula is the best option for type of finish and even meets the Boeing Aircraft Specification.
It's a water based formula that is designed to moisturize the tire, which helps to reduce the aging effects from UV rays.
Other features of the Aero Cosmetics Tire Dressing include:
Dark black satin/matte finish
Available in a 16, 32 or 64 oz bottle
Biodegradable formula
Leaves no oily residue
Long lasting protective barrier
Suitable for other plastic components
Made in the USA
The Aero Cosmetics formula provide a unique matte finish to the tires that transforms old or aged tires. The only drawback is that it does require at least 30 minutes to completely soak into the tires for the best results.
Check it Out
7. Chemical Guys Silk Tire Shine Dressing

Chemical Guys is a high quality detailing brand that has seen huge popularity in the last few years. Their Silk Shine Tire Dressing is a popular option for many people as it provides a natural finish as opposed to maximum gloss.
The main benefit of this formula is that it can also be used on surfaces such as rubber, vinyl, plastic and others. The Silk Shine Tire Dressing has been improved to provide additional resistant to water, protection from UV rays and dry to touch.
Other features of the Chemical Guys Silk Shine include:
Available in a 16 or 128 oz bottle
Protect against aging
Water based formula
Provides UV protection
pH balanced
No oily, greasy or stick residue
Overall, this tire shine by Chemical Guys provide a factory new satin black finish and is very easy to apply. If you are looking for a glossier finish, we recommend that you go with the Meguiar's tire shine.
Check it Out
8. TriNova Tire Shine Spray

TriNova's have developed an affordable long lasting tire shine that delivers a "like new" finish. The US made formula is applied through the spray nozzle and will provide a slick dark finish that will last many weeks.
Unlike many of the alternatives, this formula provide protection agents that reduce tire aging. This is a desirable feature as it prevents the tires becoming dull or fading from the effects of UV rays and the tough road environment.
Other features of the TriNova Tire Shine Spray include:
Advanced coating and protection
Repels dirt and grime
Available in a 18 oz or 1 gallon bottle
Multiple levels of shine
Easy to apply
The level of shine you wish to achieve can be altered simply by the time you leave the dressing to dry. If you want to have a glossy finish to your tires, you should leave it on for as long as possible. Overall it is an excellent all-round tire portectant and dressing that will provide long lasting results.
Check it Out
9. Black Magic Tire Wet Foam

Black Magic have developed an aerosol that will clean, protect and shine the tires all in one application. It is a unique foam formula that clings to the tire and adsorbs dirt. The result is a protected tire with a wet gloss finish.
To apply the product, it is as simple as spraying it and leaving it for approximately 10 minutes. If the tire is covered in thick dirt, we recommend that you remove all the debris beforehand for the best result.
Other features of the Black Magic Tire Wet Foam include:
Can be applied to wet or dry tires
Lasts up to 2 weeks
Leaves no powdery residue
Water based formula
18 oz bottle
The Black Magic Tire Foam provides excellent value for money and is an "all-in-one" product that actually works. However, in terms of the shine, it won't provide as good of finish compared to the other formulas recommended above.
Check it Out
10. Meguiar's Hot Shine Tire Foam

Meguiar's produce a range of tire products but the Hot Shine Foam is an alternative to the Endurance Gel. It is designed to clean, shine and protect in one easy step. Compared with the Black Magic formula, the Meguiar's is a premium alternative.
Unlike cheaper alternatives, this formula provides protection against UV with additives that condition the tires.
Other features of the Meguiar's Hot Shine Tire Foam include:
Water resistant polymers to extend the protection
Easy to use foam that dissolves clear
Powers through dirt to provide a glossy black shine
Provides a well-maintained finish for weeks
19 oz spray bottle
Overall, the Hot Shine Foam by Meguiar's is a convenient and easy method of maintaining your tires. The fact that you don't even need to touch the formula once its been sprayed onto the tire is a big bonus.
Check it Out
Tire Shine Buying Guide
Achieving the desirable wet look is the result of using the best tire shine product. However, finding long lasting tire shires can be a difficult because there are many cheap formulas that need to be applied on a weekly basis.
It's fairly easy to apply but we highly recommend using an applicator to get full coverage. Many people simply use an old rag but this will dry up most tire shines and makes it much harder to apply.
A hex grip style of applicator is the best for effectively spreading the formula. When applying tire shine, we like to use the Adam's Polishes applicator as shown below: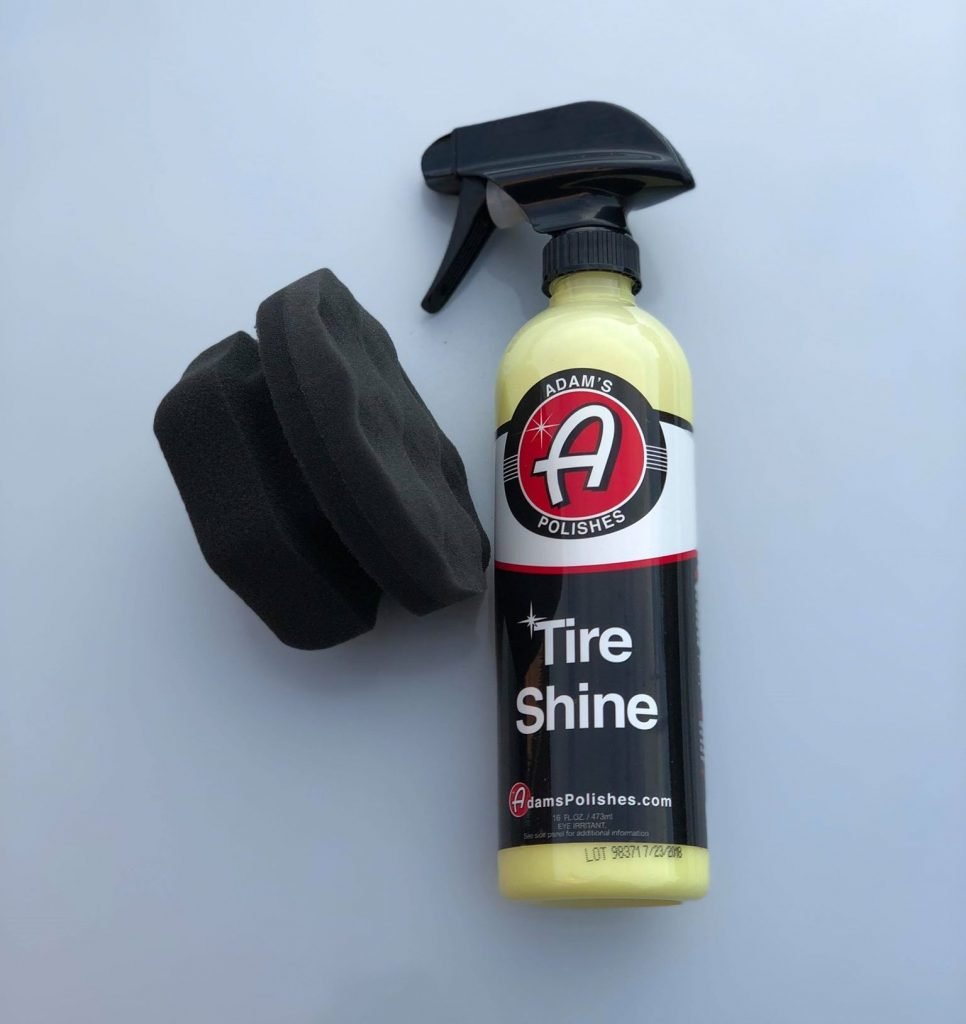 Types of Tire Shine
There are two main types of tire shine products that you can use, which include a water based or oil based solution. Water based is the preferred type compared to silicone because if the product goes on the paintwork, you can simply wipe it off. It uses natural oils and polymers that is less greasier and will result in a satin finish.
It's usually less durable and has a will not have a gloss finish but it's more safer to use on your vehicle compared with solvent based tire shine product.
A solvent based tire dressing contains strong solvents that require you to tape up the paint work around the wheel but do have the benefit of being very long lasting and repelling water. Choosing between the two different types is a matter of preference.
Spray vs Gel vs Foam
Spray, gel and foam are the three main methods of applying tire shine to your vehicles tires. They all have separate benefits as is a personal preference thing with regards to your choice.
For example, in windy conditions, both the spray and foam applications tend to end up on your paintwork, leaving a residue that will smear your paintwork. This can be really annoying if you have just waxed the car.
Alternatively, a tire gel can become very greasy on your hands and difficult to remove as well as being more time consuming to apply. Some detailing enthusiasts prefer using different types depending upon the type of finish they want.
Homemade Tire Dressing
For those looking to save every ounce of money they can, it is possible to make homemade tire dressing. There are many formulas you can use for different results with some people using certain scents to make their car tires smell nicer.
A proven homemade tire dressing that is recommended is using 2dL of baby oil, 80dL of water and 3 drops of dish soap. These measurements will be altered depending upon the volume of tire dressing you wish to create. For those that work with different units, consider using a dL converter.
How To Apply Tire Shine
The application of tire shine may seem straight forward but perfecting it requires important steps. To get the best result and reduce wastage of the tire shine product, a dressing applicator pad will make things easier and improve the finish.
To apply tires shine correctly, we recommend that you follow these 5 steps:
Wash Tires Thoroughly. Spraying the tires with water is simply not enough. Scrub all dirt from the tires to get the best finish from the tire shine.
Dry Tires. Excess water can mix with the tire dressing causing unexpected result. Ensure the tires are dry regardless of whether the product says it is safe.
Add Tire Shine to Applicator. A classic mistake is overloading with the product. Avoid doing this as it will end up on the floor or all over your wheel. Use a small blob and work it into the tire.
Apply Tire Shine. Unless you are using an aerosol, simply work the dressing into the tire. There will be a waiting period that is different for each product but this is an important stage for the best finish.
Remove Excess Dressing. To prevent dirt clinging to dressing that isn't drying, simply touch a cloth against it to remove it from the tire.
The first step of washing the tires is the most important. If there is any dirt left on the rubber, the dressing cannot be applied correct to the tire and this will ruin the finish on the tires. We highly recommend using an electric car pressure washer on the tires to remove all the dirt completely.
Desirable Features
There are several features that you should consider when looking for the best tire shine. For starters, you are applying tire shine for one main reason, that all important wet look. However, you should always check the type of finish that the product aims to achieve as some may be more of a glossy finish whereas other go for the "new tire" natural finish.
At the same time, to get the best value for the money, you want to ensure that it is also durable, otherwise you will be applying it every other day. Tire shine has a lifespan when applied to a tire but this is reduce significantly due to the environment.
Conclusion
At Pro Car Reviews, our team are split between the Meguiar's and Adam's Polishes as the best tire shine. Both provides excellent value for the money and are fairly durable but the difference comes in the form of the finish. The glossy finish of the Meguiar's is highly desirable for many but some prefer the natural black finish.
All of the recommendations in this article will improve the finish of your car and be the finishing touch after waxing your car. Leaving them untouched will make them stand out but in a bad way. It's also worth mentioning that if you are using all terrain truck tires or other large tires, you will need a lot more than one bottle because they are fairly small portions inside each.