MIG is an acronym for Metal Insert Gas and by using a MIG welder, you are able to work on a wide variety of applications. It is also the easiest to learn for beginners getting into welding, which makes it by far the most popular type.
The best MIG welder is the Hobart Handler 210 MVP, which has dual voltage inputs and is able to weld steel to 3/8 inch in a single pass.
Unlike a TIG welder that uses long welding rods, a MIG welder uses a continuous feed of wire for welding. They are available as 110V or 220V units with the more powerful units suited to thicker welds.
Best MIG Welder
The majority of MIG welders can be used with a gas cylinder or without it by using a flux cored process. Purchasing a welder that can use both processes ensures that it is versatile and can be achieve various finishes.
If you plan to use your MIG welder for welding aluminum, you will want to ensure the unit you purchase is compatible with a spool gun. Most smaller welders may not be compatible and this may sway your buying decision.
Below is a list of the best MIG welders that are available as 110V or 220V units and offer great value for the money.
Hobart Handler 210 MVP MIG Welder

The Hobart Handler 210 MVP is a dual voltage MIG welder that is suited towards those with a big budget due to the premium price tag. However, it does come with a range of features suited towards professionals and a beginner.
Ensuring that the quality of your weld is the best it can be, this MIG welder has 7 voltage settings for fine tuning.
Other features of the Hobart Handler 210 MVP include:
120V or 230V inputs
20% at 90 amps and 30% at 150 amps
MIG or flux-cored
Cast aluminum drive system
Welds 24 gauge up to 3/8 inch
Suitable for aluminum and stainless steel
Weighs 87 LBS
Made in the USA
The Hobart Handler 210 MVP comes in a complete package with everything you require. This includes a 10 foot welding gun and work cable with clamp, dual gauge regulator with gas hose, spool hub assembly, built-in solenoid valve and much more.
Hobart are a premium brand with a wide range of welders available. When it comes to the MIG welders that they produce, the 210 MVP model is the best option.
LOTOS MIG175 220V Mig Welder

For those looking for the best MIG welder for aluminum welding, the LOTOS MIG175 is the preferred option. It has a dedicated aluminum wire feeder and high-speed spool gun for an improved welding experience.
It is larger welder compared with other units with a gross weight of 85 LBS but is built to last and suitable for 220V inputs.
Other features of the LOTOS MIG175 include:
Spool gun included
Rated duty cycle of 30% at 135A
Adjustable heat settings
Handles 4 or 5 inch wire spools
Overload protection system for additional safety
Suitable for aluminum, stainless steel and other metals
Includes a 3 year warranty
In terms of the welding capacity, you will be able to weld aluminum up to 3/8 inch and mild or stainless steel from 18 gauge to 1/4 inch.
For tackling stainless steel, mild steel and aluminum, the LOTOS MIG175 220V MIG welder is a great option. It is less portable than some of the alternatives but it will out perform them all and includes a spool gun for extra value.
Lincoln K2185-1 MIG Welder

Lincoln are another big American brand in the welding industry with a range of welders available. The K2185-1 model is a more affordable MIG welder that is perfect for welding mild steel from 24 gauge to a thickness of 1/8 inch.
Other features of the Lincoln Electric K2185-1 include:
110V/115V/120V input
20% at 70 amps duty cycle
Suitable for steel and stainless steel
Lightweight at 46 LBS
Includes a 1 year warranty
Wire feed speed adjustment
Made in the USA
The brand state that it is suitable for welding mild steel but with a spool gun, you can weld aluminum with the K2185-1.
Included in the complete Lincoln K2185-1 package is a welding gun, clamp, hose, cable, wire spool, gas nozzle, regulator and more. Overall, it works great as a MIG welder for home use but will not perform as well as the premium alternatives.
Miller Millermatic 211 MIG Welder

Miller MIG welders are the preferred choice of many professionals that weld on a daily basis but they do come with a premium price tag. The Millermatic 211 is one of the brands most popular welders and can be used within many applications.
It is able to weld mild steel from 24 gauge to 3/8 inch, stainless steel from 20 gauge to 1/4 inch and aluminum from 18 gauge to 3/8 inch.
Other features of the Miller Millermatic 211 include:
Dual voltage
40% at 150A and 20% at 115A
Angled cast aluminum drive system
Thermal overload protection
Suitable for aluminum, stainless steel and other metals
3 handles for maximum portability
Weighs 66 LBS
Assembled in the USA
The Miller Millermatic 211 is a top rated MIG welder but it is also the most expensive within this article. If you are able to stretch your budget, it is a worthwhile investment but unless you are using it on a daily basis, the alternatives may be better option.
Everlast MIG140 120V MIG Welder
The Everlast MIG140 is another premium option that uses an inverter based design, which lowers the weight and power consumption. This means it has an impressive duty cycle rating of 35% at 135A.
Included within the complete package is a 10 feet MIG gun, work clamp, CO2 regulator and consumable starter kit for beginners.
Other features of the Everlast MIG140 110V include:
Step-less control of the wire speed and voltage
Suitable for 4 or 8 inch wire spools
Spool gun ready
Operates at a lower amp draw
Can be used with a generator for welding
Although expensive, the Everlast MIG140 110V is an excellent all-round MIG welder that outputs far higher amperage at a better duty cycle rating.
MIG Welder Buying Guide
MIG (Metal Inert Gas) welding is one of the most common industrial welding method due to its ease and versatility. They are suitable for home use or more commonly within automotive applications such as bodywork, exhausts and much more.
Whether you want the best possible unit or simply want great value for the money, there is a wide range of welders available. To help you make an informed buying decision, we have produced the below guide regarding MIG welders.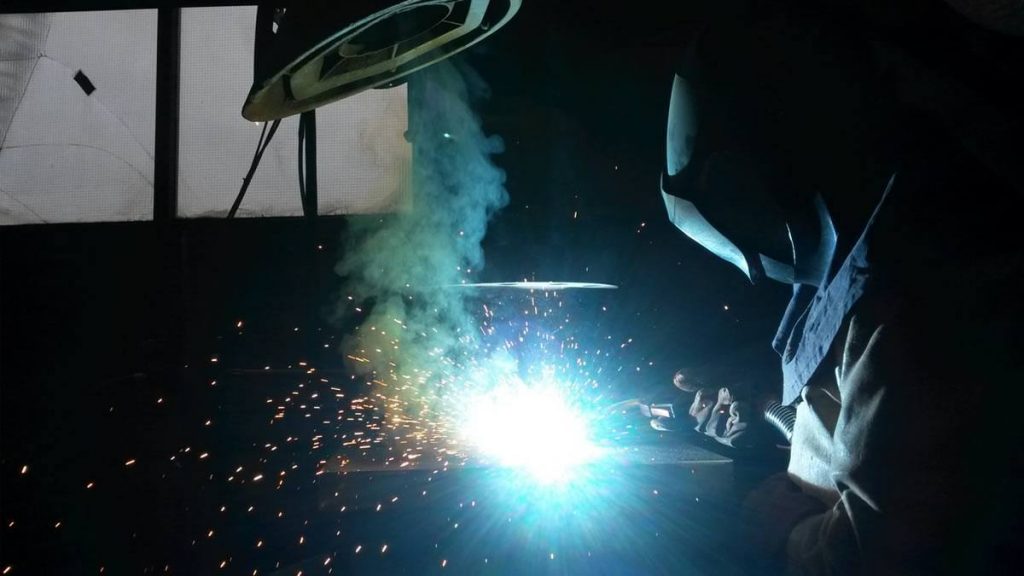 How Does MIG Welding Work?
Without going too much into detail, MIG welding passes a wire welding electrode on a spool that is fed automatically as a specified speed. This creates an electrical current between the base metal and wire to form a high strength weld.
To ensure that no airborne contaminants are within the welding zone, a flow of gas is also passed through the welding gun. It is a system that has been around since the mid-twentieth century and used by both professionals and beginners.
Unlike other welding methods, a MIG welder provides longer and more continuous welds. Most use gas or a flux cored process but if you are using gas, you are able to achieve a much cleaner and splatter-free weld. Many professionals will state that MIG welding is the best option for automotive welding.
Shielding Gas or Flux Cored Electrodes
Most MIG welders use either shielded gas or a flux cored process for welding. Shielding gas is the more expensive of the two and requires a gas cylinder but unlike a flux core welder, it does not create any splatter, which will need to be chipped away.
Using a flux core process for MIG welding can be the easiest solution as you do not need to carry a gas cylinder around from job to job. This also means it is cheaper and great for beginners that do not know how to operate more complex gas systems.
For further details, we recommend that you read Lincoln Electric's guide to the different types of electrodes.
110V or 220V Input
Not every MIG welder will be compatible with standard electrical outlets. The majority of welders fall between 110/115/120V or 220/225/230V. However, some maybe classed as "dual voltage" welders that can switch between the 110V or 220V.
If you want the best MIG welder for home use, a low voltage unit will be the better option as they can plug straight in. However, this does limit your welding ability with regards to the thickness of the metal. Opting for a higher voltage welder will allow you to produce better welds on thicker metals and are generally the best option.
However, if your budget can stretch, we highly recommend a dual voltage MIG welder for maximum versatility.
Weldable Materials
You can have the best MIG welder on the market but compared to other types of welding, it does have its limitations. The majority of units can weld mild steel or stainless steel but some may also be able to weld aluminum with a spool gun.
When you compare the weldable materials against other welders, it doesn't look at impressive. However, the use of a MIG welder is renowned for easier and cleaner welds, which makes it the better option.
Duty Cycle
The duty cycle of a MIG welder is a particularly confusing metric for beginners. It is a rating that manufacturers provide that determines the length of time the unit can weld before it needs to cool down.
It is shown as a percentage, which is calculated upon a 10 minute period for simplicity. For example, if the welder had a 30% duty cycle at a specified amperage, it would mean it can continuously weld for 3 minutes and require 7 minutes to cool down.
To improve the work rate at which the welder can operate, many premium options include powerful fans and various speed settings.
Many also include a thermal overload protection regulator to prevent any damage in case you exceed the duty cycle.
Power Output
Exceeding the power requirements for the welding you plan on tackling is always recommended. For home use or thin metal, 100 amp units are more than adequate but most manufacturers will provide an indication of the performance.
Wire Feed Speed
The wire feed speed is an important factor to consider and can be the difference between a good or bad finish to the weld. For example, if the feed is too slow, the wire may disappear as soon as it comes in contact with the metal. If it is too fast, it may splatter upon the metal, which will look unprofessional.
Many of the premium options come with either an automatic speed setting that reflects the power output or adjustable speed settings.
Portability
Most welding jobs will require you to move around with the welder, which makes portability a key factor to consider. Most MIG welders will weigh between 40 and 100 LBS with the more heavier units requiring a trolley for easy movement.
If you plan on taking the welder to different work areas, we strongly recommend that you analyze the handle for comfort and size.
Additional Equipment
Other than the standard welding equipment such as a welding helmet, you may also need extra equipment. For example, for those using gas shielding, you will need a gas cylinder and a regulator to set the flow of gas depending upon usage.
In terms of the gas selection, a 75% argon and 25% carbon dioxide blend provides excellent all-round performance. However, if you require further penetration, a 100% carbon dioxide blend will do exactly that but may leave splatter.
Conclusion
Unlike other forms of welders, the MIG welder is the easiest to learn, control and provides much cleaner welds. It can also be used as a flux core welder as they use the same equipment.
All of the recommendations within this article are suitable for a range of budget and skill levels. It may be tempting to choose the cheaper alternatives but sticking with a reputable brand will ensure that it is reliable and long lasting.