You can never have enough microfiber towels when it comes to auto detailing. They are required to remove any residue, dirt or debris that you may find whilst cleaning your interior or buffing off products used on your paintwork.
The best microfiber towels are the Rag Company Eagle Towels, which have a 16 x 16 edgeless design that will allow you to safely remove any residue from detailing.
Often confused with a car drying towel, the microfiber towels for auto detailing are far softer and do not absorb as much water. They are also much smaller in size and you can buy them in bulk so that you always have a fresh towel available.
Best Microfiber Towels For Cars
The quality of a microfiber towel can be seen by the GSM count, which stands for grams per square meter. A towel with a high GSM count will result in a plushier and softer microfiber towel, which is what you will require for car detailing.
Buying in bulk is highly recommended as the microfiber towels can become dirty fairly quickly. Below is a list of the best microfiber towels for auto detailing that will safely remove detailing products with ease.
The Rag Company Eagle Edgeless Towels
The Rag Company are known for their popular drying towels but they also produce a range of microfiber towels for cars. They are an edgeless super plush microfiber towel that are ideal for buffing off any detailing sprays, polish or wax.
Other features of the Rag Company Eagle Edgeless Towels include:
500 GSM count
Made in the USA
Able to withstand hundreds of washes
South Korean AA-Grade split microfiber
70/30 microfiber construction
Over 600,000 fibers per square inch
Overall, the Rag Company Eagle towels are an excellent option for detailing enthusiasts that do not mind spending a little extra. The edgeless design does cause minor fraying overtime but they also reduce the chance of causing fine scratches to your paintwork. They are the best microfiber towels for cars and can also be used for a range of applications.
Check it Out
Adam's Polishes Double Soft Microfiber Towel
When it comes to buffing off wax or other detailing products, it is important that you do not introduce swirls or scratches to the paintwork. Many professionals will therefore opt for an ultra soft microfiber towel for auto detailing. This is where Adam's Polishes come in with these double soft towels that is incredibly soft on your paint.
Features of the Adam's Polishes Microfiber Towels for cars include:
920 GSM count
Undyed white microfiber
16 x 16 inches in size
Thick and soft construction
Easily washed via light wash
70/30 microfiber construction
Available as a single towel or 6 pack
Overall, they are the best microfiber towels for auto detailing but they do come with an expensive price tag. This will put off many people but if you are looking to reduce any swirl marks or scratches, these soft towels are ideal.
Check it Out
Kirkland Signature Premium Microfiber Towels

For those looking for excellent value for money, Kirkland Signature offer a 36 pack. Although they are sold in bulk, they are still premium quality as they are ultra high pile that are able to lift residue without scratching or linting.
Features of the Kirkland Signature Microfiber Towels include:
365 GSM count
16 x 16 inches in size
Can be washed hundreds of times
Contains 36 yellow towels
80/20 microfiber construction
Overall, they are the best cheap microfiber towels for car detailing and will ensure you always have spare towels for big jobs. Due to the low cost, you will not feel guilty when throwing out dirty towels whereas with alternatives you will have to go through the hassle of washing them.
Check it Out
Buff Detail Microfiber Car Towels
Another premium microfiber towel for auto detailing are these Buff Detail towels. Unlike many of the alternatives that have microfiber woven into polyester, these are the opposite, which makes them more absorbent for extra cleaning power.
Features of the Buff Detail Microfiber Car Towels include:
400 GSM count
Machine washable
Extra plush soft construction
Available in three different sizes
Color options of black, blue or gray

Soft-binding, tagless and satin piped edges

Polyester is woven into the microfiber
80/20 microfiber construction
These are dense microfiber towels that are ideal for professional detailers. For those that do not want to stretch to the high price tag of the Adam's premium alternative, then these are perfect. They are great all-round microfiber towels that are available in larger sizes up to 24 x 24 inches too.
Check it Out
AmazonBasics Microfiber Cleaning Cloth

When it comes to the cheapest microfiber towels that are actually worth buying, the Amazon Basics are a great option. They are a non-abrasive cloth but we still only recommend using these for interior detailing.
Features of the Amazon Basic Microfiber Cleaning Cloths include:
185 GSM count
Leaves lint and streak free results
Comes in a pack of 36
Includes blue, yellow and white cloths
Can be washed hundreds of times
12 x 16 inches in size
90/10 microfiber construction
True detailing enthusiasts will avoid using these towels on their paintwork due to their GSM count. However, for interior detailing such as cleaning the dash, windows and other tasks, they are a great cheap option.
Check it Out
Microfiber Towels Buying Guide
Microfiber in general is a very small synthetic fiber that is twice as thin as silk. It is constructed of a blend of polyester and polyamide where many towels are blended in different ratios. When it comes to using them for auto detailing, they are very useful due to their abilities to attract dirt and absorb liquid.
Unlike other cloths or towels, a microfiber alternative is ultra soft and non-abrasive. This makes them perfect for buffing off polish, using detailing sprays and even for use with waterless car washes.
You can never have enough microfiber towels when it comes to detailing your car. They are usually relatively small in size and become dirty fairly quickly depending on its usage. To help you make an informed buying decision, we have produced the below buying guide.
Grams Per Square Meter (GSM)
When it comes to judging the quality of a microfiber towel, the grams per square meter is what you want to check. It is a measurement of the density of the towel and the higher the rating, the more thicker and softer the towel will be.
The majority of low cost microfiber towels you will find are usually between 200 and 350 GSM. However, if you are willing to spend the extra, you will be able to have an ultra plush towel that is ideal for auto detailing due to the softness.
If you are requiring a microfiber towel for car detailing, we recommend that you use 300 GSM and above. Anything below is fine for interior detailing or wiping off auto glass cleaner without leaving streaks on the window.
Microfiber Blend
Microfiber towels are made from a combination of polyester and polyamide, which are usually displayed as a ratio. The majority of towels are either 70/30 or 80/20 with the first number stating the polyester content and the other stating the polyamide.
In terms of the qualities that both materials hold, the polyester gives the towel the shape and the polyamide is the density. Polyester is a far cheaper material and you will be able to tell the quality of the towel from this ratio along with the GSM.
Dimensions and Edges
You will notice that the most common size of microfiber towel is 16 x 16 inches. Choosing towels that are too large will be difficult to handle and cause streaks as your hand used for buffing is not in control of the full towel.
The edges of the microfiber towel come in a range of different types that include an edgeless, soft material or rolled edge. You will want to avoid rough edges with hard threads because they can cause fine scratches on your paintwork. The safest edges are the edgesless type but they are known for fraying overtime but you can simply trim these down.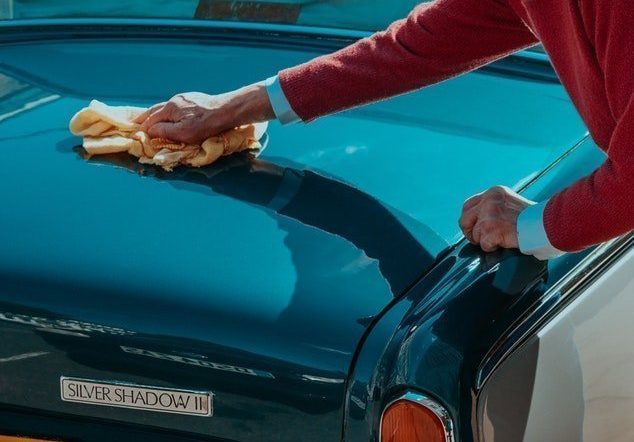 How To Clean Microfiber Towels
Unlike other materials, microfiber towels can be washed without any issues. Most can be washed multiple times before they require replacing. However, it is important that you clean them properly because they can become unusable if incorrectly washed.
You should begin by separating the towels depending upon their usage. For example, if they have been used for buffing off wax, you should keep all these together, which will prevent the towels becoming cross contaminated. If this is not possible, we recommend that you pre-soak them in warm water beforehand.
Unless otherwise stated, you can then place them inside the washing machine on a hot wash. We advise that you avoid the use of a fabric softner as this will coat the fibers of the microfiber towel.
When it comes to drying them, you can place them inside a dryer but ensure it is on the lowest heat setting. Too much heat or ironing the towels can cause the polyester within the microfiber to break down.
Storage
Many people will finish detailing their vehicle and then simply chuck the microfiber towel into the back of a cupboard. This is not the correct way of storing the towel and you will want to avoid cross contamination. You will want to keep them folded in a separate container and away from potentially capturing debris or dust.
Conclusion
Whether you are a professional detailer or someone just getting started. Investing into quality microfiber towels will make your life that much easier when it comes to buffing detailing products off the exterior and interior of the car.
All of our recommendations cover a range of different quality towels that are suited to a range of budgets. Considering the low cost of these towels, we highly recommend changing on a regular basis depending upon their usage.