The gooseneck hitch is a class V hitch that is designed to be installed to the truck bed. Unlike the 5th wheel hitch alternative, gooseneck hitches are much cheaper, smaller and are considerably more robust for heavy duty usage.
The best gooseneck hitch is the CURT 16055, which connects to the majority of industry standard base rails and includes a 7 year warranty.
Unlike other types of hitches, the gooseneck is installed directly in the middle of the truck bed so that it can be accessed easily. This position also improves the leverage and evens the distribution of weight of the trailer upon on the truck.
Best Gooseneck Hitch
There are three main types of gooseneck hitches, which include above the bed, below the bed and fold down as well as various adapters. Choosing between the different types depends upon the whether you have rails installed and the budget.
You can have the best trailer hitch installed but it is not always suitable for hauling heavy loads. This is where fifth wheel and gooseneck hitches as they are able to handle loads between 20,000 and 30,000 LBS with ease.
Below is a list of the best gooseneck hitches that can handle a large amount of weight and are easily installed on the bed of your truck.
CURT 16055 Gooseneck Adapter

The CURT 16055 is designed to be installed to existing fifth wheel base rails and is compatible with the majority of industry-standard base rails. As with any CURT manufactured products, they are built to last and for peace of mind, they provide an impressive 7 year warranty with this hitch.
Other features of the CURT 16055 Gooseneck Adapter include:
Gross trailer weight of 25,000 LBS
6,250 LBS vertical load
Carbide powder coating for additional durability
Standard 2-5/16 inch gooseneck ball
Secured with 4 hitch pins
CURT provide a range of gooseneck hitches but the 16055 model is by far their most popular due to the build quality and value for money.
Overall, it is the most popular and highly rated gooseneck hitch that can be mounted onto most standard base rails. Using the four pin-and-clip attachments, you are able to securely install or remove it in minutes too.
B&W Trailer Hitches 1111 Gooseneck

The B&W 111 gooseneck hitch is made in the USA and designed to be installed under the truck. This means that each of their hitches is designed for specific vehicles and you will need to ensure your vehicle is compatible. This particular hitch is designed for the Ford F250, F350 and F450 models but they provide many more for other manufacturers.
Features of the B&W Trailer Hitches 1111 include:
Gross trailer weight of 30,000 LBS
Powder coated for a durable finish
Requires no welding or removal of the truck bed
Uses existing holes in the frame
Kit includes everything you require
Requires a 4 inch hole for the ball to pass through
Although this type of gooseneck hitch is more expensive, it does have many benefits. The main being the fact that it is installed underneath the bed, which saves a lot of space on the bed. You can even convert the hitch to a level bed in seconds when not in use.
Overall, it is the best gooseneck hitch for ford F250, F350 or F450 models but B&W also produce hitches for other manufacturers.
Draw-Tite 9465-54 Hide-A-Goose

Another below the bed gooseneck hitch is the Draw-Tite 9465-54, which is also known as the "Hide-A-Goose" model. As with the B&W model above, Draw-Tite produce a range of these hitches that are suitable for a range of manufacturers. This particular example is suitable for all GM trucks.
Other features of the Draw-Tite 9465-54 Hide-A-Goose include:
30,000 gross trailer weight
7,500 vertical load capacity
Uses a high strength chrome plated ball
Accommodates all standard suspension with no alterations
Includes spring loaded safety chain loops
Only requires a 3-1/2 inch diameter hole in the truck bed
Limited lifetime warranty
Overall, the Draw Tite gooseneck hitch is a great alternative to the B&W above and has the benefit of being much cheaper too. It is easily installed and built to last with the lifetime warranty proofing how confident the brand are of this hitch.
Check it Out
Reese 58079 Gooseneck Hitch

Reese are another major brand and their gooseneck hitch is designed for those requiring a more affordable option. However, this doesn't mean it lacks in quality because it's built to last with a 2-5/16″ high strength zinc plated ball.
Other features of the Reese 58079 Gooseneck Hitch include
25,000 LBS gross trailer weight
6,250 LBS vertical load
Black powder coated finish
Connects straight onto the base rails of their 5th wheel hitch
Easily installed and removed
It is important to note that you must purchase rail kit in order to use this hitch. It is an additional cost but the full package is still very affordable.
The Reese 58079 Gooseneck Hitch is able to handle heavy trailer weights and is built to last. It will not disappoint and has the backing of the reputable Reese brand for peace of mind.
Husky 31368 Gooseneck Hitch

The Husky 31368 is the cheapest gooseneck hitch within this article that connects to existing fifth wheel rails. It uses a 2-5/16 inch diameter ball that is offset by 3 inches from the center of the plate. In terms of the performance, it is able to haul 25,000 gross trailer weight, which is impressive for an affordable hitch.
Other features of the Husky 31368 Gooseneck Hitch include:
Fit various brand rails for a universal fit
Full access to the bed once removed
Integrated safety chain attachments
5 year limited warranty
Includes pins for mounting onto rails
Overall, it is an excellent all-round gooseneck hitch that is compatible with the majority rails produced by big brands. However, the main reason the Husky 31368 is so popular is due to the low price tag, which provides big bang for your buck.
Andersen Hitches 3220 Gooseneck Hitch
Andersen Hitches are a huge brand in the towing industry and their gooseneck hitch is one of their most popular. The 3220 model is designed to be installed for all trucks that include long and short bed trucks. However, unlike the other hitches within this article, this connects to an existing gooseneck ball installed.
Other features of the Andersen Hitches 3220 Gooseneck include:
Gross trailer weight of 24,000 LBS
Weighs just 35 LBS
Greaseless coupler design
Adjustable height with 3 inch of movement
Swivels in every direction to 90 degrees
Installed or removed in just 5 minutes
Made in the USA
Lightness, ease of installation and swiveling of the coupler means you are able to assemble or disassemble this hitch easily. This is a very desirable feature for many as it allows you to keep the truck bed free for regular usage.
Tthe Andersen Hitches 3220 is an excellent option for those that have a gooseneck ball already installed on the bed. You are then able to connect it onto the gooseneck ball, which is made far easier due to the lightweight construction.
Gooseneck Hitch Buying Guide
When it comes to hauling extremely heavy trailers, you will want to a suitable hitch. The most popular is a fifth wheel but depending upon your trailer and personal preference, you may choose to use a gooseneck hitch.
The main difference between a fifth wheel and gooseneck hitches is that the fifth wheel uses a kingpin and pin receiver and the gooseneck uses a ball and coupler. Reese-Hitches explain this in far greater detail for those interested.
To help you make an informed buying decision, we have produced the below guide regarding gooseneck hitches.
Why Use a Gooseneck?
Gooseneck hitches have been used by truck owners for several years and this is due to the fact that they are tough and very versatile. The hitch ball can also be removed in minutes, which allows you to regain full access to the truck bed.
Fifth wheel hitches are more popular but they are so much more expensive and there are no affordable options that work well. In order to achieve a smooth and easy towing experience, you will require one that moves in all positions, which of course costs even more.
The use of a gooseneck hitch allows for cheap and reliable towing of heavy loads with the benefit of being easy to install.
Types of Gooseneck Hitches
There are three main types of gooseneck hitches available that include under the bed, above the bed and fold-down. The most popular types are the above and under the bed hitches but you can also use connection hitches such as the Anderson 3220 in the image below.
Above The Bed
By far the most popular gooseneck hitch to install to the bed of your truck is the above the bed. It mounts onto base rails, which are usually the same rails that are used with a 5th wheel hitch. The main reason why it is so popular is due to the fact that it can be installed and removed with ease. Most are secured to the rails by 4 pins, which take minutes to remove.
Under The Bed
Under the bed hitches are usually vehicle specific and most brands will produce several variations to suit specific vehicle specifications. The rails are installed under your truck and you will be required to make a small hole for the coupler to pass through the truck bed. These gooseneck hitches can usually haul much larger trailers but often cost more as well as being more difficult to install.
Fold Down
In a similar fashion to the under bed installation, the fold down is attached to rails under the truck bed. However, the difference is that the hitch ball is mounted onto a plate, which require a much larger hole. However, the main benefit of this is that you are able to fold down the hitch ball when it is not in use.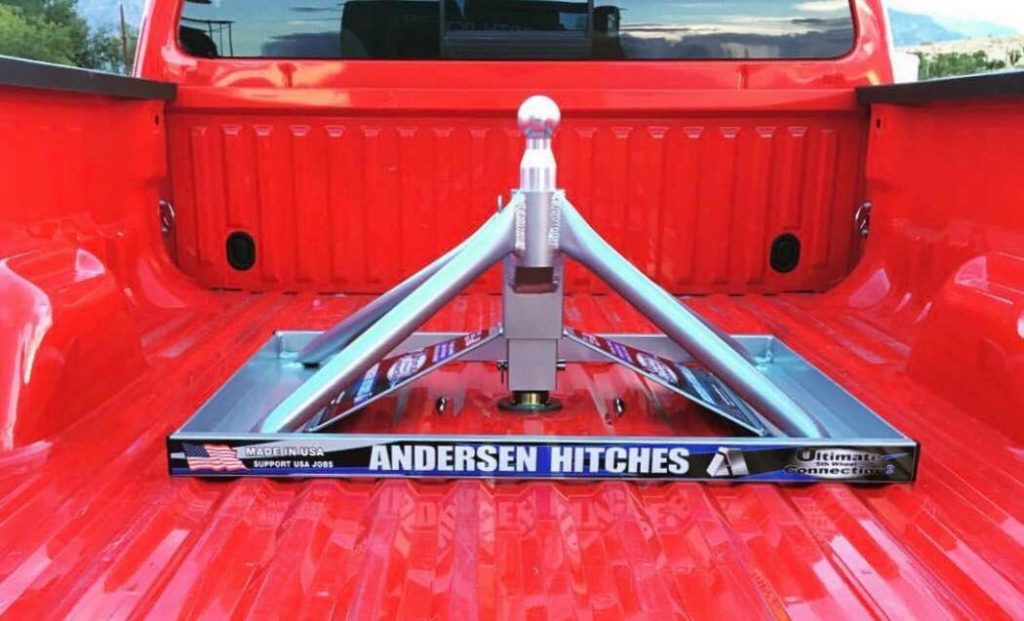 Attaching to Rails
The most popular types are gooseneck hitches that attaches to base rails as this makes installation and removal far easier. However, before purchasing any of the recommendations, you will want to ensure that it is compatible with the existing rails. Most are suitable to industry standard base rails but it is always worth double checking beforehand.
Benefits of Using a Gooseneck
Compared with other types of hitches, the gooseneck is able to handle a much larger gross trailer weight. This means you are able to haul anything from agricultural loads to vehicle transportation trailers.
Due to the fact that the hitch ball is installed directly in the center of the truck bed, it also has increased stability and the ability to cut corners tighter.
Desirable Features
As with most hitches, there are several different manufacturers that compete to produce the best. This results in many additional features that can make a huge difference to your towing experience and the installation.
Some of these desirable features include:
Integrated safety chains
Powder coated finish to improve durability
Long warranties
Mounting hardware included
.. and much more
Conclusion
Gooseneck hitches are a cheaper alternative to a 5th wheel hitch that comes with a wide variety of benefits. The main being the cheaper cost but other factors such as ease of installation can make a big difference to the type of hitch you choose.
All of our recommendations include the most popular type of gooseneck hitches and are suited to a variety of budgets. If you are planning to install the hitch yourself, you may find this tutorial guide very useful.