Whilst working on your car, the last thing you want to worry about is poor lighting. The brightest garage lights will improve your experience on working on a car greatly. LED garage lights are recommended due to a long life span, brightness and reduced bills.
The best garage lights are the Hyperikon LED Pull Chain Lights that offers 45,000 hours of operation at 4,800 lumens and 5 years limited warranty.
Garages usually do not have windows, so ensuring you have the best garage lights will reduce the need for the light from the windows. The most common form of garage lighting are fluorescent and LED lights, with the latter being more popular.
Best Lighting For Garages
| Garage Lights | Lumens | Lifespan (Hrs) |
| --- | --- | --- |
| Hyperikon LED | 4,000 | 45,000 |
| Luceco 3600 | 3,600 | 40,000 |
| Hyperikon High Bay | 14,000 | 45,000 |
| French May Linkable | 4,800 | 40,000 |
| Prime Lights T8 | 11,000 | 50,000 |
Brighter garage lights are an improvement for any workshop or vehicle storage unit. The brighter LED bulbs compared to the older halogen bulbs will allow you to see sockets, connectors and other components much easier. Not to mention scratches to the cars bodywork if you are detailing the vehicle.
Choosing between fluorescent or LED bulbs is a common discussion. The biggest reason to choose LED lights for your garage is that they are up to three times brighter, last three times longer and consume less than 60% energy without flickering.
The range of LED lighting ideas for your garage is never ending with many poor quality examples online. Below are the best garage lights available that will be a great addition to your work space.
Hyperikon LED Garage Light
The Hyperikon LED is 
a powerful garage light that provides 4,000 lumens of light with a lifespan of up to 45,000 hours. The available colors range from 4,000K to 5,000K but the 4,000K is the recommended color temperature as its more natural.
This Hyperikon LED comes with 5 years unlimited warranty to give you peace of mind. All the parts aside of the LED bulbs are very high quality, from the chrome finished pull chain to the rugged steel housing of the bulbs.
The dimension of the Hyperikon are 6 inches in height, 48 inches in length and 12 inches in width. It is by far the most popular garage lighting and offers great value for money. I use these lights either side of my two post garage lift to provide maximum lighting and installing them took less than 10 minutes.
This garage light also promises no flickering, no buzzing, UV and mercury free light and commercial grade quality. With only 38 watts of electricity required, upgrading to these lights will not only look great but also save money.
Overall the Hyperikon LED ticks every single box and is the best garage light you can buy. Most buyers will buy one and then more after to link them all to the same power source. The only drawback would be cost but this is what you must pay for sheer quality.
Luceco 3600 Shatterproof Plug-in LED
The Luceco is the cheaper alternative to the Hyperikon model with very similar performance. 
It can bright any garage with 3,600 lumens of light from just 36 watts of electricity usage. This is similar performance to the more expensive Hyperikon.
Research of the LED bulbs used suggest that an approximation of 40,000 hours of LED lifespan is a good indication and there is 5 years warranty provided with this light.
One issue that some people may face is the lack of protection of the bulb as there is no housing apart from each corner. The positive is that they are much lighter thus making it easier to install for the majority of garages.
Another issue is that they cannot be linked and will require separate power source. That being said, if the two drawbacks are not an issue for your requirements, the Luceco offers great value for money with good performance on a budget.
Hyperikon LED High Bay Light Fixture

An alternative style that you can add to your garage light ideas is the high bay light fixture by Hyperikon. It is one of the brightest with 14,000 lumens with a 5,000K white glow light.
The dimensions of the high bay fixture are 3.6 inches in height, 23.76 inches in length and 12.6 inches in width. Even with its large size, it still only uses 105 watts of power that will reduce your bills greatly.
The Hyperikon high bay fixture also comes with motion sensor technology that works from up to 80 feet away. The lights will dims to 10% after 30 seconds of inactivity and after shut off completely. You do have the ability to not install the motion sensor at all.
This light is very bright for a small garage and more suited to the larger garages. It is by far the most powerful garage light in this article and offers great value for money compared to other large units.
French May Linkable LED Workshop Light
The French May garage light has 4,800 lumens whilst using 40 watts of electricity from a standard sized light. The light temperature color is 5,000K with a lifespan of over 40,000 hours or over 22.8 years with a 3 hour day.
The dimensions of the French May garage light is 48 inches in length, 5 inches in width and 2.5 inches in height. It can be mounted with pull chains and all the daisy chain hardware is included with the light itself.
As with all the other garage lighting, the French May offers a five year warranty for peace of mind. It is ideal for the majority of garages and is easily linkable with built-in power cords that are 44 inches long.
Overall, these garage lights are fairly expensive but offer the highest amount of brightness from 4,800 lumens.
Prime Lights T8 LED HighBay Lights
Prime Lights are a lighting manufacturer in the US that have produced a powerful 4 lamp LED garage light that produces 11,000 lumens. The performance doesn't stop there as it has a lifespan of over 50,000 hours producing 5,000K daylight white color.
Due to the extra LED bulbs, it has a larger size with the dimensions of 15 inches in height, 48 inches in length and 3.5 inches in width. The wattage output is only 88 which is fairly energy efficient considering the lumens output.
As with the other garage lights, there is a 5 year limited warranty to give you piece of mind when buying. Overall, it is the best cheap and powerful garage light that will last the longest amount of time compared with the cheap copies available.
So What LED Garage Light To Buy?
Without a doubt, the best LED lights for your garage would be the Hyperikon LED with 4,000 lumens, 40 watt output, 4000K white color, 45 hours lifespan, 5 years warranty and more. It is also linkable to extend the number of lights across the garage as well as having a high quality steel housing.
However, every garage is different and some need multiple lights whereas other need round alternatives to fit within certain spots.
After installing a high quality two post lift, I wanted to further improve my garage with proper lights. I installed 8 Hyperikon LED garage lights around the garage and the amount of brightness whilst working on cars or using a car polisher machine is staggering. Detailers require perfect natural lighting in order to view scratches and this garage lighting is perfect for it.
Garage Lighting Ideas Buying Guide
The majority of the time, you will not go and buy just one light but several depending on the garage size. Therefore, this can hurt your bank balance if you purchase the wrong type of lighting that will not offer value for money as well as performance.
The market for garage lights is fairly saturated to the point you may be researching for hours on end. They are purchase for both home garage and commercial use. Below are some details that you should consider before parting with your money.
Light Brightness
It is not always the case that the brighter the light, the better the light. You may need a certain brightness for different situations.
For example, if you want the light right next to the work area, you will not want it to be over 8,000 lumens as the reflection will blind you.
The brightness is measured in lumens and obviously, the higher the lumens, the brighter the light is. 4,000 lumens of brightness is more than ideal for the majority of garages but all garages will have different setups i.e. size or windows, so finding the perfect match is your own choice.
If you want to go further and do some calculations to get the right amount of lighting for your garage, there are two measurements called Lux and Footcandle.
To measure illumination, you will use the Lux measurement where 1 lux is equivalent to 1 lumen per square meter. Footcandle is very similar but uses square feet as opposed to square meter.
Dimensions
The majority of garage lights will be just under 50 inches in length, with some units having up to 4 bulbs within the housing. However, you will have to analyse your garage setup to determine which lighting you require.
The basics would be three or four lights surrounding the car, one for over a large garage tool chest and another over a work bench. However, if you already have windows, you may not need lights in certain locations.
Housing For Bulb Protection
Some high quality garage lights will include housing covering the bulb that will act as protection and reflect light back down to the intended area. Housing is not an essential but if objects can find themselves hitting the light at any point, it may be best that you purchase a garage light with housing.
If you feel that having protection on the garage light is essential for a garage such as yours, paying particular interest into the housing is worth considering to ensure the bulb is safe.
Lifespan Of The Light
Paying that little extra for a bulb that will last 10,000 hours plus is an investment and should be important within your buying decision. High quality garage lights such as the ones listed above should last at least 40,000 hours. You should avoid garage lighting that doesn't last this long as you will be rewiring a new one early than you imagine.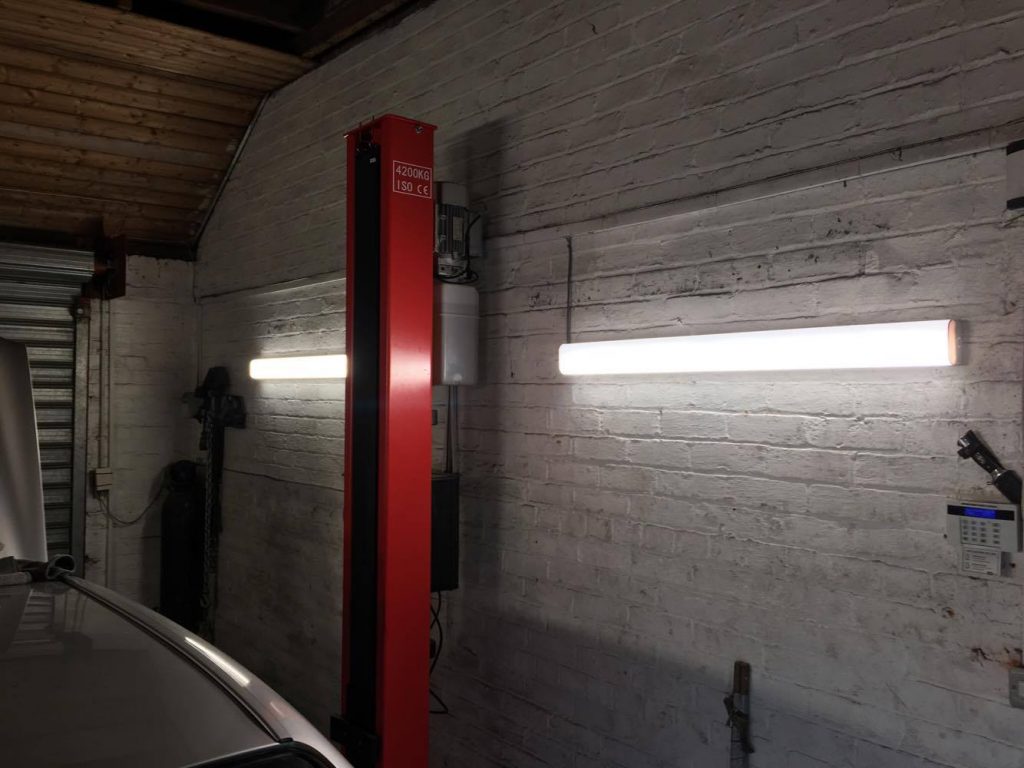 Energy Efficiency and Cost Savings
LED's are known to use 60% less energy compared with other forms of fluorescent lighting that will be saving you money over the years. This is probably not on the minds of the majority of buyers but its always good to saving a few dollars here and there.
Reducing the costs that the garage lights occur overtime can really add up and the best energy saving garage lights will keep this cost to a minimum.
Installation of the Lighting
Garage lighting can weigh slightly more than the average light as they are usually heavy duty with steel housing. This said, if you are planning on installing these lights yourself, you will want to ensure the weight is not too heavy. All the best garage lights mentioned above are fairly lightweight and can be installed with a variety of hardware and mounting brackets.
Many of the lights are linkable and can run from the same power source. There is nothing worse than having multiple different brands of lighting providing different levels of lighting. Many include pull chains, which is very useful for those not wanting to wire the power to a light switch.
The switch types is a feature that is dependent on the garage owners preference with many preferring pull-down chains, while others prefer the plug that goes straight the switch. Both are practically the same in terms of pricing and performance.
Color Temperature
Kelvin is the dimension used to describe the color of the light from the bulb used in your garage lights. For those that have used HID headlight bulbs before, you may be more familiar with the ratings such as 4,000K or 8,000K and more.
The most common range is between 1,000K and 10,000K that provide a yellow glow to a blue glow. Garage lighting is usually between 4,000K and 7,000K as its the most natural color lighting.
Garage Temperature
Mercury vapor gas found in fluorescent lighting is temperature sensitive that can cause issues with the lighting. However, LED do not use any form of gas to produce light and is completely unaffected by the temperature. If you are working in cold conditions and still using fluorescent lighting, we strongly recommend you buy the best garage heaters to warm those lights up.
This is not something to worry about if you are using high quality LED garage lights and is a big advantage for those working in cold environments.
LED Garage Lights v Fluorescent
Fluorescent lights have been around for many years and continue to until the a garage owner decides its time to upgrade. LED lighting for your garage used to be much more expensive than it is today, making it an out of reach option for many people.
The facts for LED Lighting for your garage speak for themselves, below are some benefits over the alternative fluorescent lighting:
LED lighting is approximately 30% more efficient in terms of lighting and brightness.
LED's are directional at only point the light in one direction as opposed to 360 degrees like fluorescent lights.
LED lights use energy to produce light and not heat, which wastes a lot of energy.
The lifespan of fluorescent lights is only around 14,500 hours whereas LED bulbs will last up to 50,000 hours.
There is no Mercury and no UV emitted from LED bulbs unlike fluorescent lights.
It is fair to say that the technology of the latest LED bulbs has caught up with Fluorescent bulb, which will soon be very rare to find in most garages.
Conclusion
Upgrading to LED garage lights will brighten up your work space and make working on your car that much easier. There are many garage lighting ideas but sticking to the recommendations within this article will ensure you have the best garage lighting possible.
If you are still using the older fluorescent technology, you could even save money by upgrading to the latest LED garage lights, which is another reason to upgrade.