Diesel Fuel Additives are an addition to your cars fuel that provide many benefits such as performance, cleaner running and more efficient operation. Since the addition of the DPF (Diesel Particulate Filter) which removes  soot from the exhaust, diesel cars have become a lot cleaner. Older diesel cars can be seen chucking out black soot from the exhaust but these are slowly becoming extinct.
Best Fuel Additive to Clean Injectors
There used to be a real dislike around diesel cars with car owners thinking they are dirty and indeed slow. However, newer diesel provide low end torque to push you back into your seat and power to match, which keep up with their petrol competitors. For me, the diesel revolution began with the Germans producing large 3 litre diesel engines matched with a huge turbo. These diesel engines produce big performance figures but also great miles per gallon figures.
Diesel engines require more assistance in terms of requiring additives compared to petrol/gasoline engines. This is down to the fact that gasoline is high quality fuel that has been refined further than diesel fuel has. Diesel fuel is often stored for later use and is known as the "business fuel" for shipping and other large scale businesses. When diesel is left stored for months on end, the fuel can develop problems that require additives to fix.
Without using high quality diesel fuel, irregular servicing and no additives, your diesel car can suffer problems such as:
Hard cold starts
Injector failure from carbon build up
DPF issues
Running rough at low RPM and idle
Lots of black smoke on acceleration
Poor fuel economy
Cetane improver
Sometimes it is hard to find a garage that sells high quality fuel, therefore using fuel additives will assist with a healthy running diesel engines. After having to change 6 injectors in my 320CDi Mercedes E Class, I have been using high quality fuel as well as additives to ensure smooth efficient running. Miles Per Gallon has improved on long runs, easy starts in the morning and I can sleep at night knowing my injectors are going to stay clean. Below are the best diesel fuel additives on the market today.
Stanadyne Performance Formula Diesel Fuel Additive Review
Stanadyne Diesel Fuel Additive is one of the leading fuel additives in the USA that is approved by the likes of General Motors and Ford. The additive is designed to tackle all diesel related issues such as the ones noted above and a single bottle is able to treat over 60 gallons of diesel. However, you won't need to add the fuel additive every time you fill your car up with diesel, usually monthly is a good idea.
Benefits from using the Stanadyne diesel additive are an improvement in horsepower and MPG as well as reducing emissions and wear and tear. If you are having troubles with your diesel engine, you can try this relatively cheap fuel additives for diesel engines that is independently tested and proven to work. You can buy 12 as a bulk by to keep all year round on Amazon.
Check it Out
Hot Shot's Secret P040432Z Diesel Fuel Additive Review
Hot Shot's Secret P040432Z Diesel Extreme is a highly rated diesel additive for car owners looking for a premium product. It is a concentrated cetane that also acts as a fuel stability package. The Hot Shots brand is well known to provide reliable results and you can expect a much cleaner running diesel engine whilst using this fuel additive. It will treat the tank, fuel lines and injectors as well as removing water trapped in the system.
The formula contains lubrication for the fuel pump and fuel injectors as well as a rust corrosion inhibitor to increase the life time of your diesel vehicle. It is advised to use the diesel fuel additive once every 6 months to treat a diesel engine, therefore value for money is excellent with the Hot Shot's P040432Z bottle. You can expect a quieter diesel engine and very clean fuel parts such as fuel pumps and injectors by using the Hot Shots Secrete Diesel Extreme.
Check it Out
Lucas 10013 Fuel Treatment Review
Lucas 10013 Fuel Treatment is an American made diesel fuel additive that focuses on increasing the lifetime of fuel pumps and fuel injectors. In the additive is a high detergent action that allows the engine to perform at its full potential. Lucas 10013 also cleans and lubricates the injectors that has the effect of burning fuel more thoroughly, which increase the diesel engine power as well as increase miles per gallon.
 Using the Lucas 100013 diesel additive you will receive a smooth running engine that you will notice after a few miles (I certainly did in a 3 litre diesel) as well as starting easier due to the cleaning of the fuel pumps and injectors. The large container is excellent for filling up smaller bottles to keep in your car to fill up regularly and is worth the money if you have dirty injectors or pumps.
Schaeffer 

137ULSW-004S Diesel Treat 2000 Ultra Low Sulfur Review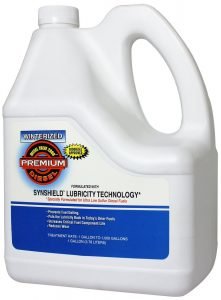 Schaeffer Diesel Treat 2000 Ultra Low Sulfur Winter fuel additive has been carefully constructed to provide low sulfur diesel for cold weather protection against fuel gelling, waxing and fuel line freezing. If you are living in freezing temperatures, then the diesel treatment that the 137ULSW provides is what is needed for an easy diesel engine startup. Not only will it protect the diesel engine but if there is already gelling and clogging up of the injectors, the special formula is able to free up and clean the entire fuel system.
You can use the fuel additive in all types of diesel fuel including low sulfur diesel as well as bio-diesel blends. I would recommend this product specifically for those who are in freezing conditions as you will expect to see easy startups in the freezing conditions and a longer lifetime for your diesel parts such as fuel pumps and injectors.
Check it Out
What fuel additive is best for a diesel car?
The Schaeffer diesel is more targeted for the freezing conditions over winter, but as an overall diesel fuel additive, the Hot Shot's Secret P040432Z is my choice. The reason being is that you are able to use it rarely (Advised once every 6 months) rather than every time you fill up. This means that its great value for money and its is highly rated on Amazon with various people giving their real world stories of the product.
By using high quality fuel and fuel additives here and there, you will be able to see results within a few miles. After having using my 320CDi Mercedes in lots of standstill traffic on cold winter mornings, the fuel injectors started to breakdown and the car ran very rough. Since replacing the injectors and using high quality fuel, the car runs much smoother and I will continue to use diesel additives to ensure the long term use of the fuel pumps and injectors.