Although OEM car horns can be bought from the dealerships, they often come with an expensive price tag. OEM horn replacements are fine if you don't want to increase the noise, but if you are reading this article, you are probably interested in the loudest on the market. If this is the case, you have the option of choosing a loud car horn with or without a compressor. The benefit of choosing a horn with a compressor is that it'll be much louder.
If you require a quick answer, the best car horn that's loud and easy to install is the Stebel Nautilus 11690019, which works with any 12 volt system and outputs 139 dB of noise. Alternatively, the loudest car horn is the mighty MPC B1 (0419) train horn kit, which will certainly wake up anyone nearby.
To rate the car horns within this article, we based our recommendations upon our own experience and testing, research and multiple factors. The factors that we considered included their decibel rating, ease of installation, type, build quality, supplied accessories, tone options, warranty and value for money.
Aftermarket Car Horn Comparison
Installing an aftermarket car horn replacement isn't the first modification you would think of doing but its certainly worthwhile. I personally use the Stebel Nautilus Car Horn in many of my cars and it ticks all the boxes. The below video is the horn installed upon one of my cars and how it sounds as it approaches you.
The majority of loud car horns are simple upgrades that don't require a compressor for producing a loud noise. However, some may require small adjustments depending upon your vehicle but overall, its an easy modification.
Below is a list of the best loud car horn upgrades that are direct replacements and some of the loudest available.
The Best Loud Car Horn Upgrades
---
1. Stebel Nautilus Compact Mini Air Horn

The Stebel Nautilus is one of my personal favorite car horns and I have installed several over the years. It has a unique sound from the twin tone harmonized horn that outputs at 139 dB.
It's a compressor based car horn that has a compact design to fit in all locations under the bonnet. The compressor itself is self-contained and the horn is a direct replacement.
Other features of the Stebel Nautilus Horn include:
Noise output of 139 dB
Water resistant compressor
Requires a 12V connection
Suitable for a range of vehicles
Black ABS finish
Supplied with a relay
Overall, the Stebel Nautilus is a cheap loud car horn that offers excellent value for the money and is a direct OEM replacement. The compact design makes it easy to install and also suitable for a variety of vehicles.
Check it Out
2. MPC B1 (0419) 4 Train Horn Kit
The MPC B1 (0419) 4 is by far the most popular train horn kit on the market. It's ideal for cars, trucks and other vehicles and it's able to get the attention of anyone nearby. Included with the train horn kit is a 12 volt 110 PSI compressor, 3 liter tank, pressure switch, wiring kit and other accessories.
Other features of the MPC B1 (0419) Train Horn include:
Outputs over 150 dB
110 PSI compressor
3 liter air tank with switch activation
Must be kept within a dry location
Comes with all the accessories for installation
Universal and suitable for any vehicle
Overall, the MPC B1 (0419) is by far the loudest electric car horn that's universal and able to fit any car. Although it does come with an expensive price tag and requires a compressor, it's the ultimate train horn kit that you won't regret buying.
Check it Out
3. Wolo (419) Bad Boy Loud Car Horn

The Wolo (519) Bad Boy is a popular replacement car horn that the brand claims is twice as loud as factory horns. It's a one piece construction that's easy to install and a direct replacement for many factory horns. In terms of the loudness, the brand states that it outputs at 118 dB using a powerful dual tone.
Other features of the Wolo (519) Bad Boy include:
Noise output of 118 dB
Powerful dual tone output
One piece construction
Easy to install
12V system
Maintenance free
For those that want a simple car horn upgrade that's a direct replacement, the Wolo 519 ticks all the boxes. Although it doesn't have the loudest output, its certainly louder than factory horns and it also looks great for horns that are exposed.
Check it Out
4. HELLA 003399801 Twin Horn Kit

What's better than having one horn? Two of course. Hella have produced a car horn kit with one high-tone "Supertone" horn and one low-tone "Supertone" horn. This kit also comes with two mounting brackets and offers outstanding value for the money when you consider its performance and contents.
Other features of the HELLA Twin Horn Kit include:
Noise output of 118 dB
Backed by a one year warranty
Similar tone to Mercedes & BMW horns
Twin horns that are available in red, black or yellow
Installation accessories included
Can be installed vertically or horizontally
The HELLA car horns are the best cheap aftermarket replacement that's available in red, yellow or black. Not only do they produce a loud noise output but they are also backed by a 1 year warranty for peace of mind.
Check it Out
5. Marco Tornado Tuned Loud Car Horn

The Tornado Car Horn by Marco is the loudest car horn you can buy at 151dB. This not only beats the competitors, it dominates them by a country mile. There is no additional power supply required and this car horn can fitted to all cars with a 12 volt electrical supply.
Other features of the Marco Tornado Horn include:
Output 151 dB
Constructed of heavy duty materials
Powered by a compressor
12 and 24V
Excellent cold weather performance
Two harmonized tones
Includes a two year warranty
The Marco Tornado is an excellent all-round option that combines performance and value for the money. It's also backed by a two year warranty for complete peace of mind, which is a big bonus when compared to similar priced alternatives.
Check it Out
6. Zento Deals  Single Trumpet Car Air Horn

Not all car horns need to be mounted within the engine bay and you often see cars, trucks, SUV's and boats with a trumpet style that's often mounted on the roof. This Zento Deals car horn kit is a great example that outputs an impressive 150 dB of noise when activated.
Other features of the Zento Deals Horn Upgrade include:
Powerful 150 dB output
Universal and suitable for all vehicles
Polished red compressor and shiny horn
Includes all mounting hardware and hoses
Powered by a 12V DC supply
Easy to install
Overall, the Zento Deals car horn kit is a powerful yet affordable replacement that provides great performance. If it's not a requirement for the horns to be hidden, the trumpet style may be a great alternative.
Check it Out
How We Tested & Picked
As well as testing and using a number of cars horns within our own cars, we also based our recommendations upon hours of research and multiple factors. The factors that we considered included their decibel rating, ease of installation, type, build quality, supplied accessories, tone options, warranty and value for money.
Car Horn Buying Guide
As with most vehicle components, car horns won't last forever and eventually you will be required to replace the part. Car horns are an essential part that's required by law in order to remain street legal.
The choice of noise outputs between horns differ but most people simply require a direct replacement but there are others wanting the loudest car horn possible.
As you can see from the image below, they do become fairly corroded overtime. This horn was replaced from a 20 year old vehicle and it took just a few minutes to switch over the part. There are a variety of car horns available from small to large and its just a matter of preference and whether the horn is compatible.
To help you make an informed buying decision, we have produced the detailed buying guide below regarding car horns.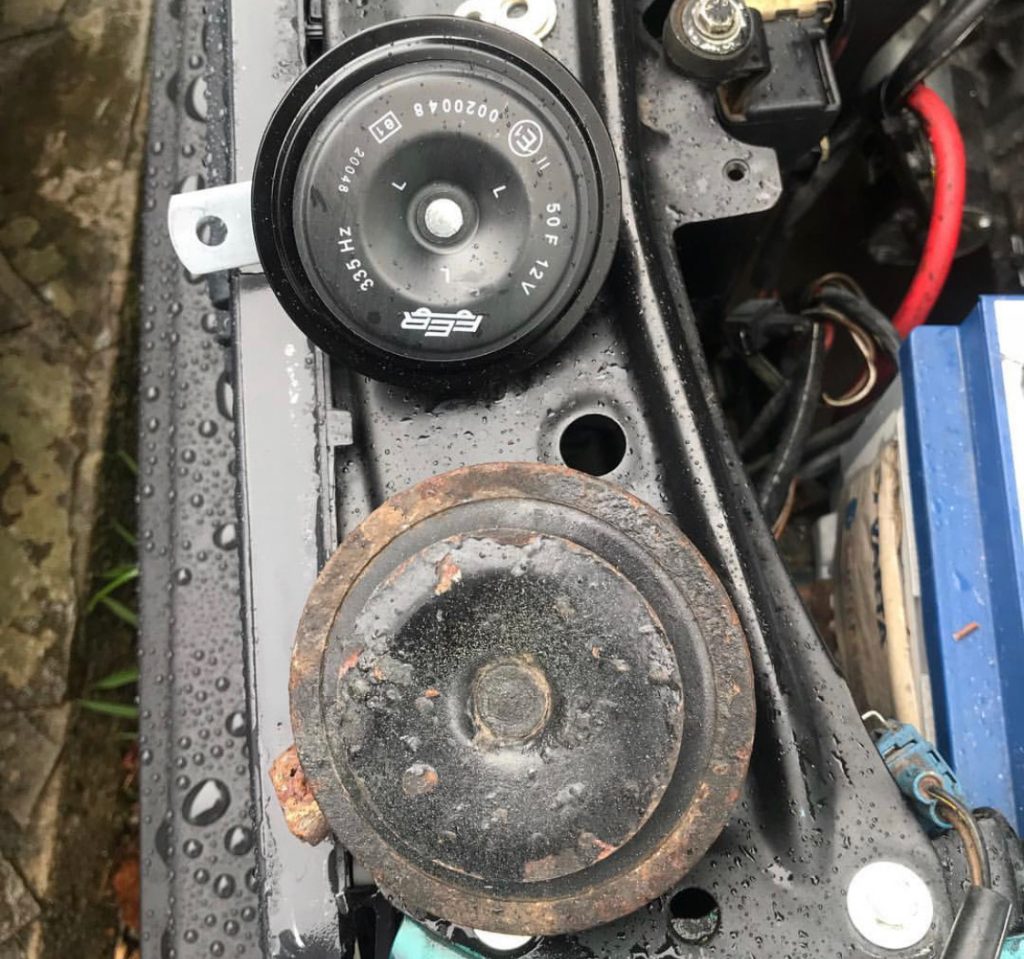 What's the Law with Car Horns in the US?
Car horns today can be outrageous, to say the least. Take your pick from bells to cat calls, train whistles, to full orchestra arrangements. Pay the price, and you can have it. This is not to say that they are all legal because the laws differ from state to state. For example, many states define 110 dB as the street legal limit.
Most of states have one primary rule with regards to car horns, which is that they can not emit an unreasonably loud or harsh sound. This is normally understood to be louder than 100 to 110 decibels. This is compared to a train horn which normally operates at 130 to 150 decibels.
For more information regarding car horn laws, you should check your state's DMV or BMV website. It's very unlikely that a police officer will have a decibel meter waiting to catch you out but if you use the horn irresponsibly, you may be fined.
How to Install a Car Horn
If you are new to installing car horns, then don't worry, it's fairly easy to do. It's more a matter of finding everything and connecting everything properly.
Owning a digital multimeter is really handy for installing components such as a horn. This device will help you find continuity within wires if you cannot seem to power up the horn.
It's fairly common for your car's computer to start firing error codes during the replacement. This is because you are more than likely going to have to remove the airbag, which will trigger warnings such as the SRS light. After installing your new loud car horn, if the warning is still there, try removing it with a diagnostic tool. If it remains, check you have installed the horn correctly.
To begin to install a car horn, you will firstly need to find your horn, which is normally located on the radiator support or immediately behind the radiator and the grille. A horn is normally circular in shape with two wires coming from it.
Disconnect the wires
The two wires that are connected to your horn are normally attached with metal connectors that simply slide onto the horn. If it's hard to remove these, you might need to press down on them to break any corrosion that might be holding them in place. Once you have them off, clean and replace them and then try to sound your horn again.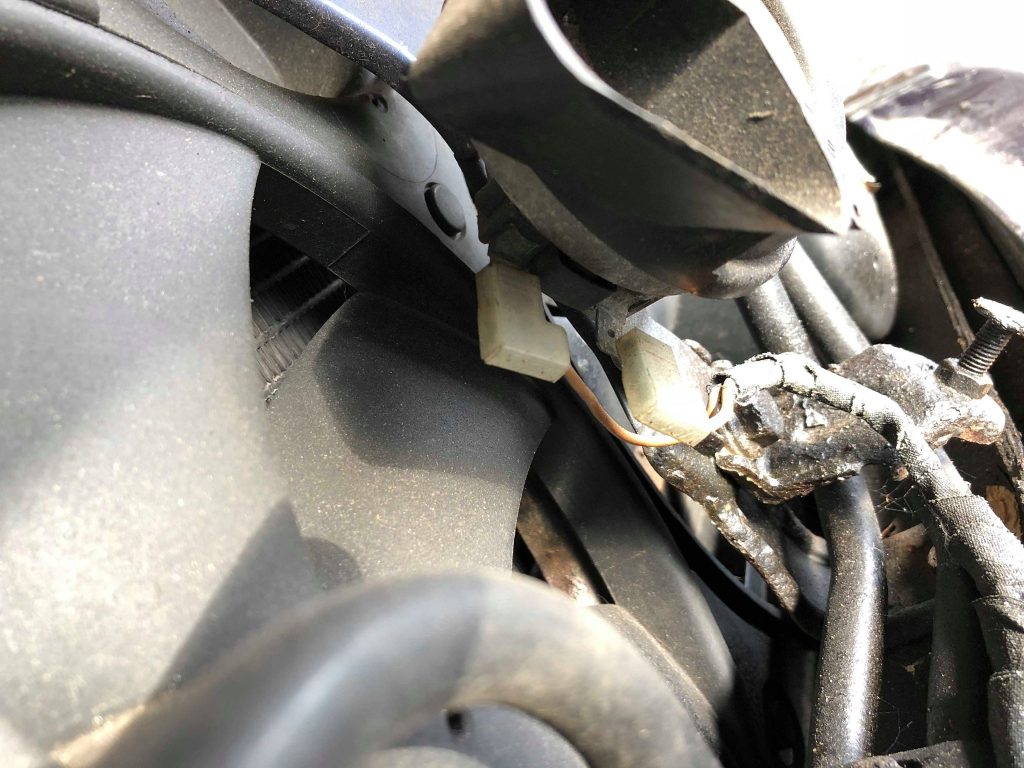 Check the fuses
While you have everything apart and you have the opportunity, it's a good idea to check the fuses. If the metal connection on your fuse is broken, your fuse has failed and it needs to be replaced.
Reconnect The New Horn
With the old horn removed, you can proceed to wiring and mounting the new horn in its place. As mentioned above, if there are any error codes, you can use a diagnostic tool to clear them from the dash.
Funny Car Horns
For use off the road, there are a number of "funny" car horns that are available. Personally, the all time favorite and the best funny car horn has to be the Dixie horn, which is a car horn everyone loves.
Conclusion
Replacing your car horn with an aftermarket alternative is a simple modification that's easy to do. There is a whole range of loud car horns available that can be used with or without a compressor. However, it's worth noting that using the loudest car horn you can get your hands on may not be street legal. All of our recommendations cover a variety of horns that can be installed to any vehicle and are suitable for all budgets.