OEM car horns can be bought from the dealerships but you would only do this if you like throwing money away. Cheap OEM car horns are okay if you do not want to noise increase, but if you are on this article, you most probably want loudness.
The best car horn that is loud and easy to install is the Stebel Nautilus 11690019 that will work with any 12 volt system and will output 139dB of noise. The loudest car horn is the mighty MPC B1 (0419) train horn kit, which will scare anyone nearby.
You have the choice of choosing a loud car horn with a compressor or without. The Pro's of a car horn with a compressor is that it will be much louder. However, it requires a little bit more effort to install (but totally worth it!).
Best Loud Car Horn
Installing a high quality car horn is not the first modification you will think of doing but its worth doing. I personally use the Stebel Nautilus Car Horn to my cars and I've had lots of fun as well as saving myself from being crashed into. The below video is a small snippet of what it sounds like as it approaches you.
Apart from the train horn by MPC, the majority of loud car horns are simple upgrades from your factory horn. Some may require small adjustments depending upon your vehicle but overall, an easy modifications for the average car owner.
Installing a new car horn is much easier to change that you think and even if there is a compressor present, it is still simple electrics required in order to power it up.
Below is a list of the best loud car horns you can buy, which are all excellent upgrades from OEM horns.
Stebel Nautilus 

11690019

 Compact Mini Air Horn

The Stebel Nautilus is one of my personal favorite car horns and I have owned several over the years. It has a unique sound from the twin tone harmonized horn that outputs at 139dB. It is a compressor based car horn (water resistant) that has a compact design to fit in all locations under the bonnet.
This car horn is one of the best compact horn for loudness and better yet it can be installed to any vehicle with a 12 volt system. That vehicle being anything from a car, truck, motorcycle, ATV or even a boat. We say a boat because the compressor is water proof in case there is chance of water around the electrics.
Overall the Stebel Nautilus provides excellent value for money for car owners looking for a cheap loud horn. Instructions come with the horn but it will still require mounting somewhere under the engine bay.
Check it Out
MPC B1 (0419) 4 Trumpet Train Air Horn Kit
A car train horn is becoming more popular around the car enthusiast community with many people purely installing them to scare people. However, if someone was to cut you up and you blasted the MPC B1 train horn, they will certainly know about it.
The complete kit include 12 volt 110 PSI compressor with a 3 liter air tank that is activates by a pressure switch. They are built with performance in mind in order to be the loudest car horn you can buy.
The best part about this train air horn kit is that its universal and will fit any car. The only thing is that the compressor must be kept in a dry location. With a 150 DB noise level, the MPC B1 is the best train horn compressor kit, which is much easier than it looks to install.
Wolo (419) Bad Boy Loud Air Horn

The Bad Boy Car Horn is fairly popular across the US with loudness as the focus. Wolo claim that this horn is twice as loud as factory horns (118dB), which is produced through a powerful dual tone.
The installation of the Wolo 419 Bad Boy Car Horn is a one piece design that requires no horns. To install this car horn requires transferring the factory horn to to the upgraded horn and then mounting requires one bolt.
Upgrading your horn with this Wolo Bad Boy only requires you to have a 12 volt system, which is the norm in most vehicles. Wolo ensure that their compressor is heavy duty and maintenance free, which they backup with their warranty.
Overall, this is loud car horn is the best buy due to the majority of people wanting a quick replacement but an upgrade at the same time.
Check it Out
HELLA 003399801 Twin Horn Kit

What is better than having one horn? Two of course. Hella have produced a car horn kit with one high-tone Supertone horn, and one low-tone Supertone horn. This kit of course comes with two mounting bracket and instructions.
The horns are loud with 118dB each and for peace of mind, they both comes with one years limited warranty. If you are looking for more attention when beeping/warning people on the road, this is the twin horn setup for you. Very popular in the US and gives a similar tone to most Mercedes/BMW's but of course at a louder sound.
Overall the Hella 003399801 is the best twin car horn kit you can buy on the market. Another great benefit of the Hella Twin Horn Kit is that the horns themselves look great. A bit odd I know but when you lift the bonnet, they stand out with the red color.
Check it Out
Loudest Car Horn by Marco Tornado

The Tornado Car Horn by Marco is the loudest car horn you can buy at 151dB. This not only beats the competitors, it dominates them by a country mile. There is no additional power supply required and this car horn can fitted to all cars with a 12 volt electrical supply. A worry to many people are that powerful horns drain batteries but this is not a problem with this horn.
This car horn has been built with the best quality material to ensure a high quality finish. The manufacturers provide a years warranty as peace of mind and they also test each unit before its sent to the buyer.
It is powered by a compressor for the large decibel output that is made from heavy duty materials. This car horn is very loud (warning) and you will be looking forward to beeping at the next person to cut you up.
Check it Out
Zento Deals  Single Trumpet Car Air Horn

Not all car horns need to be mounted within the engine bay. You will often see cars, trucks, SUV's and boats with a trumpet style that is often mounted on the roof. These trumpet style air horns are usually very loud.
You will notice that trumpet air horns for vehicles can be very expensive. However, Zento Deals have produce the best cheap car trumpet air horn, where two can produce sound as loud as 150dB. It is recommended that only car owners with some knowledge of electrical components buy this car horn.
It is also advised that more power is drawn to this horn than the stock OEM horn. This means that 10A fuses will be blown when not using an adequate relay or inline 25A fuses.
Check it Out
Car Horn Buying Guide
As with most vehicle components, they will not last forever, which main require you to replace the part. Car horns is an essential part that will be required by law to remain street legal. The type of outputs between horns differ, with many simply wanting a straight OEM swap and others wanting the loudest car horn possible.
As you can see from the image below, they do become fairly corroded overtime. This horn was replaced from a 20 year old vehicle and took just a few minutes to switch over the part. There are a variety of car horns available from small to large and its just a matter of preference and whether the horn is compatible.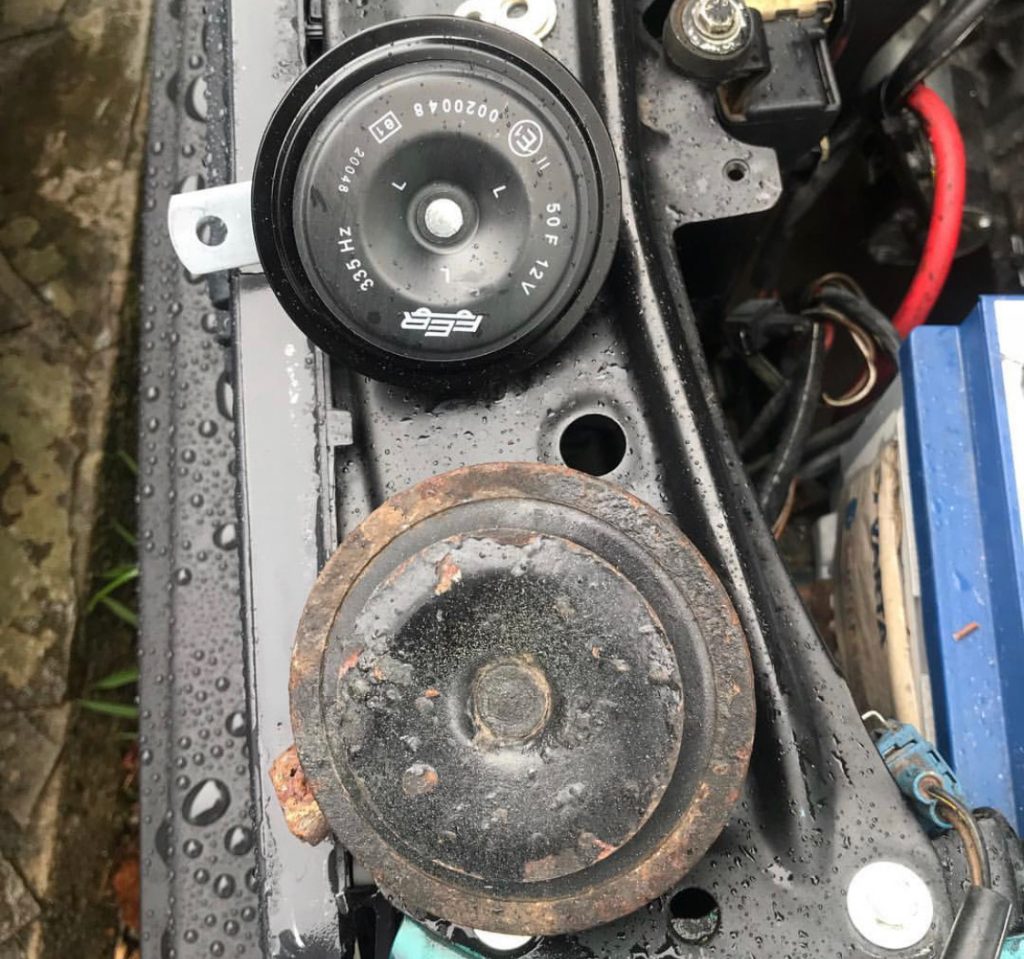 Best Funny Car Horns
As stated above, nearly every state will allow a car horn that could be called "humorous." This might be unusual whistles, fog horns, cat calls, and practically anything else, but as is the case with other horns, they cannot exceed the given decibel level for that state. Otherwise, an owner in violation of these levels will be subject to citation and fines.
Personally, the all time favorite and the best funny car horn has to be the Dixie horn, which is a car horn everyone loves.
Interestingly, most states do allow owners to be in possession of these horns, and can even mount them to their vehicles, but they cannot be operable or they risk violations.
What is the Law with Car Horns in the US?
Car horns today can be outrageous, to say the least. Take your pick from bells to cat calls, train whistles, to full orchestra arrangements. Pay the price, and you can have it. This is not to say that the government will allow it, however, but even this varies from state to state.
Let's take one type of horn, the train whistle, and look at how it varies from state to state in just a few jurisdictions.
Most of the areas of the country have one primary rule with regards to car horns: they can not emit an unreasonably loud or harsh sound. This is normally understood to be louder than 100 to 110 decibels. This is compared to a train horn which normally operates at 130 to 150 decibels. A few states and their regulations are listed below:
Californians can attach a train horn to their cars, but they cannot be wired in or operated. They can be used on a semi-truck, but only if they are connected to the air brake system. The fine for violation of these rules is $108 unless there are other violations on your license.
If you are a Texan, your car can fail its annual exam if you are found to have a train horn on your car. For this reason, you will receive a citation. The state of Texas allows such horns to be hooked up only if they are part of the vehicle's anti-theft system.
Georgia is another state that will allow you to have a train whistle connected to your car only if you have it as part of an anti-theft system. Otherwise, you will be cited for a violation.
In Virginia, the variations of the usual vehicle code must be authorized by the Superintendent. Otherwise, you may have a whistle horn on your car as part of an anti-theft system. It may not be operable during the normal course of driving your car.
What Makes the Best Car Horn?
Car horns were designed to get attention in the face of danger. As a result, the best car horn is one that gets attention. How you accomplish this is a matter of opinion. It might be true that the government has a lot to say about what you can and cannot have for a horn, but for the most part, that decision is up to you.
Fortunately, the government's primary concern in enforcing their rules are primarily an effort to control what might be considered an unreasonable distraction.
That said, would a cat call or an operetta be a good car horn? Possibly. Most states will even allow you to have two horns on your vehicle, as long as neither one is in violation of the state's code. The bottom line is that the type of horn is not what is at issue. It's the loudness, or more properly the excessive loudness of a car horn that makes it legal or illegal.
How to Install a Car Horn
If you are new to installing car horns, then don't worry, it is fairly easy to do. It's more a matter of finding everything and connecting everything properly.
Owning a digital multimeter is really handy for installing components such as a horn. This device will help you find continuity within wires if you cannot seem to power up the horn.
If, on the other hand, you are doing this in relation to damage that needs to be fixed such as an airbag, it is important that you have a professional to do the work.
It is fairly common for your cars computer to start firing error codes. This is because you are more than likely removing the airbag, which will trigger warnings such as the SRS light. After installing your new loud car horn, if the warning is still there, try removing it with a diagnostic tool. If it remains, check you have installed the horn correctly.
First, you need to find your horn, which is normally located on the radiator support or immediately behind the radiator and the grille. A horn is normally circular in shape with two wires coming from it.
Disconnect the wires
The two wires that are connected to your horn are normally attached with metal connectors that simply slide onto the horn. If it is hard to remove these, you might need to press down on them to break any corrosion that might be holding them in place. Once you have them off, clean and replace them. Then try to sound your horn again.
Setting the replacement. If fixing your horn by cleaning it doesn't work, or you want to replace it, you will need to remove the old horn. This is done by using a wrench to unscrew it from the body of the vehicle. Now buy a new one that is like the old, or by a universal horn of your choosing.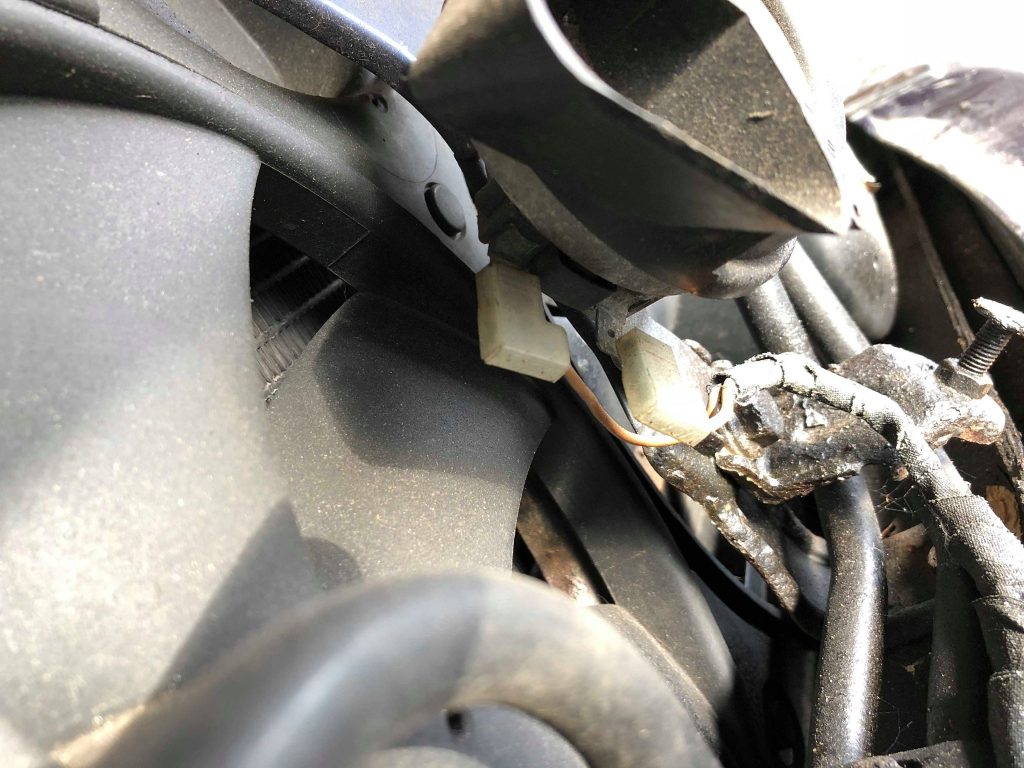 Check the fuses
While you have everything apart, and you have the opportunity, it's a good idea at this point to check the fuses. The owner's manual or looking your car up on the Internet will show you where your fuse box is. You need to locate the fuse that is for your horn.
Sometimes this is located on the fuse box itself, but otherwise, you can find this out from your owner's manual. Sometimes you can remove the fuse with your fingers, otherwise, use a pair of pliers to pull it out. If the metal connection on your fuse is broken, your fuse has failed and needs to be removed. Buy a replacement from your auto supply store and replace it.
Check your airbag
Sometimes, if there is a problem with your airbag, the light on your dashboard will light and your horn will not work. If you think this is the problem, do not attempt to fix it yourself. Take your car to a professional to have it repaired. Make this kind of a repair yourself and you are taking your life into your own hands.
Replacing or adding an auto horn isn't a hard repair to make, but it is important that you have a properly functioning horn.
Brief History of the Car Horn
The inventor named Oliver Lucas of Birmingham, England came up with the idea of a horn that ran on a current to an electromagnet. Whenever the current was interrupted by a button that broke the circuit, the horn would sound. The primary improvement with this was that the sound could be heard more than a mile away.
As luck would have it, almost immediately, various sounds were introduced–from whistles to sirens and bells–that could be heard almost a mile away. Not only that, but car horns were introduced that could be operated manually in various ways, from separate buttons and switches to those that could be operated "while you drive."
Perhaps the most notable car horn, called the Klaxon, was invented by Miller Reese Hutchinson, an employee of Thomas Edison. He became alarmed by the increasing number of accidents happening in New York City, and took it upon himself to invent a horn that had a loud piercing alarm that sounded either manually via a crank or motor-powered batteries.