Car glaze is the product of choice for many detailers that want to quickly hide imperfections or enhance the gloss of their paintwork. They are designed to be used before a wax or paint sealant in order to lock in the finish of the glaze.
The best car glaze is the Chemical Guys Glossworkz, which is suitable for all colored paints and provides a deep wet shine that includes UV blocking agents.
Glaze should be used after polishing because it doesn't contain any abrasive qualities. Its main purpose is to fill in microscopic imperfections instead of removing them.
Car Paint Glaze Comparison
Using a car glaze is best used after polishing but before using a car wax. However, you can regularly keep it topped up because the imperfections may begin to reappear after a few weeks. You can even apply multiple layers for further filling and gloss qualities.
For removing scratches, swirl marks or other defects, a car glaze isn't what you require. It's primary used to hide imperfections and increase shine on a range of surfaces.
Below is a list of the best car glazes that fill in any remaining imperfections and enhances the gloss finish of the paintwork.
The Best Car Glaze
---
1. Chemical Guys Glossworkz Glaze

The Chemical Guys Glossworkz Glaze is a highly rated formula that's suitable for all colored paints and provides a deep wet looking shine. It can be applied by hand or machine using a finishing pad and the brand claims that it will never cake up unlike other cheap alternatives.
Other features of the Chemical Guys Glosswork Glaze include:
Includes UV sun blocking agents
Self leveling agents for the perfect finish
Completely fills swirl marks and scratches
Fast and easy application
Superior lubrication qualities
Overall, it's the best car glaze that works with all paintwork colors and leaves a dynamic shine. The main drawback is that it comes with an expensive price tag but its worth paying the extra considering the UV sun blocking agents.
Check it Out
---
2. Meguiar's Mirror Glaze Professional
Meguiar's is a brand that needs no introduction and their Mirror Glaze formula is one that they claim is a top-performer compared with all others. It restores the deep wet shine and is safe for all paint finishes including clear coats. It's one of the most popular car glazes available and has also been developed by the reputable Meguiar's brand.
Other features of the Meguiar's Mirror Glaze include:
Professional-grade formula
Provides a clear glossy show car shine
Leaves zero white residue and dries clear
Application by hand or buffer
Safe for all paint finishes
The Meguiar's Mirror Glaze ticks all the boxes and offers excellent value for money when compared against the alternatives. When followed by a durable wax, the glossy shine will easily remain for a couple of weeks.
Check it Out
---
3. Poorboy's World Black Hole Show Glaze

Poorboy's Black Hole car glaze is designed for dark colored paintwork and provides a wet showroom shine each and every time. Whether you want to hide minor defects such as swirl marks or enhance the gloss finish to your car, this formula won't disappoint.
Other features of the Poorboy's Black Hole Glaze include:
Lifts dirt and fills in imperfections
Provides maximum gloss
Easy wipe on and wipe off formula
Can be used in the sun or shade
Application by hand or car polisher
Dark colored vehicles are the worst for showing imperfections such as swirl marks. However, the use of this car glaze by Poorboy's World is an easy way of preventing imperfections appearing by filling them in with this formula.
For dark colored paintwork, this is the best car glaze and one that I personally use on all my black cars. However, if you don't have a dark colored car, Poorboy's offer several other glazes to suit other colors.
Check it Out
---
4. Adam's Polishes Brilliant Glaze
Adam's Polishes is another USA brand with a variety of different detailing products. Their car glaze in particular is a highly rated formula that's suitable for use on all painted surfaces as well as chrome and glass. By using this Brilliant Glaze by Adam's Polishes, you to achieve a deep and wet shine with relative ease.
Other features of the Adam's Polishes Brilliant Glaze include:
Includes carnauba to enhance the wet-look
Hand or buffer application
Dark, wet and deep shining finish
Fast hazing that can be removed straightaway
Can remove stubborn fogginess from inside windows
Made in the USA
Long lasting for up to 2 weeks and more
Unlike many other glazes that can take a while to haze up, the Brilliant Glaze will haze up instantly. It has a new and improved formula with extra filling properties that are great for temporarily masking imperfections.
Overall, it's the one of the best options for those looking for a glaze that's easy to apply and provides excellent levels of shine.
Check it Out
---
5. 3M 39007 Hand Glaze

3M is a reputable detailing brand and their Hand Glaze formula contains no silicone or wax to increase surface gloss. The professional quality formula restores the OEM appearance and works particularly well with older vehicles.
It's worth noting that 3M specifically state that you shouldn't apply this formula in direct sunlight or on hot surfaces. If this is not possible, we strongly recommend choosing one of the alternative car glazes.
Other features of the 3M 39007 Hand Glaze includes:
Provides a show car shine
Gloss-optimized formula
Paint shop and clear coat safe
Application by hand in shade
The 3M Hand Glaze is an excellent all-rounder but it does come with a premium price tag. However, the popularity is a clear indication to how good the glaze actually is.
Check it Out
---
Car Glaze Buying Guide
Although some people may refer to a glaze as a car polish, this is simply not the case. A car glaze doesn't contain any abrasive properties, which means that it won't remove any imperfections within the paintwork. The formula instead fills in any scratches or swirl marks and temporarily masks them for a show car shine.
Most will mask the imperfections for a week or two but you can lock in the fillers by using suitable wax. To help you make an informed buying decision, we have produced the below buying guide regarding car glazes.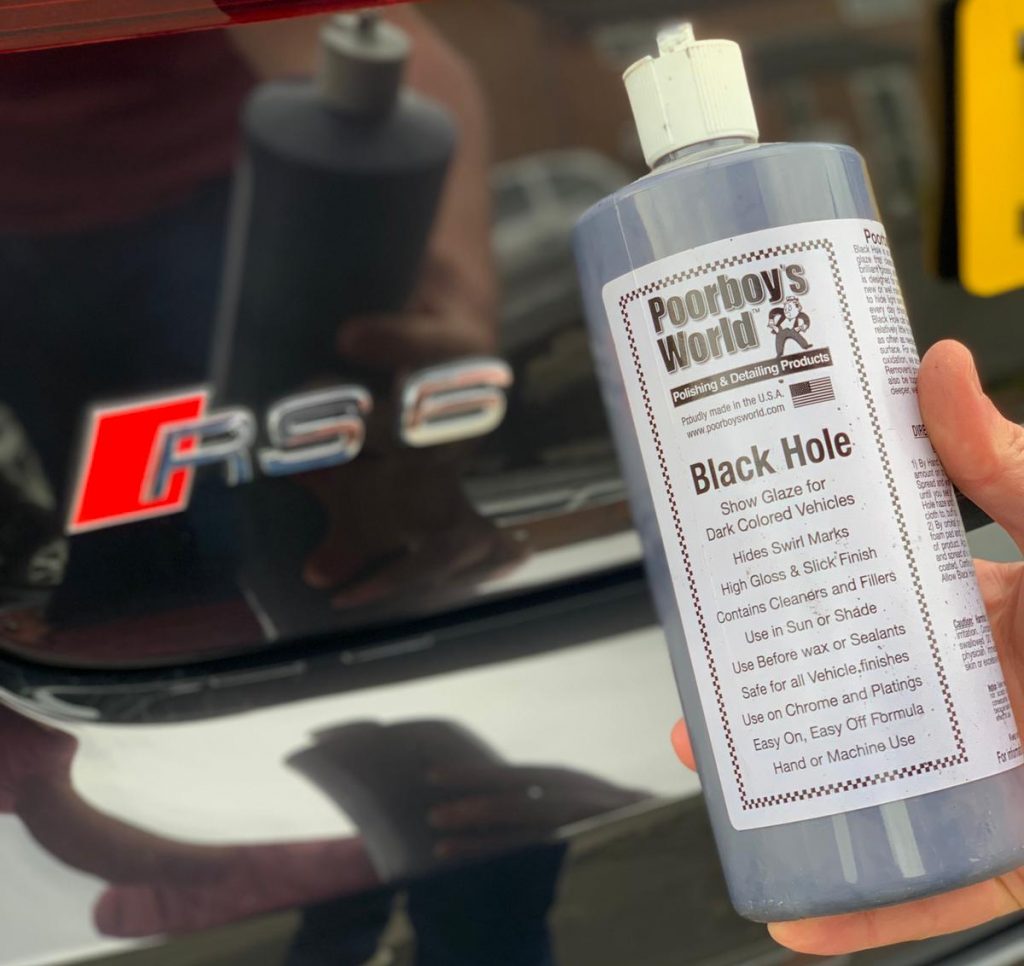 Application of the Formula
The purpose of a car glaze is to fill in any remaining imperfections. Therefore before application, you may decide to remove any defects using a polish or compound. Once this is complete, it provides the perfect surface for application of the glaze, which you can then protect with a layer of wax. You may also decide to double up the application for further filling of the imperfections.
Compared to car polish or rubbing compounds, the majority of car glaze formulas can be applied by both hand and polisher. However, not every glaze can be used within direct sunlight or on hot surfaces. Therefore, if you haven't got access to shade or a garage, this will be a key factor to consider.
Paintwork Types
Some manufacturers provide a car glaze suited to a certain type of paintwork. For example the Poorboy's World Black Hole is suited to dark colored vehicles and provides a deep wet shine. Those that are designed specifically for your colored paintwork often provide an improved finish. Some formulas can even be applied to different surfaces such as chrome or even glass.
Hazing Period
Some car glazes are known to have an extensive hazing period, which can mean a lot of time waiting around. However, all of the recommendations within this article are fast acting and haze up within minutes after application.
Other Desirable Features
In order to beat the competition, many manufacturers will include additional features to improve their glaze. The Glosswork Glaze by Chemical Guys includes UV blocking agents for example, which is an excellent addition for those living in sunny climates.
Some glazes can even be used on a range of surfaces that include chrome, stainless steel, glass and much more.
Conclusion
Car glaze is an effective product but is often mistaken for a car polish, which is why it gets some bad reviews. However, for those that understand the purpose of a glaze, they can be used to good effect for achieving maximum shine with very little effort.
All of our recommendations are suitable for a range of paintwork colors and are fast acting. Using a car glaze is far easier than many other detailing products and it's able to clean the paintwork for maximum shine. Removing defects such as swirl marks involves a lot of effort and time but using a car glaze will take a fraction of the time and is the reason why its a popular product.