To improve the sound quality and bass from your speakers, you will require a car amplifier. They allow you to control and boost electrical audio signals to a much higher voltage, which is then used to drive the speakers inside the car. They're categorized into classes and feature a number of channels to power up additional speakers.
After installing multiple amplifiers in many of my own cars (such as the JL setup in the above photo), we have more than enough experience to rate and review the below amplifiers. We also base our recommendations upon their performance, features, build quality and value for the money.
If you are looking for a quick answer, the best car amplifier is the JL Audio JX1000/1D, which produces 1,000 watts RMS and has a variable bass boost centered at 45 Hz. However, if you are looking for the best budget option, the Rockford Fosgate R500X1D is the perfect alternative.
Car Amplifier Comparison
Choosing the best car amp is highly dependent upon the audio system setup within your car. If you simply want to supply power to a subwoofer, a monoblock amp would be the best option. If it's for multiple speakers, you may need a 4 or 5 channel amp. The output of amplifiers is measured in watts, where the power is split up into channels. For example, a 500 watt, 5 channel amplifier will distribute power by 5 x 100 watts.
Below is a list of the best car amplifiers that boost the electrical audio signals for improved sound quality and bass from your speakers.
The Best Car Amplifier
---
1. JL Audio JX1000 Monoblock Amplifier
JL Audio are a premium audio manufacturer and offer many high end car amplifiers. However, this JX1000 Class D amplifier is one of their better value units that provides superior power within a compact and stylish design.
If you are looking for amplifiers that allows your subwoofer to provide hard hitting bass, this is the car amplifier for you. It's a monoblock amplifier but if you require more channels you can opt for the XD700/5v2 model.
Other features of the JL Audio JX1000 include:
500 watts RMS @ 4-ohm
750 watts RMS @ 3-ohm
1,000 watts RMS @ 2-ohm
Variable bass boost to 12 dB
Soft start to prevent clicks or pops
Low profile design at 11.00 L x 7.75 W x 2.00 H
Overall, the JL Audio JX1000 is the best monoblock amplifier on the market that provides excellent performance and relatively good value for money. The low profile design and high power output makes it a great option for those with limited space. I have this amplifier installed in my own cars and I highly recommend it.
Check it Out
2. Rockford Fosgate R500X1D Class D Amplifier

The Rockford Fosgate R500X1D is one of the most popular car amplifiers available and for good reason too. It has a rugged aluminum heat sink construction and provides excellent performance for those that are on a budget.
Unlike other cheap amps, it uses the desirable MOSFET power supply and 4 gauge power/ground connections.
Other features of the Rockford Fosgate R500X1D include:
300 watts RMS @ 4-ohm
500 watts RMS @ 2-ohm
MOSFET power supply
Remote punch level control
18dB boost at 45Hz
LP/HP/AP crossover and infrasonic filter
Available as Class D or monoblock
Dimensions are 8.50 L x 6.80 W x 2.00 H inches
The Rockford Fosgate R500X1D is the best cheap car amplifier for powering up a subwoofer. It also has a stylish design with a matte and gloss black finish, which adds to the aesthetics when mounting it inside of the car.
Check it Out
3. Alpine PDR-V75 5 Channel Amp

Alpine are another premium audio brand and their 5 channel amp is highly rated for producing excellent sound quality. For peace of mind, all amplifiers produced by Alpine have been tested and come with a certification of their power ratings.
The brand have gone to great lengths to ensure that this amplifier looks great when mounted in the car. Example of this include the sleek design and rotatable illuminated badge, which allows you to adjust it to match the vertical or horizontal position. These are great examples that display the intuitive design of the PDR-V75 amp.
Other features of the Alpine PDR-V75 include:
Class D amplifier
250 watts RMS @ 4-ohm
350 watts RMS @ 2-ohm
Pre-amp and speaker level inputs
MOSFET power and output stages
Variable high pass, low pass and subsonic filters
Variable bass boost functionality
Dimensions are 10.75 L x 6.5 W x 2.00 H inches
The Alpine PDR-V75 is an amplifier designed for sound quality and is the most aesthetically pleasing to look at. It's a 5 channel amp that will make a great OEM replacement and also provide plenty of extra functionality.
Check it Out
4. JL Audio XD700 5 Channel Amp
If you are looking for additional channels to power up extra speakers, then the JL Audio XD700 is perfect. It's a 5 channel amplifier that's compact, lightweight and provides plenty of settings for tailoring your audio. The brand have been producing this model for many years but it still just as popular.
Other features of the JL Audio XD700 include:
75 watts RMS x 4 + 180 watts RMS x 1 (at 4 ohms)

100 watts RMS x 4 + 300 watts RMS x 1 (at 2 ohms)

200 watts RMS x 2 bridged at 4 ohms + 300 watts RMS x 1 at 2 ohms

12 – 22,000 hZ frequency response
Heavy duty aluminum construction
The JL Audio XD700 is the best 5 channel amp and perfect for powering up multiple speakers without losing sound quality. It does come with a rather large price tag but it's a worthwhile investment that's backed by a reputable brand.
Check it Out
5. Kenwood 22154656 4 Channel Amplifier

Kenwood are a car audio brand known for their reliability and durable designs. The KAC-M3004 4 channel amplifier follows that great reputation and is very popular across the USA for its performance and value for money.
Unlike other bulky alternatives, this amp has a compact design at 6.7 x 5.9 x 3.1 inches, which is ideal for tight areas in the car.
Other features of the Kenwood KAC-M3004 include:
50 watts RMS @ 4-ohm
75 watts RMS @ 2-ohm
Peak power RMS of 600 watts
Signal sensing turn-on
Conformal coated main printed circuit board
Protection against moisture or dampness
The Kenwood KAC-M3004 is an amplifier that offers excellent value for money and can fit virtually anywhere in the car. The versatile design can also be used in additional applications that involve moisture such as boats or ATV's, which is another great benefit.
Check it Out
6. Pioneer Gm-D9601 Amplifier For Bass

Pioneer is another big brand in the car audio industry and their GM-D9601 is one of their best car amplifiers on the market. Although expensive when compared to the alternatives, it has a compact design that's able to produce 2,400 watts peak power, which may be worth paying the extra for many people.
For maximum durability, it also has a heavy duty aluminum construction with nickel plated screw terminals.
Other features of the Pioneer GM-D9601 include:
800 watts RMS @ 2-ohm
1,200 watts RMS @ 1-ohm
Class D amplifier
Patented protection control system
Variable low pass filter adjustable from 40 to 240 Hz
Bass boost control
The Pioneer GM-D9601 is a powerful amplifier that's able to provide hard hitting bass from your subwoofer. Even though it's relatively small compared to similar power amplifiers, it still able to out performs them.
Check it Out
7. Kenwood KAC-9106D Monoblock Car Amp

The Kenwood KAC-9106D is a monoblock amplifier with a class D design and rugged construction. It uses an aluminum cover plate to protect the connections and controls whilst providing a professional look.
According to the brand, it's able to output an impressive 1,000 Watts RMS to the subwoofer with low pass and subsonic filters to improve the sound quality.
Other features of the Kenwood KAC-9106D include:
500 watts RMS @ 4-ohm
1,000 watts RMS @ 2-ohm
0 to 18 dB of bass boost
Monoblock with a class D design
Speaker level inputs with signal sensing turn on
Cast aluminum heat sink construction
The Kenwood KAC-9106D is a car amplifier that produces plenty of power for its size. This particular model works best with a subwoofer but Kenwood produce other amps with multiple channels for extra speakers.
Check it Out
8. Rockford Fosgate R300X4 Amplifier
Another popular car amplifier by the Rockford Fosgate brand is the R300X4 model. It's a 4 channel amp that has a cast aluminum heat sink construction and desirable top mount controls.
Other features of the Rockford Fosgate R300X4 include:
50 watts x 4 @ 4-ohm

75 watts x 4 @ 2-ohm

150 watts x 2 @ 4-ohm bridged

2/4 channel input switch
MOSFET power supply
4 gauge power/ground connectors
On board punch EQ control
Overall, the Rockford Fosgate R300X4 is an excellent all-round car amplifier that won't disappoint. It's a versatile amp that's built by a reputable car audio brand and promises excellent performance at all times.
Check it Out
9. Skar Audio RP-150 4 Channel Amp
The Skar Audio RP-150 is a 4 channel car amplifier that's available in multiple power options to best suit your requirements. The most powerful multi-channel amp is the 1,500 watt unit, which provides clean and crisp power.
It has a sleek finish with a thick metal outer shell and built-in heat sink that allows the amp to keep cool whilst operating at maximum power.
Other features of the Skar Audio RP-150 include:
250 watts x 4 channels @ 2 Ohms
125 watts x 4 channels @ 4 Ohms
High speed MOSFET power supply
Premium grade internal components
4 gauge power and ground input terminals
The Skar Audio RP-150 is an excellent all-round car amplifier that combines value for money and performance. The multiple power options also allow you to choose a specific amplifier that best suits your audio system.
Check it Out
10. BOSS Audio R3400D Class D Amplifier

The BOSS Audio R3400D is a class D car amplifier that's available in 4 different monoblock configurations. These include a 1100, 2000, 2400 and 3400 watt setup which all come with the brand's impressive 6 year warranty.
According to the brand, they state that it's a car amplifier designed for improving bass with various filters and controls to fine tune the audio to your requirements.
Other features of the BOSS Audio R3400D include:
3,400 watts RMS @ 1-ohm
1,700 watts RMS @ 2-ohm
Remote subwoofer control
Low Level Inputs
RCA Pre-amp Outputs
Switchable Phase Control
13.5 x 10.3 x 2.3 inches in size (D x W x H)
The BOSS Audio R3400D is an affordable car amplifier that provides excellent performance for heavy hitting bass setups. Most budget options have a bad name but this amplifier is an exemption that won't disappoint.
Check it Out
How We Rated The Car Amplifiers
As well as having experience using a range of car amplifiers in my own cars, we also based our recommendations upon a number of important factors. These included the performance within their class, RMS, build quality, design, filters, inputs/outputs and value for the money. I personally installed the JL Audio JX1000 into one of my cars after many hours of research and we couldn't be happier with it.
Car Amplifier Buying Guide
The purpose of a car amplifier is to boost the low level audio signal generated from your head unit. This provides the power to move the cones of your subwoofer for that hard hitting deep bass and other car audio speakers.
When running active subwoofers, you will need a powerful car amp in order to move the cone. On top of this, you should also invest into a top rated double din stereo or single din stereo for more outputs and power.
You should never spend huge amounts on your speakers and subwoofer but buy the cheapest car amplifier. If you do this, what is the point?
Amplifiers are often forgotten about by many beginner audio installers. You can only take it to the next level by buying a car amplifier and installing it correctly with an amp wiring kit. To help you make an informed buying decision, below are some important factors to consider regarding car amplifiers.
Number of Channels
An important aspect to consider when looking at car amplifiers is deciding on how many channels are required.
The power of an amplifier is split between the channels. For example, if there is 300 watts of power between 3 channels, each would have 100 watts. If you only want to power up your subwoofer, it's advised that you go for a monoblock/single channel amp.
Speakers that are under powered by cheap amplifiers may sound distorted. You are always better buying a more powerful car amp that runs without stress for improved quality.
Car Amps For Bass
For those that enjoy hard hitting bass, you will want an amplifier with a low pass filter. The purpose of this filter is to deliver low frequency audio to the subwoofer.
It's important to note that if you have set your receiver for low pass filters, bass boost or crossovers, don't do it with the amplifier too. This will increase the distortion and the overall sound quality may reduce because of this.
Amplifying the bass with improved amplifiers that matches your speaker wattage is a great way to increase performance and bass for your car audio setup.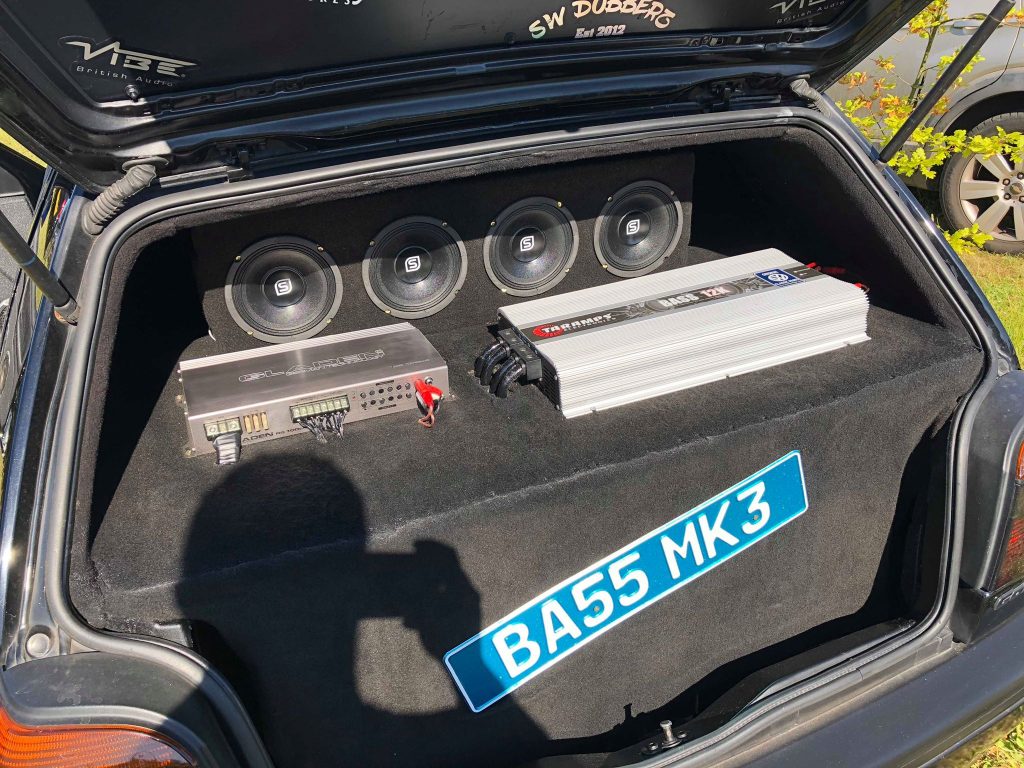 Amplifier Type Classes
An amplifier class is the type of structure of the amplifier electronic circuit and characteristic. Different classes often have different efficiency, performance and power resources.
There are five main types of amplifier classes that are used within different amplifiers. They are A, B, A/B, G & H and D, which all have there Pro's and Con's.
To begin, Class A is the simplest and uses a single transistor in a linear mode. Class B use a pair of transistors in a push-pull type of application, which is more efficient than class A but crossover distortion may occur.
Class A/B is used for most low cost designs and is a mix of A and B, where there is a small continuous current when no input is present. When the input signal is at a high enough voltage, only one transistor will conduct but both of the transistors will conduct when the input signal has zero volts.
Class G/H is an improved Class A/B where both work on the power supply section. If the output power is high, then a higher voltage power supply is required. Class D is mostly used for low cost solutions where devices work as electronic switches as opposed to a linear gain.
Amplifier Impedance
The impedance of a car amp is the electrical resistance of the speaker, which is measured in Ohms. If your main focus is to improve the sound quality, this specification is an important factor to consider. Most JL Audio amplifiers use a low audio impedance and offer the best sound quality.
Many manufacturers claim excessive peak power ratings but the actual output may be far less. The majority of amplifiers will be using a 12 volt system and you can measure the actual output power rating by multiplying the AMPS by VOLTS.
You can also check the fuses to see what type of amps is being used for the audio system. This is usually a common car audio problem that most rookie audio installers come across when installing powerful amplifiers.
Bridging Amplifier Channels
For audio installers wanting to use a subwoofer without using a monoblock amp, bridging is a method of increasing an amplifier channel's power.
For example, 2 x 100 watts could create a 1 x 200 watt channel. The majority of 2 and 4 channel amplifiers can be bridged to power up a subwoofer.
Amplifiers that have 3 or 5 channels such as the JL Audio amplifier sometimes have dedicated subwoofer channels that reduces the need to bridge between channels.
For those that are new to bridging a car amplifier, we highly recommend that you check out this guide before attempting to do it yourself.
Conclusion
Upgrading the amplifier in your car can transform the in-car audio performance. If you have upgraded other audio components inside of your car, the speakers may not be able to reach its full potential without using a suitable car amp. The budget you set aside for an amplifier will make a big difference as many premium examples come with large price tags.
All of the recommended car amplifiers in this article cover a wide range of types and budgets to best suit your requirements. The amplifier of your car is the brains to the overall sound quality and its important that you choose wisely.