Whether you struggle to backup or drive a large vehicle and need some assistance, installing an aftermarket backup camera is the perfect solution. It provides real time footage directly behind the vehicle to ensure maximum safety and precision parking.
The best backup camera is the AUTO-VOX T2 Backup Camera Kit that attaches to the rear view mirror and has a camera attached to the rear license plate.
Intuitive features that can be found in most aftermarket units include guidelines for helping you judge the distance, night vision for low light situations and much more. Image quality is one of the most important factors and true HD is fairly essential.
Best Backup Cameras
The majority of modern cars will have a backup camera as a OEM optional extra. However, for those that don't, they can be easily installed as an aftermarket part. Mostly all backup cameras are mounted to the rear license plate and there are even some devices that use a wireless connection for an even easier installation.
According to a study conducted by Statista in the US, 45% of drivers under 55 consider backup cameras as a key automotive feature. That is a large portion of drivers who rely on this technology for backing up.
Whether you want the footage to be displayed on your stereo or have an external display, there is variety of types available. Below is a list of the best backup camera for safely backing up your vehicle with clear vision and assist features.
AUTO-VOX T2 Backup Camera Kit
The Auto Vox T2 is a rear view mirror backup camera that has been designed to match the existing decor of your vehicle with an OEM design. The dimensions of the rear view mirror are 10.6 x 3.2 inch, which will compatible with most cars.
Features of the Auto Vox T2 backup camera include:
LED night vision functionality
4.3 inch LCD display
Simple 4 step installation
Rated to a waterproof level of IP68
Automatically switches to parking footage
OEM design to match the interior
170 degrees viewing angle
Brightness sensor for better quality footage
On and off switches
Although it is more expensive than many of the other rear view mirror backup camera alternatives, it does have its benefits. For example, you would find it fairly difficult to find a cheaper model with features such as the brightness sensor, adjustment and night vision capabilities.
Overall, the Auto Vox T2 is the best rear view mirror backup camera with a very simple 4 step installation without any complex wiring.
Check it Out
ZEROXCLUB Wireless Backup Camera System

One of the most popular aftermarket backup camera system for RVs or large trucks is the ZEROXClub wireless backup camera. The manufacturer claims that you can install this system in less than 2 minutes, which is great for those that do not want a complex DIY installation.
Features of the ZEROXClub system include:
7 inch LCD display
Clear footage even at speeds of 75 MPH
IP69 Waterproof rating
18 infrared lights
140 degrees viewing angle
Automatically switches to footage
HD image processor
360 degree camera adjustment
1 year warranty
Due to the wireless installation, you are able to place the backup camera in numerous location. For example, many people struggle reversing when using a fifth wheel trailer, therefore you could place the camera on the fifth wheel.
Once you have plugged the device into your cigarette lighter outlet (12V/24V), you are ready to use the camera. Overall, it is the best backup camera for trucks, RVs and other large vehicles and the wireless installation will be very desirable.
Check it Out
NATIKA Aftermarket Backup Camera

For those that wish to connect their backup camera to a head unit, the Nakita is one of the best options. Before ordering this, be sure to check that you have a RCA video input on your stereo and if not, invest into a new head unit beforehand.
In terms of the features of the Nakita device, it include:
IP69K waterproof rating
1,280 x 720 Pixels
170 degree wide viewing angle
Camera is adjustable to 125 degrees
Starlight level night vision
Low illumination at 0.005 Lux
Grade A 6G all-glass lens
F1.8 large aperture lens
2 years warranty
Nakita claim that this backup camera has been thoroughly tested for durability. In terms of its waterproof qualities, it has been tested 3 feet underwater for 2 hours. This is very impressive and a great choice considering that it will be mounted low down at the rear, which picks up water and spray from the road.
Overall, it is the best aftermarket backup camera that connects to your stereo. It will require wiring from the stereo to the mounting area (license plate) but once installed, you have peace of mind that its durable and will continue to provide high quality footage for many years to come.
Check it Out
SVTCAM SV-928WF WiFi Backup Camera
For those that want to use a wireless connection to connect their backup camera footage to their smartphone, then the SVTCAM SV-928WF is the best option. The free application is available for both iOS and Android devices.
In terms of the features of the SVTCAM SV-928WF, they include:
Wireless signal range of 100 feet
Free smartphone application
IP69 waterproof rating
120 degrees viewing angle
28 PCS IR LED's for night vision
120 degree wide viewing angle
Whilst using this type of backup system, we highly recommend using a car phone mount. This means you do not have to hold onto your phone and try to backup at the same time. Overall, it is a cheap WiFi backup camera that is relatively easy to install and packs plenty of functionality.
Check it Out
Chuanganzhuo Backup Camera and Monitor Kit
The most affordable option for those on a budget is the 
Chuanganzhuo backup camera. For the fraction of the cost of the more premium units mentioned above, this comes with a license plate mounting holder, camera and display.
In terms of the features of the Chuanganzhuo, it includes:
4.3 inch LCD display
1 year warranty
IP67 waterproof rating
Supports a range of video inputs
648 x 488 Pixels
165 Degree Wide Angle
Overall, it is a cheap backup camera and by far the most popular in the US. However, due to the low cost, you will have to accept that you will not have the best of quality but if that is the case, we strongly recommend going with the Nakita option.
Check it Out
Car Backup Camera Buying Guide
Using a backup camera to back your vehicle up not only improves your parking but also improves safety. According to the Insurance Institute for Highway Safety, accidents caused by a vehicle backing up has resulted in approximately 18,000 injuries and 300 deaths. This is a significant amount of injuries and deaths, which could have easily been avoiding by using a suitable backup camera for the vehicle.
Backup Cameras are gradually becoming a legal requirement. In the US, steps are in place to make it a legal requirement on every newly sold or leased vehicle. However, for those who own vehicles already, there are plenty of aftermarket backup camera devices available, which can be installed fairly easily.
To further increase your knowledge regarding backup cameras, we have compiled a detailed buying guide with all the information you need to know.
Types of Backup Cameras
Backup cameras obviously need to be mounted to the rear of the vehicle but there are three options you can choose, which include:
Surface mounted backup camera: Made to be mounted mostly high up. Could also be placed on any flat surface. It is ideal for large vehicles as it provides an exceptional view.
 License mounted backup cameras: Installation process for this type is quite easy. It requires no modifications or new hole drilling. It is to be mounted on the already available license plate hole. The camera can be positioned close to the road or off-center.
Flush mounted cameras: This gives a nice appearance because it is mounted through a hole in the vehicle's body. The only thing that can be seen is the lens and bezel. This camera does not provide depth as the surface mount will.
Installation of an aftermarket backup camera is usually achieved by a license mounted backup camera. This is because there is no cutting of the vehicle and installation is fairly easy with many openings near the license plate holder to pass through the cables. Below is an example of a camera that has been installed via the license plate holder and wired all the way to the head unit.
Connect Backup Camera To Stereo
Not all vehicles will have the space to place an external display to the backup footage. However, you do have the opportunity to connect the backup camera to a double din stereo but only on one condition. The stereo must have a video input, which is usually in the form of a RCA plug. However, some manufacturers are known to use unique plugs but this can be overridden with use of an adapter.
If you are still using an old OEM stereo, the likely hood of it having a video input is very slim. However, upgrading your stereo to some of the latest head units is fairly easy to do and they will almost all have a video input that is backup camera ready.
Another issue that may arise is that you vehicle is using a single din head unit. However, you can install a motorized flip out unit if you still wish to connect the backup camera to your stereo.
Installation will require a fair amount of wiring but once complete, the functionality will be worthwhile. Here is a great tutorial for installing a backup camera to a stereo. Once you have installed to the backup camera, you will be able to have footage appear clearly on your head unit as shown below.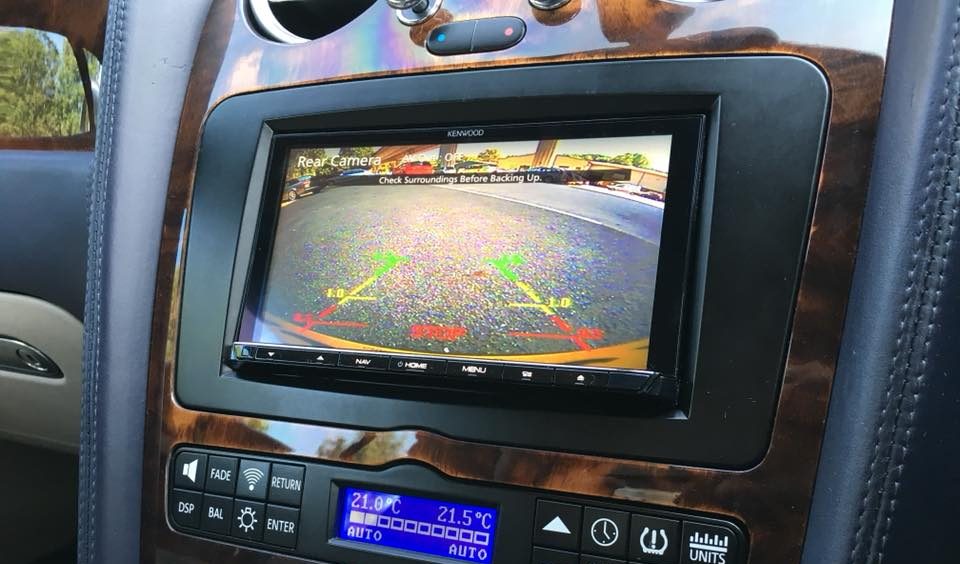 Field of View
Just like a camera works, the size of the sensor determines the quality of the image you will get. The sensor also determines how well it will perform in low light plus how wide the field of view will be.
While purchasing your backup camera, do not settle for less than 90-degree field of view. That is the minimum you should accept. Anything lesser might not work well for its purpose. However, 120-degree field view seems to be the best you want to go for.
Although there are others as big as 180, 210 degrees, these mostly give you what you will get through a fisheye lens. I'm sure you do not want that because it is impossible to reverse with such effect.
Audio monitor
If you wish to have a camera with attached microphone, there are many available ones in the market. Those without a microphone are not bad. It depends on your choice and needs.
Nightvision
You should go for a reverse camera that can enhance its pictures even in darkness. There are many cameras that have infrared LED lights which makes it possible to give you a picture even in total darkness. Hence, do not go for a camera without this function since you are not limited. However, do not expect to see long distance coverage. You can get about 30 feet coverage.
Monitor Type
Do not settle for less. Do not make the mistake of going for a CRT monitor. I mean who uses such when there are a lot of LCD (liquid crystal display) monitors out there. Talk of the TFT-LCD, it gives you the most quality. This should be your target. But the LCD screens aren't bad, they give quality too. They are not just as good as the TFT-LCD.
Screen sizes are available up to 10 inches. Though the size depends on your choice, why will you go for anything less than 5 inches? However, a screen might not be needed if your car comes with an inbuilt SatNav unit. Some cars have it these days. But compatibility with your camera is very important.
Mirror image: It is advisable you go for a monitor that can reverse view in order for the view to appear like it will on a rear mirror. Sometimes this comes as an option in cameras.
Wired or wireless: While wireless reverse cameras were made so to reduce the process of wiring your camera to the monitor, it sometimes gives the annoying outcome. The quality of the wired and the wireless are different. With the wireless, you might get stripes on your screen.
Desirable Features
Viewing angle: Backup Cameras give a horizontal view generally. While some are quite expandable to 190 degrees.
Weatherproof: Be it under the sun, rain, snow, or any weather condition, your camera should still be able to work properly. The camera and its wiring are always exposed to the weather. Be sure you go for a Backup camera that is made for outdoor use. Those otherwise will get bad quick if used outdoor; do not buy a household camera.
Image Sensors
Sensors serve the purpose of converting light into signals. This is achieved in two ways, through CCD and CMOS. While CCD is analog, CMOS, on the other hand, is digital.
The advantage CCD sensor has is that it handles fluctuating lighting situations better than the other does. While CMOS sensor tends to be better in low light and draws less power than a CCD sensor. However, a difference may occur. It depends on the types of environments you ply. Yet, both are good as none of the two can be said to be better.
Camera and Monitor Power
Automatic power on: Most backup Cameras has the ability to power at once you start your car. You should not be going through the process of turning on the camera each time you enter the car. You will even forget to sometimes. Make sure you buy the one with this feature for your convenience.
Automotive power supply: Be sure to know what type of power your camera unit requires to work. Most cars require 12V to work while some require 24V. You certainly need a voltage regulator or filter to ensure durability.
Mounting and Installation
Before selecting a camera you need to check the rear of your vehicle. Mounting can be done in different ways.
Mounting on a licensed plate: Some cameras are designed to fit on the plate of the license plate. Some go with a strap mount- the widely used approach. This can be fastened over the strap mount with the use of screws.
Bracket mounting: With this mounting style, you can mount your camera anywhere you feel comfortable with. It provides an adjustable bracket.
Lip mounting: With an infix area on your car rear, you should be able to use an angled lip mount camera.
Vehicle-specific mounting: This comes with some brands. They provide brackets that can fit into factory parts that will match your vehicle. These ones are specialized as most mounting types come as the previous options.
Installing your backup camera can be done on your own without the use of a professional. What you need to do is install the camera in the rear of your car. After that, you should wire it for power.
From the camera to your car dash, you will need to run a video connection. Then the video cable should be connected to the input of a compatible monitor or stereo. Connecting to the monitor requires installation. To connect to the stereo, you will need to remove the stereo from the dash and reinstall.
Although a wireless backup camera will reduce the time you will spend on installation, but remember you will still go through wiring the camera and the monitor when connecting to the power source.
Below is an excellent example of a DIY backup camera installation using an external display.
Conclusion
Installing a backup camera to your car will further improve your parking and backup safety. Choose the best backup camera and it will provide crisp clear quality and intuitive features such as guidelines and much more.
There is plenty of options to choose from that include wired or wireless installation and types that use an external display, rear view mirror or your head unit. This is a personal preference choice but all will provide the same footage regardless.