Automotive clear coat is a paint or resin that is applied over the cars base coat. The purpose of this extra layer is to provide additional protection to the paintwork and also increase the shine and depth.
The best automotive clear coat is the Spraymax 3680061 2K, which produces a high gloss finish via an easy to use spray can.
Due to technological advances in clear coat technology, many can be applied via a spray can. This means that you no longer require all the professional equipment. However, the quality of the finish may be better using the equipment.
Best Automotive Clear Coat
Clear coats are available in four different types that include top, glamour, turbo and higher solid. Each have their own benefits with some drying fast, providing extra gloss and scratch resistance as well as varying in price.
Unlike a ceramic coating for cars, the clear coat is applied straight onto the base coat. The ceramic alternative is applied onto the clear coat for additional protection.
Below is a list of the best automotive clear coats that provide additional protection to the paintwork and increased shine.
Spraymax 3680061 2K Clear Coat

The Spray Max 2K is an automotive clear coat that is applied via an easy to use spray can. The brand claim that you can achieve spray gun results without the expensive equipment. Simply shake the aerosol to activate the formula and then spray onto the paintwork.
Features of the Spraymax 3680061 2K include:
Acrylic formula
Spray can application
Glamour coating
High gloss finish
Suitable for any base coat
12 hour drying time
This automotive clear coat requires no mixing or equipment and even features a unique nozzle and valve for an easier application. Using a spray can clear coat is the best option for those that require a cheap and easy solution.
Overall, the Spraymax 3680061 2K is an excellent option that is weather and chemical resistant and suitable for all base coats.
Speedokote Automotive Clear Coat

The Speedokote SMR130 is a clear coat that requires a spray gun for application but provides a high-gloss finish. It is a urethane formula that has been specifically developed for the automotive industry.
This formula does come with an expensive price tag but it is UV, weather and chemical resistant and comes in large quantities.
Features of the Speedokote SMR130 include:
Fast drying urethane formula
High adhesion and smooth flow rate
Easy to apply and buff
Superior UV resistance
Requires mixing and a spray gun
If you already have a spray gun and don't mind mixing, the Speedokote formula is the best option. It is easy to apply and ready to be buffed in 4 to 6 hours for a high gloss finish, which is both UV and chemical resistant.
KBS Coatings Diamond Finish Clear Coat

KBS Coatings are a highly reputable brand and offer clear coats as a spray can or spray gun application. The 8304 Diamond Finish is the better option, which is available as a gallon, pint or quart can for application via a spray gun or roller.
It is a high solid formula that requires no hardener or additives to be mixed for an easier application of the product.
Features of the KBS Coatings Diamond Finish include:
Single part high solid formula
Suitable for paints and metal surfaces
Provides a high gloss finish
Buffed after 24 hours
Heat resistant
Non-yellowing
Overall, it is a highly rated clear coat for cars that can also be used marine and home applications too. The brand claim that the Diamond Finish formula is much harder than alternative clear coats but it does come with a premium price tag.
Dupli-Color Perfect Match Automotive Clear Coat

Dupli-Color are one the largest brands within the spray paint industry. Their automotive clear coat is an acrylic formula that is designed to match the original coating applied from the factory.
Other features of the Dupli-Color Perfect Match include:
Dry to touch in 30 minutes
Spray can application
High gloss finish
360 degree nozzles
It is one of the most popular automotive clear coats on the market and ideal for all OEM paint surfaces. The small spray can makes it the perfect clear coat for small touch up jobs with a unique nozzle that allows for smooth spraying.
POR-15 Top Coat Clear Spray

POR-15 is a brand known for their rust prevention spray and their Top Coat formula follows the same reputation. It is designed to be sprayed directly to metal without the need for a primer or undercoat.
The Top Coat formula is available in a range of different colors but for the cars paintwork, the clear coat is the best option.
Features of the POR-15 Top Coat include:
Professional use
UV resistant
Acrylic based
Non-yellowing formula
Spray can application
High adhesion
Barrier against rust
Overall, the POR-15 45718 Top Coat is an easy to use formula that provides permanent protection that is UV resistant. Compared against the alternatives, it is relatively affordable and also has various color options to choose.
Automotive Clear Coat Buying Guide
Clear coat is used upon the majority of modern vehicles and offers an array of benefits. This includes protection from containments and UV rays, enhances the gloss finish and also provides protection against scratches.
Application of clear coats can be achieved by a spray gun, brush roller or a spray can. Using a spray gun will allow you to achieve a factory finish but requires additional equipment, which can be fairly expensive.
To help you make an informed buying guide, we have produced the below guide regarding automotive clear coats.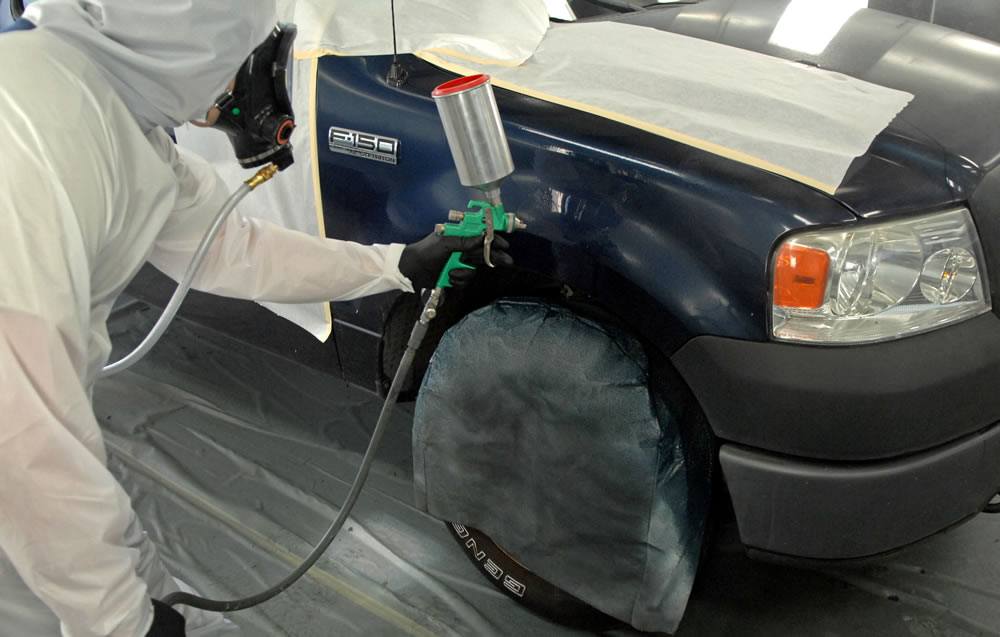 Spray Can vs Spray Gun vs Roller
Application of a clear coat can be achieved by using a spray can, gun or a roller. Most professionals will use a spray gun as it provides the best finish but it does require additional equipment, which can be fairly expensive.
Clear coat that can be applied via a spray can are the easiest to apply with brands claiming they produce a professional grade finish. They also require no mixing and are often much cheaper.
If you are planning to apply an automotive clear coat to other areas around the car such as the underbody, you may find it easier to use a roller.
How To Apply a Clear Coat
Before applying a clear coat to the base coat, you will want to assess the surface beforehand. There should be no bumpiness, harsh edges or debris before application.
Practising using the clear coat beforehand is highly recommended. Testing the formula upon another surface will allow you to get an idea of how to evenly spray it upon the paintwork.
Once the surface is prepared and you are confident with using the formula, you can begin the application. Using a spray can, follow the below steps:
Ensure there is no moisture or wind during spraying
Aim the nozzle approximately 6 to 8 inches away from the surface
Evenly spray the surface moving from left to right
Apply a light first coat and allow it time to dry out
Add a second and third coat for the best result
Buff once completely dried out.
If you are using a spray gun or roller, the application will be slightly different. However, for the best possible result, the preparation will be the most important task.
Types of Automotive Clear Coat
There are five different types of clear coats that are designed to be applied to automotive components such as the paintwork, wheels or even headlights. These include glamour, high solid, top coat and turbo.
Glamour clear coats dry slowly and are more resistant to moisture.
High Solid clear coats are the most expensive but are much tougher.
Turbo clear coats are suited for repair tasks and dry fast for buffing.
Top Coat formulas are designed to dry quickly and provide a high gloss finish.
Depending upon the type of finish that you require will determine the type of clear coat that you require. Regardless of the type you use, it is important that you prepare the surface and ensure it is completely smooth.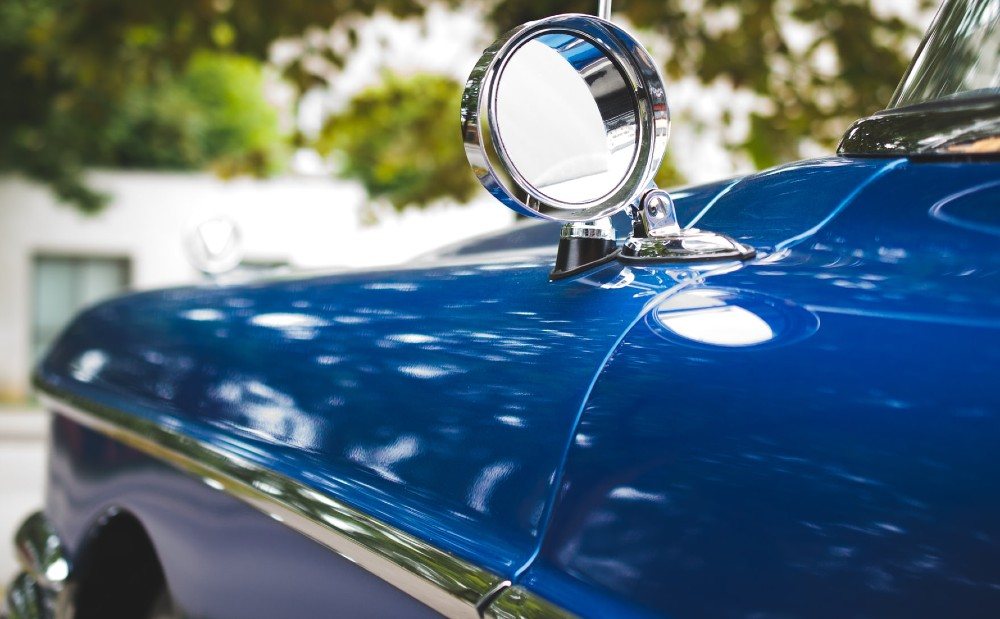 Gloss Level
Every clear coat formula has a gloss level that is measured in units ranging from 0 to 100. To ensure maximum gloss for the shiny new look, it is recommended that you opt for a clear coat with a gloss level of over 85.
Drying Time and Ease of Application
Before you are able to buff the coat to maximize shine, you will need the formula to completely dry out. The fastest drying clear coats are turbo or top coat formulas that will dry out in a matter of hours. High solid or glamour formulas can take anywhere between 24 to 48 hours but offer a much tougher finish.
Applying an automotive clear coat is made far easier thanks to new and improved formulas. Most can be applied onto base coats, auto body filler and other surfaces.
Prevent Peeling, Cracking & Yellowing
To ensure that you get the best possible finish, you will want to ensure the surface is smooth and free of debris. You will then want to apply even even layers of the formula and allow time for it to dry out before spraying additional layers.
Some formulas may require mixing together before spraying onto the cars paintwork. If this is the case, you will want to measure correctly. Failing to do so may result in a "yellowing" effect, which is a common defect when applying an automotive clear coat.
If you live in a hot climate, it is advised that you use a formula that provides UV resistance. This will help prevent the paintwork from fading and reduce the need for regular application of a protective car wax.
Conclusion
Investing into the best clear coat for cars is highly recommended in order to achieve the best possible finish. Cheap formulas can produce yellowing and will not be as long lasting compared to the recommendations within this article.
However, regardless of the formula that you choose, the preparation of the surface must be perfect to achieve the best finish.